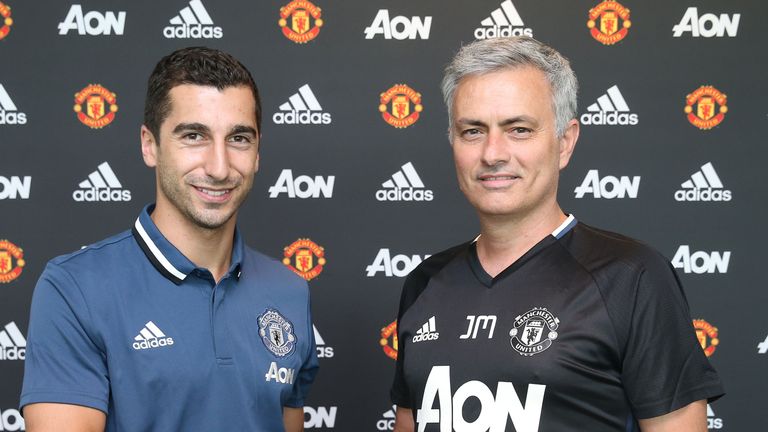 Henrikh Mkhitaryan admits the start of his Manchester United career hasn't been perfect but does not regret signing for the club.
The Armenian, who signed from Borussia Dortmund in the summer, delivered a man-of-the-match performance in the 4-1 EFL Cup quarter-final win over West Ham at Old Trafford on Wednesday.
He has found first-team opportunities hard to come by after being taken off at half-time on his full debut against Manchester City and he did not even make Jose Mourinho's matchday squad against Arsenal in the Premier League last weekend.
But, he was thrust back into action last week in the Europa League against Feyenoord and then starred against the Hammers. 
Writing on The Players' Tribune before the quarter-final victory over West Ham, he said: "At the beginning of this season at United, I suffered an injury and have not had many chances to play. It would be fair to say that the start of my life in Manchester was not perfect.
"But there have been many other times when I've had setbacks, and I have never given up. I will continue working every day so that I can help the team succeed.
"If you asked my mum and my sisters about me, they would say that I am quite hard. I can be very serious. But if I'm being honest, I'm very happy with the way my life has turned out. It was always my dream to play for the biggest clubs in the world."
Mkhitaryan had a year left on his Dortmund deal when United came calling the summer.
He got 18 goals and 25 assists last term for the German club, scoring during their thrilling Europa League defeat at the hands of Liverpool, and was named the Bundesliga Players' Player of the Season.
Mkhitaryan recalls the moment he was informed of United's interest.  
"When your dreams are close to coming true, it does not feel real at first," he said.
"A few days later, Manchester United's interest was confirmed when I got a call from Ed Woodward, their executive director. He told me that the club was indeed interested in me. You can imagine how excited I was by that possibility!
"While my agent and the club were negotiating the transfer, I had time to consider my options. I knew it would be a challenge to leave a good situation at Dortmund and succeed at United, but I did not want to sit in my chair as an old man and have any regrets. I was ready to move.
"When the deal was done and dusted, I sat down to sign the contract with United and that's when it hit me … that's when I realised that this big move to the Premier League was really happening.
"I will never forget that moment, nor will I forget the time I put on the red Manchester United shirt before my first training session with the club. It made me feel so happy and proud about what I had achieved in my career."
Visit The Players' Tribune for the full article from Henrikh Mkhitaryan.