Zlatan Ibrahimovic is 'fundamental' to Manchester United's success next season, says Jose Mourinho
By Michael Kelleher
Last Updated: 03/03/17 8:22pm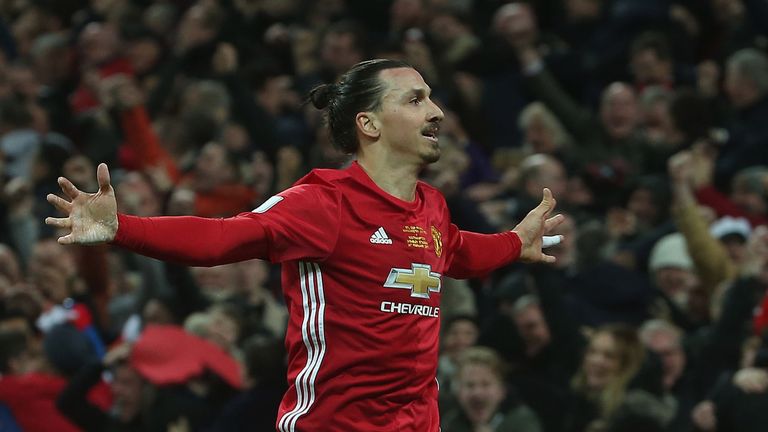 Zlatan Ibrahimovic will be fundamental in helping Manchester United reach another level next season, says Jose Mourinho.
The Swedish star has been coy on his future plans but Mourinho has made it clear United are keen to take up the second-year option on his contract.
And he feels Ibrahimovic - if he stays - will be spearheading a much-improved United side next season after what promises to be a busy summer in the transfer market for the club.
"This team has a lot of growing up to do," Mourinho said. "[After] the next transfer window we will bring this team to a different level because we are going to try and bring in a few players.
"So I think Zlatan will be fundamental in the second year of this team and I think he is going to stay. But, right or wrong, I only want people that really want to stay 100 per cent.
"My feelings are that he is really proud of himself. He is very happy with his success and his situation so I see him staying with us.
"I see him staying with us because the initial agreement was for him to come to us for one year plus us to have the option, so I see him staying with us.
"It has been an amazing, successful year for him."
With the EFL Cup secured, Mourinho has shifted his attention to United's congested fixture list over the next three weeks.
Saturday's game at home to Bournemouth - live on Sky Sports - is United's first of five in a 15-day period which also includes trips to Russia to play FK Rostov in the Europa League last -6 and to Stamford Bridge to face Premier League leaders Chelsea in the FA Cup quarter-finals.
United currently sit sixth in the Premier League table, but sit just five points behind second-placed Tottenham with a game in hand.
Mourinho believes his side are capable of finishing as high as second this season but admits he may have to decide what to prioritise if United continue to advance in three competitions.
"The second position is very difficult but it is possible," Mourinho said. "The first position I think is impossible. The second position is possible but we will have to fight for it.
"The Europa League is very difficult but it is a target for us. If we beat Rostov and we find ourselves in the quarter-final then we have to think really seriously about the Europa League.
"In this moment we are still in the last 16. That is still far but when a team gets in the last eight and you go to the quarter-final draw - from there you can smell the final.
"Then in a certain period of the season I have to analyse my team, my players and the conditions of everyone.
"If I have to make choices, I have to make choices - but obviously choices that I would always share with my owners and with my board.
"But that is not for now. For now we just play against Bournemouth, against Rostov, against Chelsea, play against Rostov again and then let's see where we are in all the competitions and try to make the right decisions."