Jose Mourinho is "disappointed" with some Manchester United fans' lack of support for star striker Romelu Lukaku.
After a blistering start to his United career in which he found the net seven times in his opening seven Premier League matches, Lukaku has failed to score in United's last three.
His record in big games has been questioned in some quarters and he did little to quiet his critics at Anfield two weeks as he struggled to make an impact during a 0-0 draw.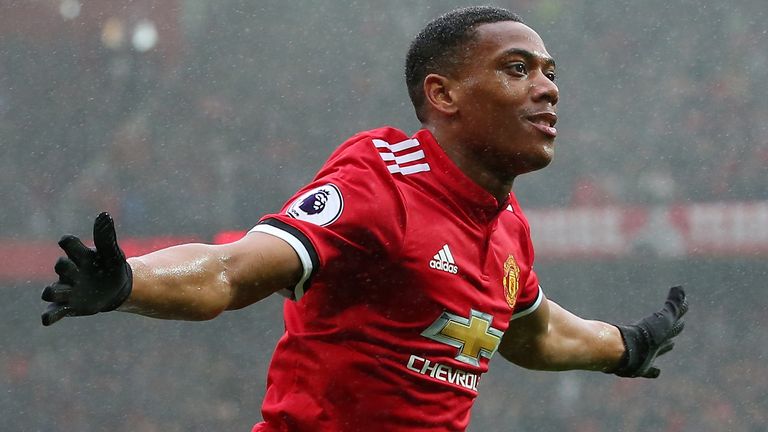 Some of his touches during United's 1-0 win over Spurs on Saturday elicited groans from the crowd at Old Trafford but he made a decisive impact with his flick-on for Anthony Martial's late winner and Mourinho feels he is being underappreciated.
"I would like the supporters to explain to me why they don't support him so much because he gives everything and I think it is not fair when scoring the goal or not scoring the goal [he] makes the whole difference," Mourinho told MUTV.
"I don't think it is fair at all. So, I'm a bit disappointed - but not with him. With him [I am] very pleased."
Mourinho's record against the five teams that finished above United last season - Chelsea, Manchester City, Tottenham, Liverpool and Arsenal - has not been overly impressive since he took over. Saturday's victory over Spurs was United's third under Mourinho in 12 matches (three wins, four losses and five draws) against those sides, with all three wins coming at Old Trafford.
United have scored more than one goal just once in those 12 games - a 2-0 win over Chelsea last season - while failing to score in five of six away matches.
Mourinho's conservative approach is not always unilaterally popular and his decision to withdraw Marcus Rashford for Martial on Saturday was questioned by some.
But the United boss does not appreciate being doubted and he held a finger to his lips after the final whistle in answer to his critics.
"I really don't understand some reactions why," Mourinho said. "Are they [the fans] Red Devils? Sometimes I don't know because they [Lukaku and Martial] work amazingly well.
"Today there were two strikers playing together against three top central defenders - the best we have in Europe - and their work was amazing. He scored with a bad shot but a bad shot sometimes can be a beautiful one.
"Sometimes he [Martial] starts the match and his contribution is good. Maybe he is not scoring as many times as he does coming from the bench, but he is playing well, the same as Rashford, the same as Lukaku.
"I really don't understand some reactions why."