Marcus Rashford says Manchester United's winning feeling is returning
By George Galpin
Last Updated: 20/11/17 4:52pm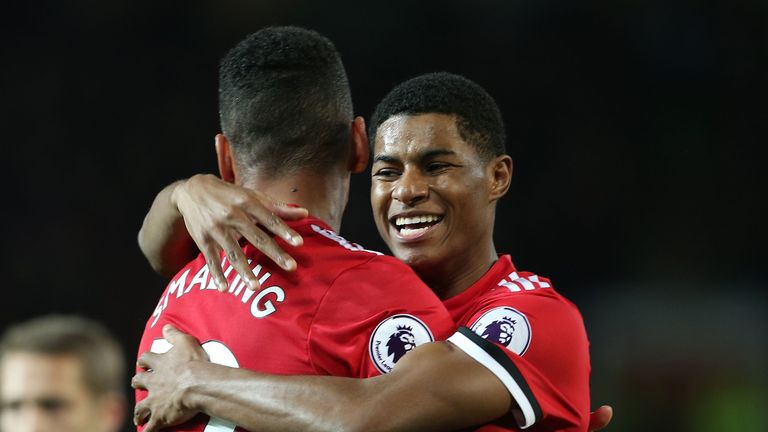 Marcus Rashford says the winning feeling is returning to Manchester United but there is "a long way to go" before they match the glory days under Sir Alex Ferguson.
Rashford has had a whirlwind rise to the United first team, going from the academy to winning four trophies in the senior side within just 21 months.
The England forward won the 2016 FA Cup under Louis van Gaal before claiming Europa League, EFL Cup and Community Shield winners' medals under current boss Jose Mourinho.
However, the Mancunian wants to taste more success to match what Ferguson's team achieved during the time he was making his way from boyhood club Fletcher Moss Rangers to the United youth set-up.
"There's so many different incidents that can easily pass you by and you forget about," the 20-year-old said.
"As soon as you win a trophy, in my mind straightaway you're thinking about winning the next trophy. That's when you can miss the moment of enjoying winning that trophy, it's difficult.
"We went through that second year and won three trophies in the year, so we were winning things and winning things and it became normal for us.
"That's what United has always been about, so it is important for us to try and get that feeling back to Old Trafford of winning."
Rashford believes the club have everything in place to match the standards of the Ferguson era off the pitch, and insisted it was now about delivering on it.
"It's definitely coming back, but where they were to where we are now, we've still got a long way to go because they were consecutively winning," he added.
"Consecutively winning is different to winning one thing or winning two things. It's more difficult because everybody wants to beat you.
"We want to make it (Old Trafford) the fortress that it was before. I think we're on a path back to doing that. We've got the right manager, we have the right staff, so it's just about producing now on the field."