Jose Mourinho's League Cup record: Manchester United boss closing on fifth crown
By Pete Hall
Last Updated: 20/12/17 6:58pm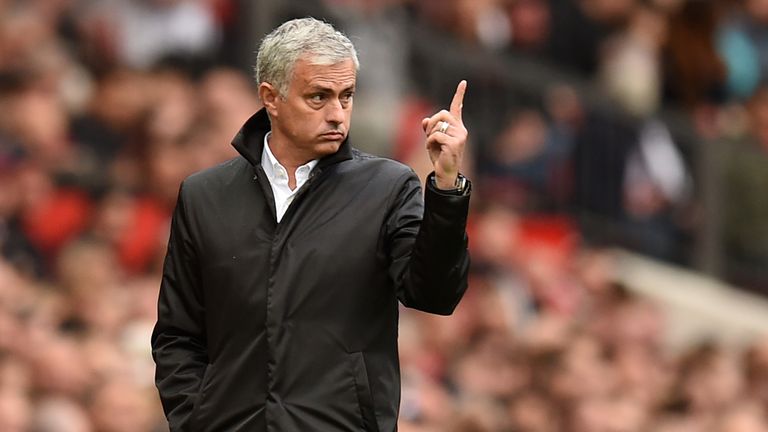 Jose Mourinho can become the greatest League Cup manager this season, continuing his love affair with the competition where it all started...
The Manchester United manager is the joint-record holder with Sir Alex Ferguson and Brian Clough on four League Cup triumphs, but negotiate a way past in-form Bristol City in Wednesday's Carabao Cup quarter-final, live on Sky Sports Football, and the Portuguese can start to dream of holding the record outright, in a competition that has given him the fondest of memories.
Many long-term managerial successes can point to one moment, one cup win that kick-started lasting greatness.
Ferguson's first trophy - the FA Cup in 1990 - relieved some of the pressure on his shoulders and he never looked back, and that feeling a cup win evokes galvanised Mourinho, in equal measure, 12 years ago.
Having arrived at Chelsea in 2004 in a whirlwind of sound-biteable statements, the Portuguese was an instant hit with fans, with his sureness keeping the press hanging on his every word.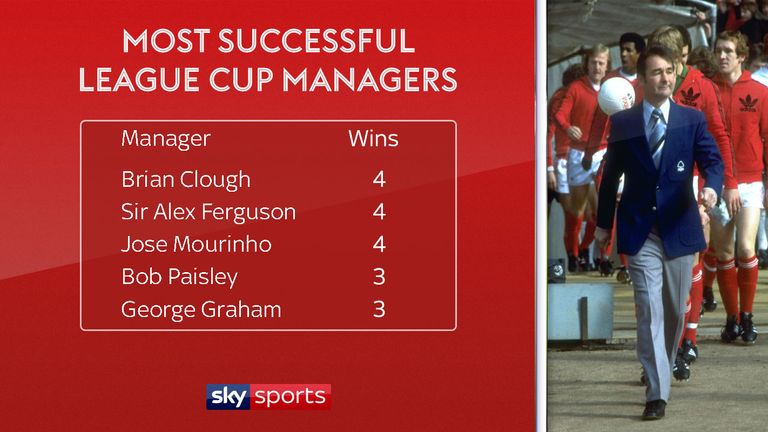 However, the only way Mourinho could add credence to his "Special One" boast was to win trophies, and such brashness meant he had to do so sooner rather than later.
Fans didn't have to wait long. The first competitive silverware available in the 2004/05 season was the League Cup - the Carling Cup as it was then known - and Chelsea came away with it after a thrilling extra-time victory over Liverpool at the Millennium Stadium.
The dramatic win got Mourinho up and running in England, and after being escorted from the touchline for gesturing towards Liverpool fans, it was a sign of things to come, in the dugout as well as trophy collecting.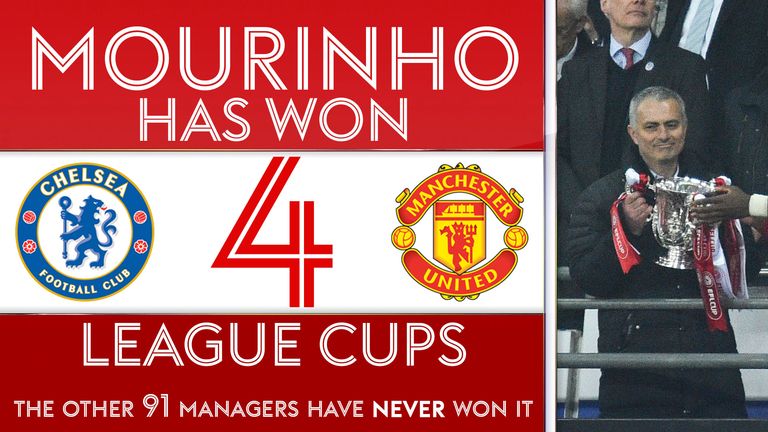 His success in the competition as a four-time winner is in stark contrast to his rivals. Incredibly, none of the other 91 current league managers have even won it once.
Mourinho won his second League Cup in 2007 and it was also the first piece of silverware that he claimed during his second spell at Chelsea. His United side are the holders having beaten Southampton last season. Tellingly, in each of those four League Cup-winning seasons, Mourinho's teams went on to win further trophies before the campaign was over.
This season, despite returning to the Champions League and United fans demanding a serious Premier League title tilt this time around, Mourinho is not taking the Carabao Cup lightly.
Against Burton Albion - managed by Nigel Clough, son of Brian, who Mourinho is attempting to emulate - in the third round, the Portuguese went with a front four of Juan Mata, Jesse Lingard, Anthony Martial and Marcus Rashford. While some players on the periphery of the United squad are likely to get a chance against Bristol City, Mourinho is unlikely to take too many risks, not in a competition he has such affection for.
"Finals are not for playing, they are for winning," said Mourinho, after his EFL Cup triumph in 2015 - and it's a mantra which has guided the manager to near-unrivalled success. Taking another step towards another Wembley appearance on Wednesday and yet more League Cup glory will become a real possibility.