Jesse Lingard is making a jump in progress at Manchester United
Last Updated: 02/01/18 12:43pm
Jesse Lingard was on target yet again as Manchester United won 2-0 at Everton. His continued improvement under Jose Mourinho is proving a big boost at just the right time, writes Adam Bate.
"These boys, they jump or they don't jump," said Jose Mourinho. "One thing is to be a young talent, another is to be a very good player. Some players are not capable of that jump. From great potential young players, they go to normal players. I think Jesse is giving that jump. He is being more consistent. He is being more adaptable. He understands better the game, the different spaces, the different positions. He is going in a good direction."
Much has been made of Pep Guardiola's ability to take talented young players to the next level - and rightly so given the stunning form of Raheem Sterling. But few would have put Jesse Lingard in the same bracket as Manchester City's £50m signing from Liverpool. And yet, the statistics highlight just how impressive Lingard's contribution has been.
The 25-year-old United man ranks among the very best players in the Premier League for minutes per goal or assist. It is no surprise to see Mohamed Salah top the list or the perennial goal-getters Sergio Aguero and Harry Kane up there too. But there alongside Sterling and above Barcelona target Philippe Coutinho is that man Lingard.
His seven goals and four assists have come at a rate of one every 84 minutes and he has now netted seven of United's last 14 Premier League goals. As well as his beautiful strike at Everton, there were the two goals at Arsenal and the late equaliser against Burnley - his second of that game too. Only Kane has scored more goals since the start of December.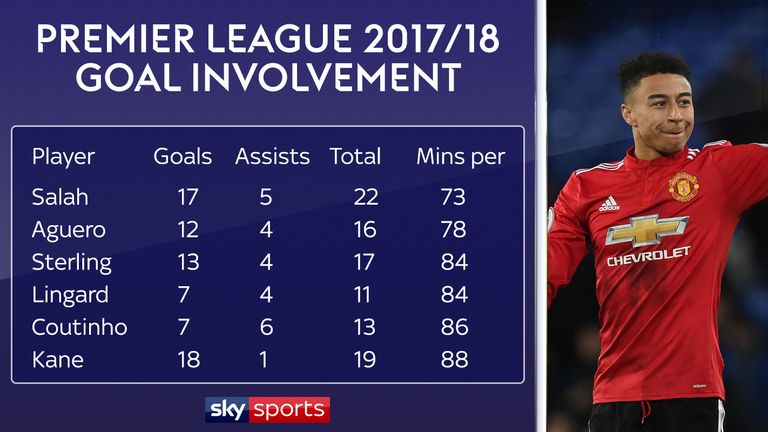 With three goals in the Carabao Cup, too, Lingard is into double figures in all competitions for the first time in his professional career, an indication of the step up he has made this season. Indeed, prior to the current campaign he averaged a Premier League goal or assist every 378 minutes. Something has changed and - as Mourinho suggests - that is the way it should be if a young player is to develop.
Speaking to Lingard in the summer, there were signs that, despite his reputation as a joker, he also appreciated the time had come for him to take greater responsibility at Old Trafford. "It is always good vibes when you are younger," he told Sky Sports. "When you get older you realise it is all about winning games and winning trophies."
Scoring for United in three of those trophy-winning games at Wembley was a good start. But Mourinho will have been even more encouraged by the way that Lingard has responded at a time when the team, and the manager himself, have been under pressure. And all this despite having to wait until the end of November for his second Premier League start.
"At a big club sometimes you are going to be in and sometimes you are going to be out, but it's how you deal with that," Lingard explained in that aforementioned interview. Seven goals in nine Premier League games tells its own tale of how he has dealt with it. It is the response Mourinho would like to have seen from the more celebrated Henrikh Mkhitaryan.
But while the Armenian produced another underwhelming performance when recalled against Southampton on Saturday, Lingard is providing the energy as well as the quality that his manager demands. At Everton, for example, he made 83 high-intensity sprints - 29 more than any of his Manchester United team-mates and 21 more than anyone on the pitch.
Sink or swim. Slump or jump. That is Mourinho's method and in Lingard it seems he has found a player willing to respond in the right way. "Each day you are learning and you can see from the manager about game-management and what he wants you to do on the pitch," said Lingard in the summer. "Doing things in the right areas, that's very key."
Doing it at the right times too. With Romelu Lukaku and Zlatan Ibrahimovic out injured, Mourinho needed others to step up. Lingard has done just that. It is unlikely to change the manager's view that he needs more money to make United great again. But it is a reminder that getting more from those already there is just as crucial if the team is to progress.