Manchester United's Ashley Young meets Tubes on Soccer AM
Young reflects on resurgence, England recall, Dele Alli spat and catching Man City
Last Updated: 20/01/18 2:47pm
Ashley Young sat down with Tubes from Soccer AM for an in-depth, and at times hilarious, look back over his season at Manchester United.
The 32-year-old has really come to the fore under Jose Mourinho this term, making the left-back position his own with a string of eye-catching displays, both defensive and offensively.
Despite dropping back into defence, Young has scored two goals and registered four assists for United this season - his best figures since 2014/15.
His upturn in form earned him a return to the England set-up for the friendly with Brazil, where he made his first international appearance since September 2013, throwing his name in the hat for a spot at Russia 2018.
Throw into the mix a heated altercation with Dele Alli in October and two sensational goals on his return to Watford in November, and it's been an action-packed season for Young - not bad for a player many thought had run his course at Old Trafford.
Read on for Young's light-hearted look back on his resurgence, his thoughts on whether United can catch Manchester City at the top of the Premier League and more!
TUBES: Ashley, you've been suspended recently but before that you'd been playing some decent football. The boss has said you're in the form of your life - would you agree?
YOUNG: I'm enjoying it. The form of my life? Maybe. Possibly. I'm going out there and enjoying football. I've got a smile on my face, we're winning games and we're playing in the biggest competitions that we can and we're trying to win trophies. I'm enjoying playing football and as a footballer that's what you want to do, and that is exactly what I've been doing.
TUBES: Have you had to change the way you play in the new formation?
YOUNG: Yes, of course - I've been playing as a left-back, which is new to me anyway! It's been good and enjoyable. As you get older you start to read the game more, and as your brain starts working more and as you get a good footballing brain your legs start slowing down! Mine have started slowing down.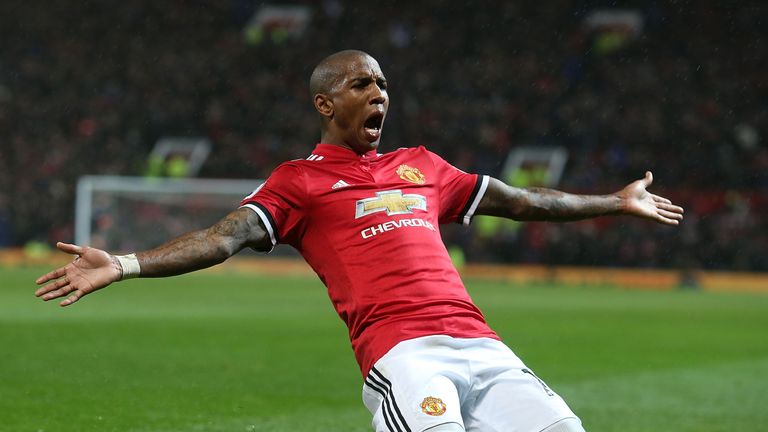 So you've got to read the game more and be able to adapt to that, something I think I have done well. I've gone out there week in, week out and given 100 per cent, tried to get on the scoresheet and get assists and I've been able to do it. Playing as left-back it's always nice to be able to do that.
TUBES: When you did get on the scoresheet, it was an absolute Mr Whippy of a free-kick. Unbelievable!
YOUNG: I don't think a lot of people saw it coming.
TUBES: The Gaffer certainly didn't!
Victor Lindelof wasn't too happy about me taking the free-kick. I don't know if people saw before but it was Paul (Pogba), Victor and myself over the ball. I grabbed the ball straight away because my confidence was sky high having scored before, I was buzzing. I said I was taking it and Victor exhaled, threw his hands up in the air and walked back. I obviously put it top bins and started celebrating.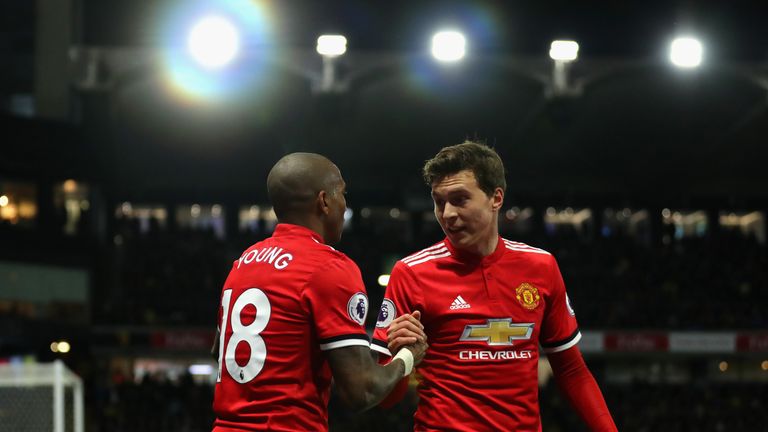 He came over and whispered in my ear and said 'sorry about that, I didn't realise you were going to do that'. So it's always nice to score, although I'm not sure the Watford fans were too happy about it. But a goal is a goal, I scored two and we won. I let Victor take a free-kick in training the next day so he was alright!
TUBES: How often do you practise free-kicks in training then? Because that technique you had was different class.
YOUNG: I've practised all of my career to be honest. There's timewhere the manager can't get me off the pitch because we've been practising them. There are quite a few of us that practise them and practice obviously makes perfect. I knew where I was going to put it and luckily it flew into the top corner. It wasn't too bad, as you say, there was a nice bit of whip on it.
TUBES: It was brilliant. What did the Gaffer say to you afterwards? He couldn't believe it.
YOUNG: He actually thought Paul was going to take it because between Paul, Zlatan Ibrahimovic and Juan Mata, when they argue over them, Paul usually comes out on top. Paul said himself that as soon as he saw me pick up the ball he stepped aside and didn't say anything because he could see I wanted to take it and he had confidence in me to put it in the top corner. So I did.
TUBES: You've been recalled for England as well. That's superb. You must have been buzzing with that?
YOUNG: Yes, of course. I've always said that when you pull on an England shirt it's a proud moment and it's an honour to play for and represent your country. It had been a long time since I was there, four or five years I think, so it was nice to get back there and be among it again and have that recognition of playing for my country.
There's no better feeling than going to play at Wembley, it was nice to put the shirt on. Obviously there's a World Cup at the end of the season, but as long as I'm playing well for my club, doing well for the team and the manager is happy, that is all that matters. We will have to wait and see what happens at the end of the season.
TUBES: If you carry on playing the way you are, you're on that plane.
YOUNG: I don't know, am I?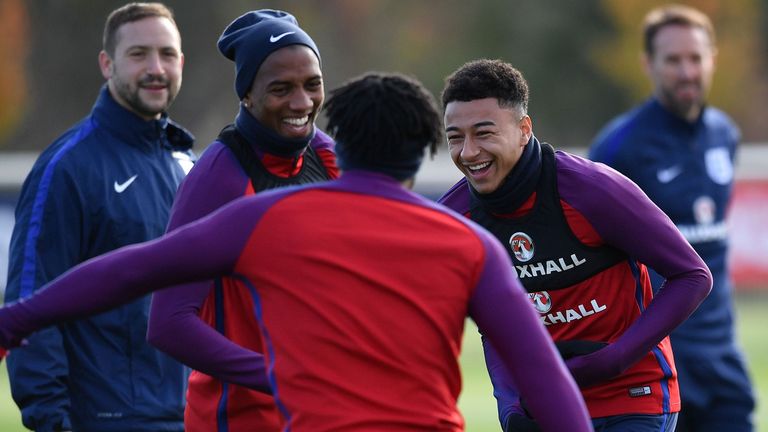 TUBES: I think so. Do you?
YOUNG: I don't know, I'm not the England manager. He's got a tough decision to make but, like I say, it will be an honour for me to be on the plane and going to a World Cup. I've played at a European Championship, to represent your country at a World Cup is every boy's dream, and for me it would definitely be a dream come true.
TUBES: Have you made friends with Dele (Alli) yet?
YOUNG: I've not seen him. We're due to play Tottenham soon. I don't know what's going to happen. We have to wait and see.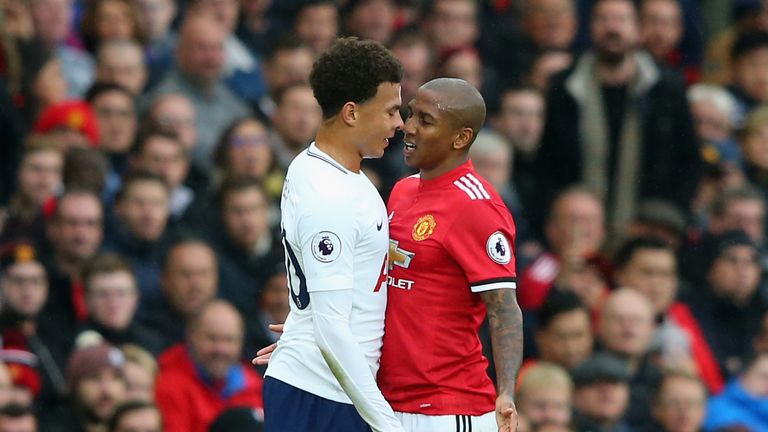 TUBES: Did he bring out the old Zimmer frame? You're only 32. You don't need a Zimmer frame yet do you?
YOUNG: Yes he did! I must be old. Some days after games I need a Zimmer frame. It was one of those things that get said during a game. We won the game and that's all that matters at the end of the day.
TUBES: Does that happen a lot on the pitch, like sledging does in cricket?
YOUNG: Years ago there was a lot of it, now there's not so much. It does happen, obviously, but it's one of those things. I took it as a bit of banter and I think my banter was better to be honest!
TUBES: Your reply - asking him to come back with his Premier League medal - was solid, wasn't it?
YOUNG: Yes it was alright wasn't it.
TUBES: Do you not text each other afterwards?
YOUNG: I don't have his number. I wasn't in the England squad before and I haven't come across him before then.
TUBES: He wasn't in the squad for the Brazil game two weeks later. I would have loved to have seen you two.
YOUNG: I'm sure something would have been set up. I would have shaken his hand because you're mates after you come off the pitch. I was thinking of taking a Zimmer frame along but he was injured so I thought it was best I didn't.
TUBES: The handshakes at Manchester United are off the scale. I saw the one with Jesse Lingard and Paul Pogba, have you?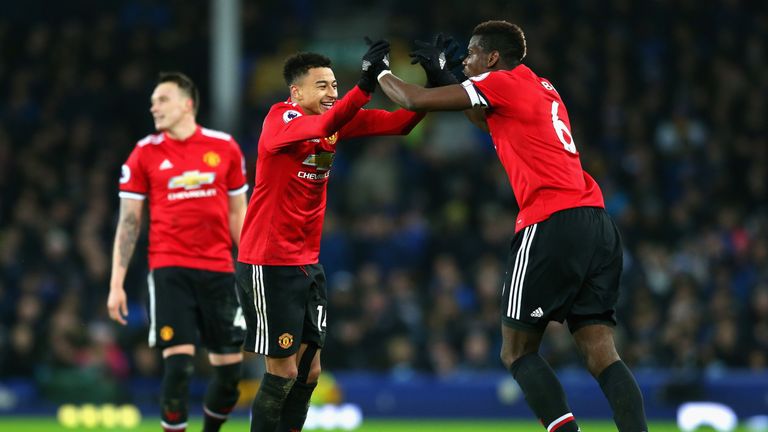 YOUNG: I can't keep up with them. Before the game they've got a proper routine. You're sat there waiting to shake people's hands wondering if they've finished yet. But it's the new age now, they got handshakes which are fine if they are performing on the pitch, which they both are. That's all that matters. Let them get on with it. There is all sorts going on, if you were there every day you would see there are plenty.
TUBES: You've got one with haven't you? But yours is quite civilised.
YOUNG: It's a simple one with a double tap and a fist pump. Old school.
TUBES: Man City are superb this season. Can you catch them?
YOUNG: It's hard to say about them being superb, with them being our rivals - you can say that. There are so many games to play, so many points to pick you, who knows what can happen? Things in football change. You wouldn't have said they would have lost the other day (at Liverpool) but it happens.
At the end of the day we've got to concentrate on ourselves, keep picking up wins and three points home and away and whatever comes at the end of the season comes. Hopefully they drop points, hopefully we pick up points. We have to wait and see. But I will never say never.