Alexis Sanchez's Premier League debut for Manchester United assessed
By Nick Wright
Last Updated: 31/01/18 11:37pm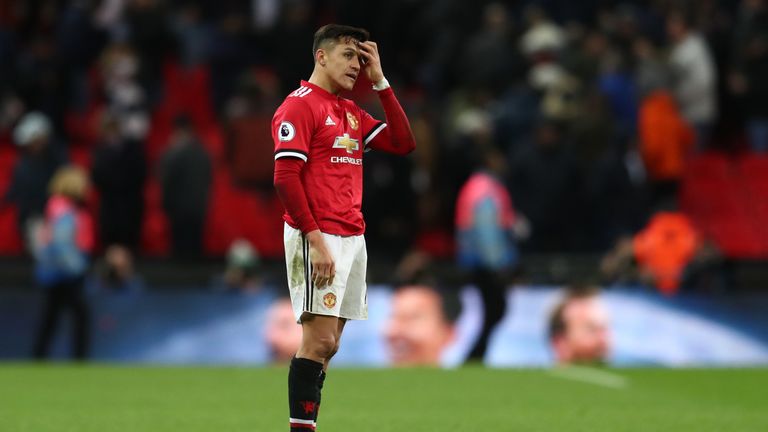 Alexis Sanchez made his first Premier League start for Manchester United as they suffered a 2-0 defeat to Tottenham at Wembley. Here, we assess the former Arsenal man's performance.
There was a lot to like about Alexis Sanchez's Manchester United debut in last week's FA Cup win over Yeovil Town, but his first Premier League appearance will not be remembered fondly. Jose Mourinho's side were outclassed by Tottenham on Wednesday night and their new No 7 struggled as much as anyone.
Sanchez was booed by the home fans throughout and it soon became clear he would be the subject of special attention from Tottenham's players too. The former Arsenal man was surrounded by white shirts with every touch. He was fouled more times (five) than any other player on the pitch.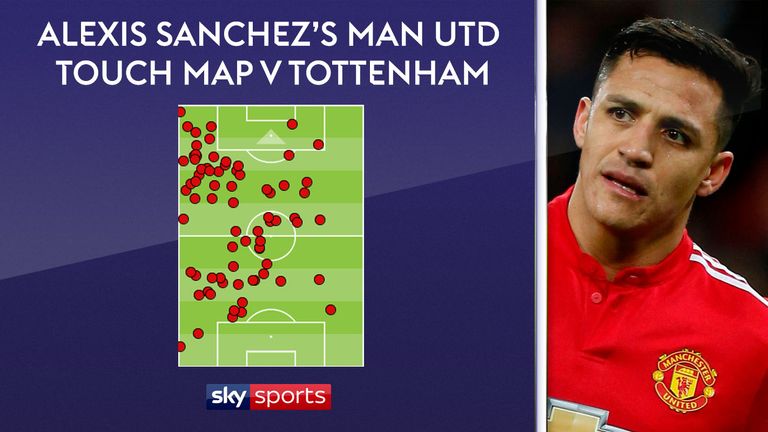 Tottenham's aggressive approach made for a difficult evening. Despite having 75 touches, the second-most of any Manchester United player, Sanchez did not create a single scoring chance or even attempt a shot on goal for the first time in any Premier League game all season.
Sanchez started on the game on the left-hand side, and while he showed his usual zip in attack, pressing opponents willingly and winning possession more times (10) than any of his team-mates, there were questions over his defensive awareness when Tottenham right-back Kieran Trippier broke free to cross for the hosts' second goal.
Mourinho attempted to spark United into life by moving the Chilean behind Romelu Lukaku, with Jesse Lingard switching to the left, but the change did little to improve things. In fact, Sanchez's most notable contributions of the second half came in his own half. With service lacking in attacking areas, he dropped back in search of the ball to try and make something happen.
Sanchez could be seen showing his frustration as he complained to the referee following a particularly forceful tackle from Ben Davies midway through the half, and he reacted angrily again when he was kicked by Dele Alli in the closing stages. It was a fitting end to an exasperating evening.
Sanchez watch
3 - Sanchez collects the ball on the left and makes a darting run infield before feeding Paul Pogba, who releases Jesse Lingard for an early chance.

17 - BOOS! Booed by the home supporters as he goes to ground following a challenge by Harry Kane in United's half.

21 - Frustration for Sanchez as Anthony Martial breaks free on the right-hand side of Tottenham's box but chooses to shoot instead of pass. The Chilean screams in anger.

25 - CLEVER! Plays a smart reverse pass to Lingard on the left-hand side of the Spurs box, but no one is able to connect with his team-mate's cross.

28 - Sanchez fails to track back as Tottenham right-back Kieran Trippier breaks free to provide the cross for their second goal.

46 - A change of position for Sanchez as Jose Mourinho moves him into the centre behind Romelu Lukaku.

53 - Gets his head to a corner and it appears to strike Tottenham's Heung-Min Son on the arm. His penalty appeal is ignored by the referee.

63 - TACKLE! Sprints back into his own half and performs a slide tackle on Mousa Dembele, winning the ball and allowing United to spring forward on the attack.

85 - FRUSTRATION! Sanchez squares up to Erik Lamela after he is kicked by Alli deep in United's half.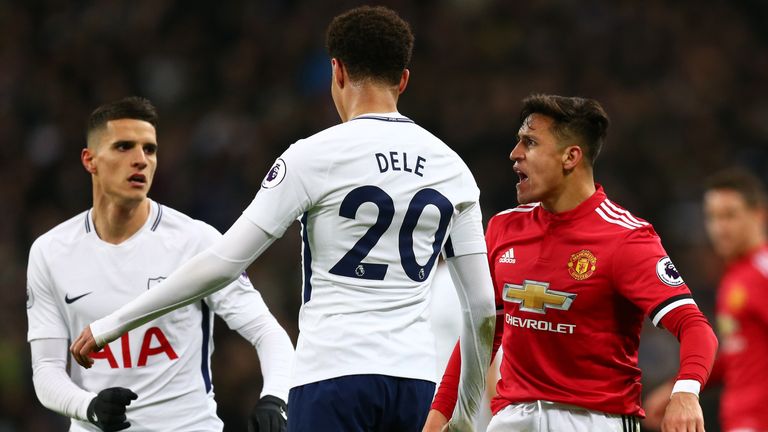 Jose Mourinho's verdict
"He worked hard, but with the transformation the game had, the game was not for him. In the second half, I tried to give him a position where he could be closer to Lukaku but then he felt the need to drop too much to organise.
"But he gave everything, good effort and this is a good feeling for me to know that the player is available with that spirit."