Manchester United boss Jose Mourinho is looking forward to an "amazing" few weeks
Last Updated: 24/02/18 1:41pm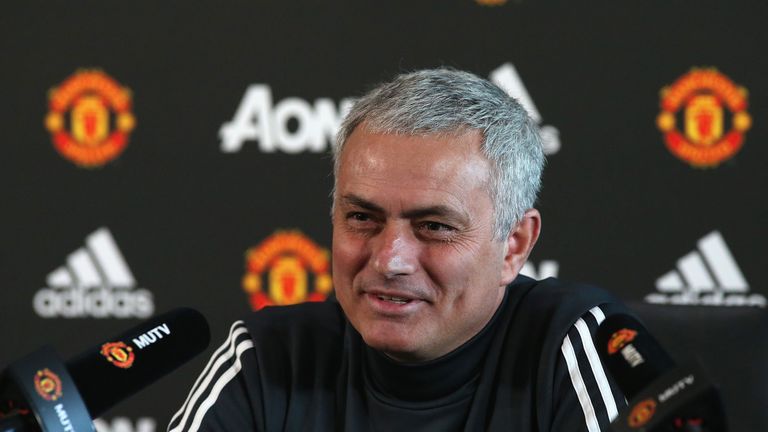 Jose Mourinho is looking forward to an "amazing" make-or-break month that could define Manchester United's season.
United kick-start a tough run of fixtures on Sunday as Mourinho faces former side Chelsea in the Sky Live game at Old Trafford.
The clash with Chelsea is the first of five matches at Old Trafford between now and the end of March - a run of home games that includes Liverpool in the league, Sevilla in the Champions League last-16 and Brighton in the FA Cup quarter-finals.
"I think the next few weeks at Old Trafford will be amazing," Mourinho said.
"Two big matches against two direct rivals in the Premier League, two knockout matches that, if things go well, can leave us in the quarter-final of the Champions League and the semi-final of the FA Cup.
"Sometimes we have periods with three, four consecutive away matches but this time we have four matches at home, with Crystal Palace away in between, but four big matches at Old Trafford."
The United boss is ready for the pressure of a congested fixture programme but cannot believe the season has flown by.
"Time flies," Mourinho told MUTV. "It feels like two days ago that we were in Los Angeles for pre-season and now we're almost in March.
"March, April and May can be really busy and going far in the FA Cup creates you problems.
"We now play Brighton when we were supposed to play West Ham and we don't know when we'll play West Ham. If we play the semi-final of the FA Cup, I don't know when that will be so it can be really busy and complicated."