Jose Mourinho hails 'perfect' Manchester United victory over Liverpool
United move five points clear of Liverpool in the race for second with 2-1 victory
By Jack Wilkinson at Old Trafford
Last Updated: 10/03/18 9:36pm
Jose Mourinho saluted Manchester United's blistering first-half performance which earned a "perfect" 2-1 victory over Liverpool at Old Trafford.
Marcus Rashford's first-half double - his first in the Premier League since his debut against Arsenal in February 2016 - fired United five points clear of their fierce rivals in the race for second.
Liverpool improved in the second half but all they could muster was an Eric Bailly own goal by way of a response as their late fightback fell short.
Asked if United's first win over Liverpool since January 2016 was the perfect performance, Mourinho said: "Perfect result. Yes. Three points is very important.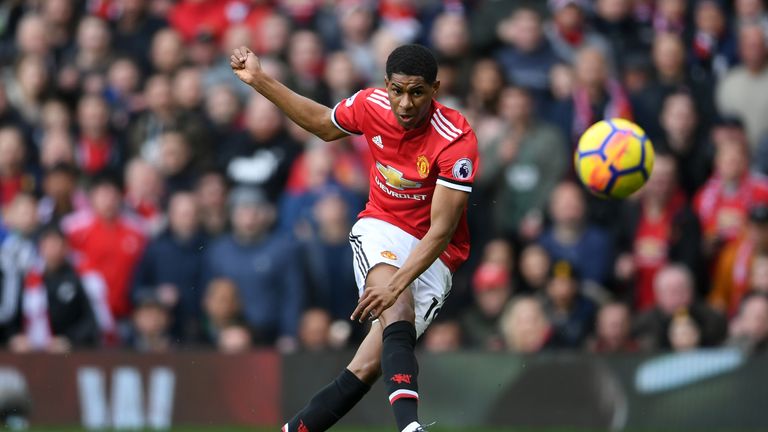 "I wouldn't go so far as saying it was a perfect performance. In the first half, the game gave us the opportunity to be direct, fast and score goals, more than we did. We were worth the win.
"The first half was our half and the second half was Liverpool's half. But our first half had goals and danger, who knows what could have happened if (Juan) Mata had scored a fantastic goal to make it 3-0.
"In the second half Liverpool controlled by having the ball, United controlled not having the ball. I don't remember David (De Gea) having to make an amazing save or many dangerous situations.
"Even after Liverpool made it 2-1, which could have pushed them for more, my team was completely in control at set pieces and corners.
"You can be in control when you don't have the ball you can be in trouble when you have the ball. Against Liverpool you can be in trouble when you don't have the ball because you can give them the chances to do what they are very, very good at.
"In the second half that was not our intention - it wasn't a plan. Liverpool pushed us to a more defensive situation, credit to them, but we were in control and our full backs they defended very well.
"Our wingers made a huge sacrifice to control their full-backs. It was a complete performance by us with two different halves, which I think we deserved.
"Even if people this we didn't deserve it - I don't care. We've got three points, a very important victory and I am happy."