Memphis Depay feeling loved at Lyon after Manchester United problems
Last Updated: 22/03/18 8:05am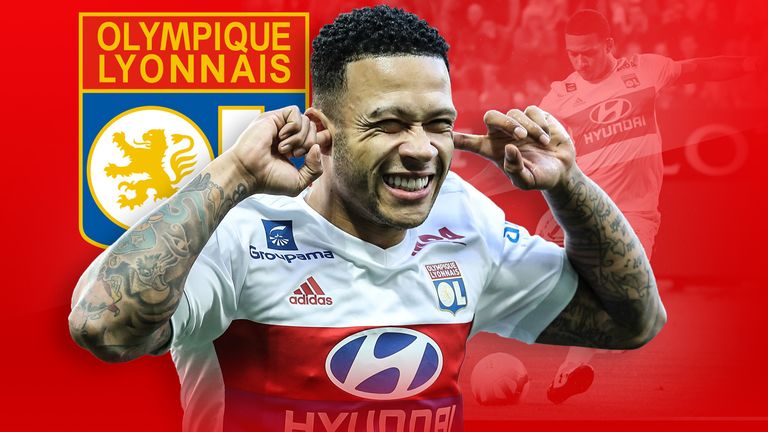 Manchester United reject Memphis Depay is starting to show what he can do at Lyon. Adam Bate checks in on the Dutchman's progress ahead of the friendly international between the Netherlands and England in Amsterdam on Friday evening.
Luke Shaw finds himself in the spotlight and out of the England squad, derided by his manager Jose Mourinho and seemingly set for the exit door at Old Trafford. But if the Manchester United left-back is looking for hope, he could do worse than switch on his television this weekend and watch another Mourinho reject take centre stage.
Somewhat rejuvenated at Lyon, Shaw's former United team-mate Memphis Depay is in Ronald Koeman's Netherlands squad for Friday's game against England. This despite the fact that Koeman was once so appalled by the player's attitude that he accused Depay of "walking around like he has won 10 European Cups" during an under-19 international.
No doubt they recognise that character at United. The young man who once sat through a Ryan Giggs pep talk on the need to tone it down and focus on football only to show up soon after in a new Rolls Royce. Louis van Gaal coaxed a tune for Depay in Brazil, where he became his country's youngest World Cup goalscorer, but even he gave up in the end.
After being left out of the squad for Van Gaal's FA Cup triumph in May 2016, Depay was never likely to turn things around under Mourinho. He has since spoken frankly of his failings, pointing to his struggles in adapting to "the fastest league in the world" but expressing the conviction that he was ready to make a bigger contribution in his second season.
Chances were not too forthcoming and when Depay did get a start under Mourinho, in a League Cup tie away to Northampton, he was withdrawn after 55 underwhelming minutes. It was his last start for the club and it came as no surprise to anyone when United cut their losses and sold the player to Lyon in the January transfer window of last season.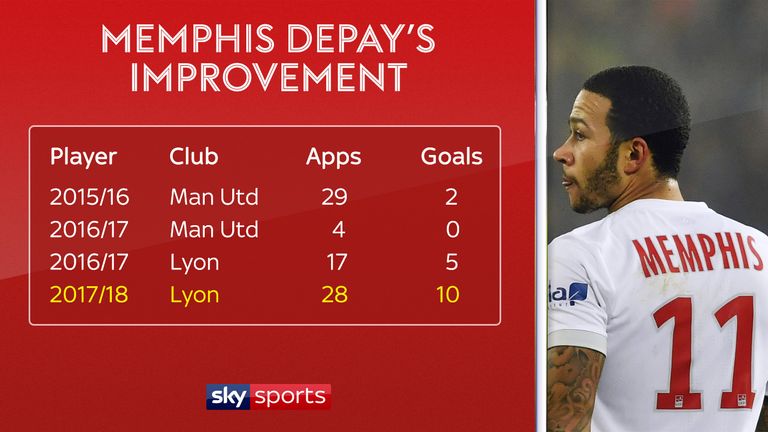 It is there that Depay is beginning to show what he can do once again. He has scored 10 league goals this season, double his tally of last term and five times as many as he registered in his only full season in England. With six assists to his name too, he is in the top 20 in France for both lists. Only Kylian Mbappe has scored more goals on the counter-attack.
It is an ongoing process. Perhaps it always will be with Depay. He made a slow start to the season before scoring six goals in four games, including a hat-trick away to Troyes and a man of the match performance against Everton. Like others before him, Lyon coach Bruno Genesio appeared confident at the time that he had finally got through to the player.
"I do not know if we can say that I shook him but I had good discussions with him," said Genesio in October. "He has questioned himself and it is true that, in training, he is a different player from what we saw at the beginning of the season." But by December, Depay was storming straight down the tunnel after being substituted in a game against Amiens.
"We have to accept the defects of the players, because we all have them, and we must also see their qualities," said Genesio. His stance was justified by Depay's superb stoppage-time winner in a top-of-the-table clash against Paris Saint-Germain the following month. He repeated the trick against Marseille at the weekend.
But it was the game against Villarreal last month that seemed to sum it all up. Depay came off the bench with the Europa League tie in the balance and promptly mis-hit an attempted rabona cross much to the frustration of the crowd. Minutes later he was slamming the ball into the net to double Lyon's lead.
"With his technique, he brings things that have rarely been seen in Lyon," said club president Jean-Michel Aulas. "With his personality, we can only love him, even if sometimes he frustrates us. He is a boy who needs love."
That was something established early on in Depay's time at PSV. The club assigned him a life coach, Joost Leenders, at the age of just 12 - a troubled childhood seen as the catalyst for the youngster's anger-management issues. The spiel on Leenders' company website, De Talentacademie, outlines how they seek to help people fulfil their potential.
"Top sport is tough, so everything has to be right," they explain. "If you could reach the top with talent alone, De Talentenacademie would not exist, as success would come automatically. But those who reach the top do not always have the most talent. They have self-knowledge, trust and a huge drive. These are exactly the things that we coach."
Hope remains that Depay's talent will be fulfilled. But as pointed out by Maarten Wijffels, a Dutch journalist with Algemeen Dagblad who has followed the player's career for years, it must happen soon if it is to happen at all. "It is still a question, what level he will reach," Wijffels tells Sky Sports. "He must hurry in the coming year. He still has something to prove.
"Will he reach the top? He has a lot of talent but he has already turned 24. When I speak to guys like Arjen Robben they say that there comes a point in your career when you have to be stable in your performances and you also have to be resilient in the face of criticism. That is really Memphis's biggest problem. He is still very touched by things that happen.
"To be a big player you need to be resilient."
That is the message that Shaw will need to cling to as he endures his own problems at Manchester United. If his old team-mate Depay can impress against England on Friday night, it will be a timely reminder that there is life after United - and there is always a path forwards if the talent is there.