Alexis Sanchez's Manchester United move in the spotlight on derby day
Last Updated: 06/04/18 5:58am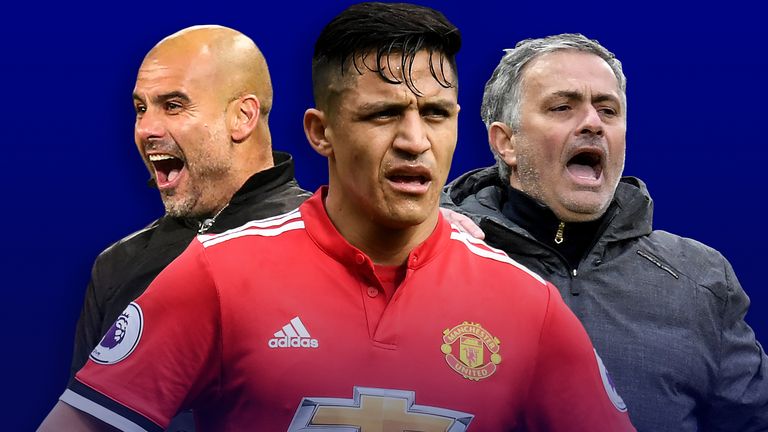 Alexis Sanchez finds himself under the spotlight on Saturday when Manchester United visit Manchester City, the team that he came close to joining in January. City will win the title with a win, so did Sanchez make the right choice? Adam Bate takes a look…
If Alexis Sanchez had any doubts about the level of scrutiny upon him at Manchester United, his first two months at the club will have dispelled them. Of course, he has been under the pump before at Arsenal. He has played in the Barcelona hothouse, too. But 11 games into his new job and the question marks over his role could still have been a little alarming.
Such is the situation at Jose Mourinho's Manchester United right now. No matter that Sanchez has already been named man of the match on three occasions for his new team. No matter that Sanchez has won four of the last five games that he has played for United - including victories over champions Chelsea and great rivals Liverpool.
The mood at Old Trafford has still been defined by the fifth of those fixtures - the defeat to Sevilla in the Champions League. The questions are inevitable in the current Manchester climate. For while United are the city's biggest club, City are certainly the more successful right now. They are the runaway leaders. The ones who can seal the title on Saturday.
Sanchez could be forgiven for wondering what might have been had things gone differently, although there is no great mystery to it. He would be collecting his first Premier League winners' medal for one thing. Perhaps he could have helped City avert their first-leg loss at Liverpool in the Champions League quarter-finals too.
But more than that, he would be getting the opportunity to play in the Manchester City sandpit. Feeding off Kevin De Bruyne's long passes. Feeding off Kevin De Bruyne's short passes for that matter. David Silva too. Sanchez might have flourished amid the fluidity of a team playing at the peak of their powers. At 29, there may not be many chances left.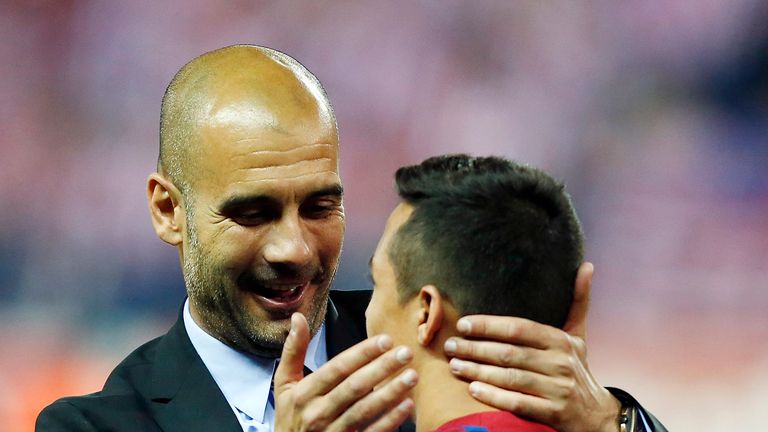 Some say Sanchez was never a natural fit for a Pep Guardiola team. The City boss himself seemed to acknowledge as much when bringing him to Barcelona in 2011. "He came to offer something that we didn't have," he explained, highlighting that "vertical sense of the game" - the directness that has been such a feature of Sanchez's success.
"In Barcelona maybe I didn't help him too much because he played wide," said Guardiola more recently. Sanchez had still seemed keen on a reunion until the goalposts moved and Manchester United swooped. He is on a different path now. If Guardiola wanted Sanchez because he was different, Jose Mourinho is attracted by their similarities.
The United boss chose to downplay Sanchez's individual display in the 2-0 win over Swansea last weekend, despite his new signing scoring a goal and providing assist. But his words of praise following February's win over Huddersfield did much to explain why he is a fan. "A crucial moment in football is when your team loses the ball," said Mourinho.
"You become exposed and you become open for the opponent to hurt you. So when you have players in the team with that mentality of, 'I made a mistake or I lost the ball and I am going to recover it for my team', that is very important. All of this combination - his experience, his talent and his mentality - makes him a player that I like."
It is why Sanchez will surely be a big part of what Mourinho wants to do next at United. That is likely to be the way that he likes it too. For all the visible frustrations during his time at Arsenal, Sanchez has always been better in that role. The go-to man. The catalyst for this team. The one expected to take responsibility rather than merely a cog in the wheel.
Much has been made of the fact that Sanchez twice set the record at Old Trafford for the most losses of possession by a United player this season. Less mention was made of the fact that Sanchez created the most chances across those two games. It is a positive. A clue that he is willing to embrace the expectation that he is the man to make things happen.
Perhaps that as much as his positioning was why he was regarded as more effective at Arsenal than Barcelona. It certainly explains his success with the national side, Arsene Wenger having once said that Sanchez was "like Lionel Messi" for Chile. Indeed, he twice stole the show ahead of the Argentine in consecutive Copa America finals.
Mourinho will place those demands on Sanchez and will be confident of coaxing even more from him too. Sanchez needs to feel needed and United sure need him now. Starting on Saturday against the team for whom he might have signed. It could be a tough afternoon for Sanchez and the United supporters but he must use it as inspiration too.
City have already demonstrated what many had suspected - they do not really require Sanchez. Manchester United most definitely do and, as shown by the standing ovation that he received at Old Trafford when substituted against Swansea last Saturday, they are desperate to see more. The Manchester derby would be the perfect stage to provide it.
Comment below to get involved in the debate, but please adhere to our House Rules. If you wish to report any comment, simply click on the down arrow next to the offending comment and click 'Report'.