Jose Mourinho accuses referee Kevin Friend of prematurely ending game at Brighton
First-half Brighton blitz condemns United to successive defeat at the Amex Stadium.
Last Updated: 19/08/18 8:02pm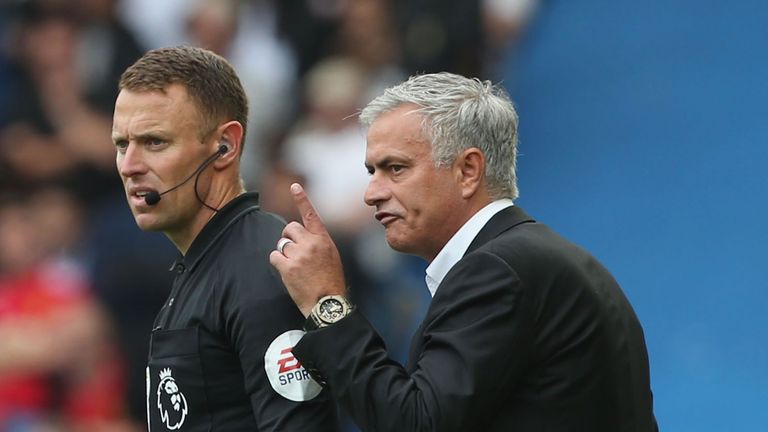 Jose Mourinho admitted that Manchester United deserved to lose at Brighton on Sunday - but he could not resist a parting shot at referee Kevin Friend.
United were blown away by Brighton in the first half of the 3-2 defeat, as they slipped to a second successive loss at the Amex Stadium.
However, Paul Pogba's stoppage-time penalty gave the visitors the faintest of hopes of staging a comeback, until, midway through their next attack, referee Friend blew the final whistle.
Mourinho took offence with Friend's timing and highlighted the thrilling finale that referee Andre Marriner allowed to ensue at the end of United's opening-day victory over Leicester.
"In the second half, our goal was too late and gave us not even the chance of a next ball," Mourinho told his post-match press conference.
"It's quite strange because against Leicester the match ended with a corner against us and [Kasper] Schmeichel had 15 seconds to arrive from his box to our box.
"The referee waiting for that Leicester opportunity when it was after the extra time he gave.
"Today the situation was not even a corner but was similar in the sense we had one last ball and the referee stopped the game when the ball was in the air.
"But Brighton deserved [to win], congratulations to them."
United found themselves two goals down inside 27 minutes after Glenn Murray and Shane Duffy scored within two minutes of each other in a blistering Brighton spell.
Romelu Lukaku halved the deficit but Pascal Gross' penalty restored the hosts' two-goal lead before half-time.
Asked for his assessment of United's performance, Mourinho added:" We made mistakes and were punished by our mistakes.
"Sometime you make mistakes and you are not punished, sometimes your opponent doesn't take advantage of your gifts or the mistakes you make.
"Sometimes they do and this time it was three on three. They were critical in the gifts we gave them and I think they deserved [the win].
"Without nothing they are winning 2-0 and that gives a big boost and pushed the losing side down mentally.
"Then we scored the first goal, which gave immediately the feeling that the game is open and we are going to finish the half on a high and ready for the second half. And then the third goal appears and we go again to this situation."