Sir Alex Ferguson would not have tolerated the current situation with Paul Pogba, says Danny Mills.
Last week, United boss Jose Mourinho denied having a bust-up with Pogba, insisting he has "never been so happy" with the France World Cup winner.
Ferguson famously sold Pogba in 2012 to Juventus only for the club to sign him back four years later for the then-highest football transfer fee of £89m.
But with Pogba's comments after their 3-2 loss to Brighton detailing his "attitude was not right during the game", Mills believes Sir Alex, who left Old Trafford in 2013, would have been less tolerant.


Mills told Sky Sports News: "There has been a lot of talk of does Pogba stay or does he go? Who is bigger than the club?
"I don't think there is a particular issue between him and Mourinho. I don't really buy into that. I think there is maybe an issue between Pogba and the football club in terms of who is bigger.
"Is he causing one or two problems with the way he does things on social media? If it was Sir Alex I think he would be gone by now.
"But Sir Alex had the ability to bring in better players when he got rid of the likes of Jaap Stam, he brought in Rio Ferdinand.
"If Mourinho gets rid of Pogba he can't bring anybody else in. Also Ferguson had 10-15 years of trophies and experience at the football club and was the head honcho.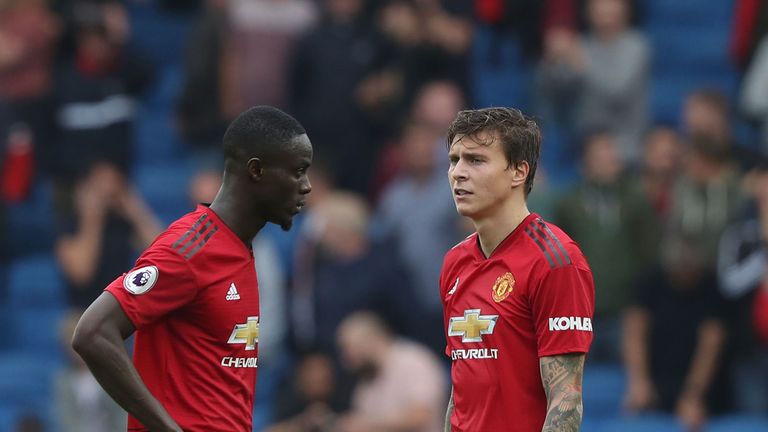 "He was in charge of everything but that is not what Mourinho does - he doesn't have that ability to do that.
"It is a difficult one. You have to play one of the world's best players if you have him in your squad but he is not playing well enough at the moment."
Mills also believes Mourinho's fears of not signing a centre-back during the summer transfer window would come back to haunt them.
"[Victor] Lindelof I am still not sure about - he didn't play a lot of football last season. Eric Bailly as well was full of injuries last year," he said.
"Those two looked like they had never spoken to one another let alone played together. The gaps that were appearing were so un-Mourinho like in the way that his teams are set up.
"He has always had a commanding centre-back. He does not have that at Manchester United at the moment. Ashley Young did incredibly well at the World Cup but he is a right-back, a left-back, a right-winger and a left-winger.
"It's not his specialised position - he does not usually play in that position. Luke Shaw - he is doing OK.
"But you have got a player out of position, two guys who haven't played a lot of football, no commanding presence to dominate that back four. I think that is why he had about five bids out on the table for transfer Deadline Day."