The Manchester United attacking problems Jose Mourinho must solve
United lost 3-2 at Brighton last time out
Last Updated: 23/08/18 5:41pm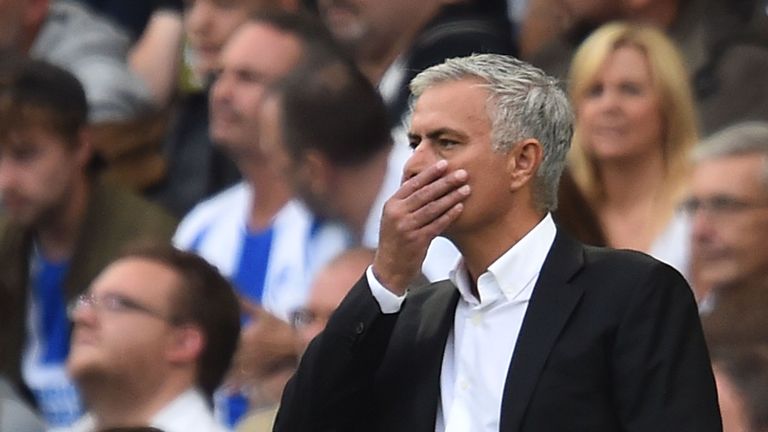 Manchester United have spent less time in the opposition's final third than any other Premier League club this season. Here, we examine Jose Mourinho's attacking problems...
"I had expected the Premier League to be quicker. But [my team-mates] told me this is always the kind of game you play against United. They like to slow it down."
Jose Mourinho hasn't been short of critics in recent weeks but Brighton's summer signing from Mainz, Leon Balogun, took a different angle. Speaking after his side's 3-2 win over Manchester United, the centre-back suggested that, while United's backline has been scrutinised, their attacking play could be a cause for concern too.
Just two games into the new season, the stats do not paint a good picture.
United have averaged 55 per cent of the ball against Leicester and Brighton in their first two matches of 2018/19. That ranks them sixth in the Premier League.
However, when it comes to shots at goal and touches in the opposition box, they are way down the standings. No team has spent less time in the opposition's final third.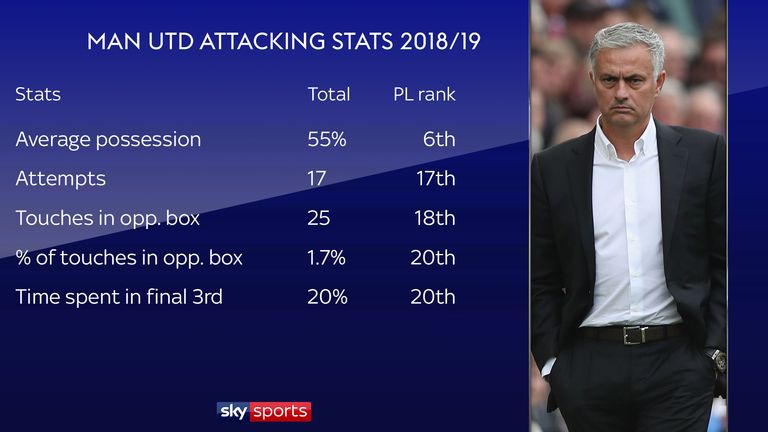 They are standout numbers - especially considering United's opening games were not against top-six rivals.
United have not been short on possession but have struggled to pick a way through defences and just 1.7 per cent of their touches have been in the opposition penalty area. By way of comparison, Manchester City are up at 5.3 per cent.
% of touches in opposition box - 2018/19 PL
| PL Rank | Club | % of touches in opp. box |
| --- | --- | --- |
| 1 | Man City | 5.3 |
| 2 | Bournemouth | 5 |
| 3 | Liverpool | 4.6 |
| 4 | Tottenham | 4.4 |
| - | - | - |
| 17 | Chelsea | 2.5 |
| 18 | Brighton | 2.3 |
| 19 | Fulham | 2.2 |
| 20 | Man Utd | 1.7 |
Incredibly, Tottenham have already racked up 23 more shots.
Lack of penetration?
Manchester United's 10 touches in the Leicester box is the joint-fewest by a PL home team this season, along with Brighton v United.
Of course, there is more than one way to attack. Chelsea, for instance, rank 17th for percentage of touches in the opposition box but have scored six times in their two matches.
The problem is United are noy getting anywhere by being patient in possession - and they're not attacking quickly, either.
Passing and attacking styles - 2018/19 PL
| Team | 10+ pass sequences | Build-up attacks | Direct attacks | Open play goals |
| --- | --- | --- | --- | --- |
| Liverpool | 45 | 13 | 8 | 4 |
| Chelsea | 43 | 7 | 5 | 5 |
| Tottenham | 42 | 11 | 3 | 3 |
| Man City | 41 | 11 | 4 | 7 |
| Fulham | 30 | 3 | 6 | 1 |
| Man Utd | 27 | 1 | 0 | 1 |
The above table comes from Opta's data science team, who study what Premier League teams do on the ball and how teams build attacks.
United have had 27 sequences of 10 passes or more this season, putting them up amongst the division's top possession teams.
But when you look at the 'build-up attacks', which are when a move of 10 passes or more ends in a shot or a touch in the opposition box, United have converted just one of their 27 long passing sequences into a meaningful attack.
The only team with fewer 'build-up attacks' than United this season are Neil Warnock's Cardiff.
As for direct attacks - which Opta define as moves which start in your own half and quickly advance at speed - United are yet to record any so far, along with Huddersfield.
Among top-six sides last season, United ranked bottom for shots and touches in the opposition box, so it isn't necessarily a new problem - but the numbers are more alarming at the moment.
Of course, two games is a small sample size and Paul Pogba and Romelu Lukaku, two key parts of United's attack, went all the way to the final weekend of the World Cup, while Alexis Sanchez was absent against Brighton.
But after a disrupted pre-season, a frustrating transfer window and defensive errors at Brighton, it appears United's attacking play could be another addition to Mourinho's list of problems.
Tottenham come to Old Trafford on Monday night having overcome their own issues - in the transfer window and with their new stadium - to make a flying start to the season.
If United are unable to match them, the criticisms will keep on coming.
If you're reading on skysports.com comment below to get involved in the debate, but please adhere to our House Rules. If you wish to report any comment, simply click on the down arrow next to the offending comment and click 'Report'.