Jose Mourinho criticism has been way over the top, Neil Custis tells the Sunday Supplement
Last Updated: 26/08/18 8:38pm
The recent criticism of Manchester United manager Jose Mourinho has been too much, according to the Sunday Supplement panel.
United suffered a surprise 3-2 loss at Brighton & Hove Albion in their opening away game of the new Premier League season last weekend, a setback that produced a string of negative headlines.
Sky Sports pundit Jamie Redknapp said he does not think Mourinho "has a clue" on his best starting XI in the aftermath of their defeat on the south coast, while former United winger Lee Sharpe told us he expects the Portuguese to be sacked by Christmas.
However, Neil Custis believes 'The Special One' should be praised for the job he has done at Old Trafford since taking over from Louis van Gaal in the summer of 2016.
"The criticism of Jose Mourinho has been way over the top, miles over the top for what I think he has done at Man Utd," said the Sun's Manchester correspondent.
"Liverpool fans and Spurs fans are rubbing their hands - he has won more trophies in one season than they have in 10, 12, 15 years.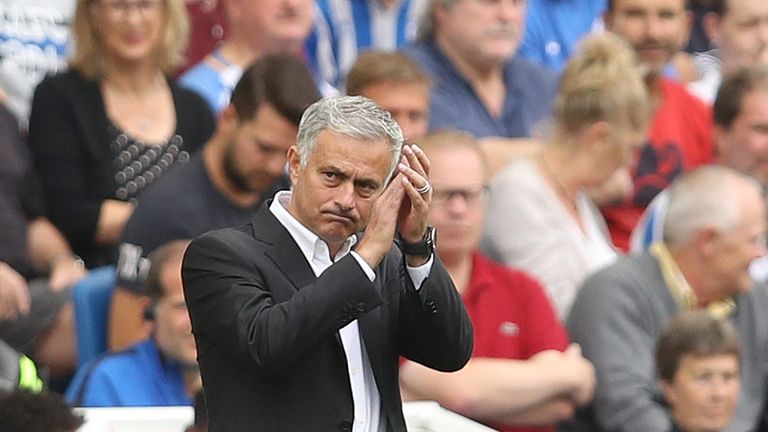 This is a top manager who is being picked apart and being called a dinosaur
Neil Custis, the Sun's Manchester correspondent
"They were the second best team in the country last season and they have played two games (this season) and he is having his CV picked apart, he is having his managerial style picked apart.
"From where Man Utd were - because when he came in they were absolutely rock bottom under Louis van Gaal, the spirit there, everything - and he picked that up and put trophies on the table and got them back to second in the league."
It is the trophies Mourinho has won, though, as well as the second-placed finish he recorded last season, that means the United boss should be given more credit for his achievements at the club, according to Custis.
"He has made them relevant again," he said. "This is a top manager who is being picked apart and being called a dinosaur. He beat all of the top six last season, Spurs in the (FA Cup) semi-final, got to an FA Cup, which they probably should have won.
"The League Cup final when they beat Southampton was the best game I have seen at the new Wembley. The Europa League final against Ajax he got tactically spot on.
"And this bloke is getting pulled from pillar to post, it is ridiculous."