Alexis Sanchez's Manchester United form is a concern for Jose Mourinho
January signing is still struggling to impress at Old Trafford
Last Updated: 24/09/18 3:59pm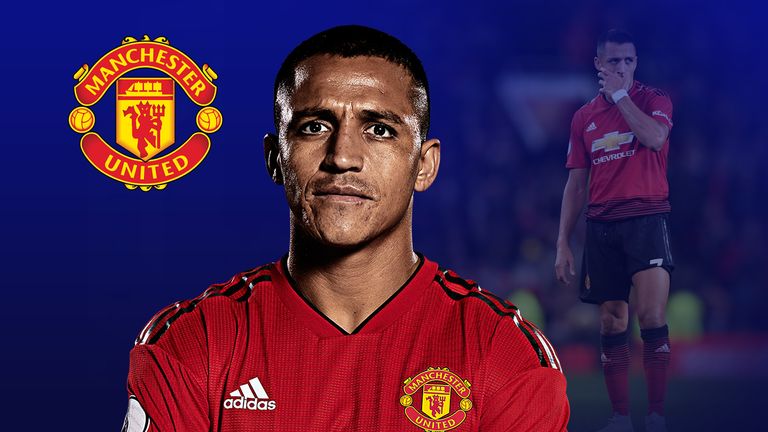 Alexis Sanchez's poor form continues at Manchester United after he was substituted in his side's 1-1 draw with Wolves on Saturday. Adam Bate was at Old Trafford to see it and argues that Sanchez's struggles are symbolic of Jose Mourinho's problems.
Alexis Sanchez has not scored a Premier League goal since finding the net against Swansea on the last day of March. Since that day, there have been 347 goals scored in the competition with no fewer than 164 different scorers. The Manchester United forward, the Premier League's highest-paid player, has somehow contrived not to be among them.
His latest disappointing showing came on Saturday in United's 1-1 draw against newly-promoted Wolves at Old Trafford. He scurried down the left flank and he tried to make things happen but the only thing that came off was Sanchez himself - hooked by manager Jose Mourinho after just 63 minutes with the game in the balance.
It could not have been the plan. Mourinho had not only been adamant that Sanchez would start ahead of Anthony Martial, he had identified the player's freshness as the key reason why he would be opting for the Chilean. Sanchez had sat out the midweek win over Young Boys in the Champions League but still he was unable to make an impact.
Mourinho has been unusually patient. After seeing his January signing score only twice in 12 Premier League starts last season, the expectation was that everyone would see a different Sanchez this time around. He had no World Cup commitments and was even spared international duty earlier this month. There were encouraging signs in the summer too.
"He had a good pre-season and he had a good start to the season," said Mourinho when asked about Sanchez recently. "Then he had a small injury that kept him out and then he came just one day before Tottenham, and he comes into the game with the result 2-0. Let's see from now. He is committed, he is focused. He works hard. I believe he will improve."
There was an assist away to Burnley but meaningful improvement has not followed. In the game against Wolves, Sanchez mustered only one shot and gave the ball away 16 times without winning possession back once. The low point came just before the interval when he ballooned a free-kick out of play to the groans of an otherwise supportive home crowd.
Sanchez's wastefulness is a frustration. Much has been made of how regularly he surrenders possession of the ball, but this alone is not the problem. It is the lack of end product that accompanies it. Of the forward players who lose it as often as Sanchez, the only other man not to have found the net this season is Christian Benteke. One assist is a paltry return.
Mourinho did not quite single him out afterwards but he came close. When quizzed on whether he expected better from the big names, he instead stressed that he expected more from all of his players. But he did take the time to namecheck Sanchez when bringing up the matter of his team's midweek exertions - or lack of them.
"I could say tired, Champions League, awful pitch, the body suffers a different impact than a match on natural grass," he explained. "I could go in this direction but we had Lingard and Alexis. They didn't play." He went on to add: "We did not have a team that was in big trouble with the accumulation of matches." In other words, Sanchez had no excuse.
In questioning the attitude of his players, Mourinho clearly felt let down. The antipathy with his captain Paul Pogba has been scrutinised but what of Sanchez? Ostensibly, the manager had found a kindred spirit. A man of exacting standards and perpetual effort. Someone who is similarly not shy in making it abundantly clear when he expects more from his colleagues.
Even now, Sanchez is said to be dedicated in his gym work and regularly among the last to leave the training ground. All of which leaves a more troubling possibility. After hijacking Manchester City's long pursuit of the player, have United only succeeded in committing themselves to a hugely expensive contract just as Sanchez's decline is kicking in?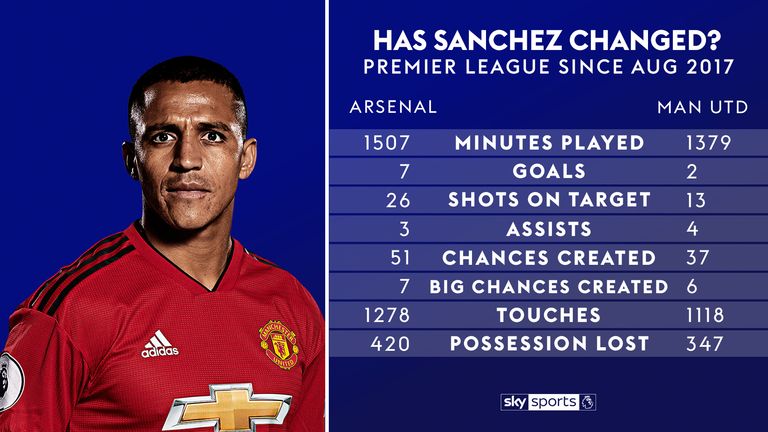 His stats so far at United are not wildly dissimilar to the numbers he was producing during his final season at Arsenal. The problem is that those performances at his old club had been explained away as the sub-par efforts of a man who wanted out. As Sanchez approaches his 30th birthday, they instead carry the red flags that warn of output levels in terminal decline.
That would be damaging not just to United's mid-term prospects but to Mourinho's status. Ed Woodward has been cast as the villain of the piece. The idea that Mourinho has not been backed has taken root and needs little irrigation to grow in the minds of supporters. But while there is little appetite to defend Woodward, Sanchez's signing was a significant outlay.
The danger for Mourinho is that this transfer becomes a symbol of his entire reign. Not only could it come to represent the apotheosis of the post-Ferguson profligacy at United, eclipsing even Angel Di Maria's abortive stay. It may well be seen as emblematic of the manager's increasingly misguided faith in experience over youth.
After all, the decision to displace the popular figure of Martial from the left wing was not universally welcomed by fans even when hopes were high that Sanchez would make the instant impact for which he'd been bought. The Frenchman had scored in three consecutive Premier League games prior to Sanchez's arrival but was immediately shifted to the right.
Martial's subsequent response to the challenge that was laid down has not helped his cause - he has not scored a Premier League goal since - but the performances of the man who replaced him are the bigger concern. Two goals in 17 games. None in nearly 14 hours of Premier League football. More bookings than goals so far this season.
There will be more opportunities to turn it around. The club could not offload his wages even if they wanted to. But it seems extraordinary that he needs more time. Sanchez was not a signing for the future, he was bought for the here and now. This particular short-term fix is threatening to become a long-term problem for Mourinho and Manchester United.