Ole Gunnar Solskjaer's toughest test as Manchester United boss
Manchester United take on Tottenham at Wembley on Sunday
Last Updated: 13/01/19 5:04pm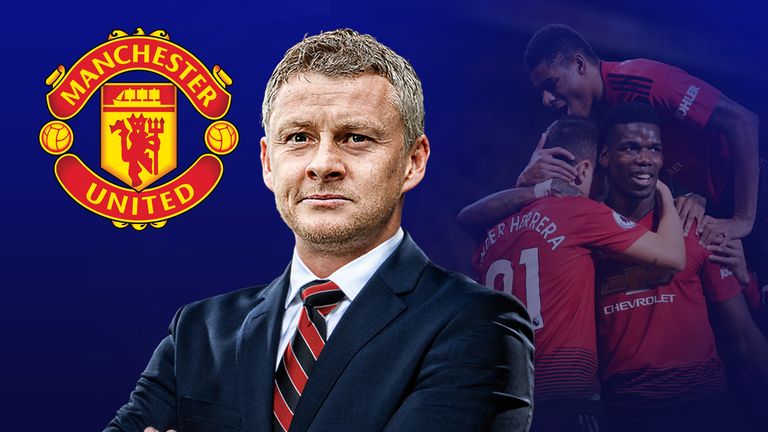 Victory over Mauricio Pochettino's Tottenham could change it all for Ole Gunnar Solskjaer, writes Adam Bate.
If the five goals scored at Cardiff in that first game in charge were a nod to the days of Sir Alex Ferguson, everything that Ole Gunnar Solskjaer has said and done since has screamed it. All of his wins have been by at least two goals, the first time that Manchester United have won five consecutive games by such a margin since they were European champions in 2008.
Of course, it is another European triumph with which Solskjaer will always be synonymous and it must have been heart-warming for supporters when Marcus Rashford tweeted out an image accompanied by the light-hearted suggestion that his new manager is keeping him enthralled with tales of the Nou Camp. United really are partying like it's 1999 right now.
Rashford is not the only one who appears to be loving life under Solskjaer. Jesse Lingard was immediately struck by the fact that his new manager was so willing to engage with him. "Ole is great one-on-one with the players," he said. "It is great man-management. He will always speak to you and tell you what to do. He is very special."
Romelu Lukaku said something very similar. "He talks to me all the time and I like that," he explained. "He's given me a lot of advice. Movement-wise, and stuff like that, but obviously he knows the type of striker that I am. I think from the first day when I came back in, he did a total analysis of my game and I was really surprised and he helped me a lot."
As well as the more detailed advice for the team's attacking players, there is the simple fact that he is finally encouraging United to do just that - attack. And everyone in the squad is embracing it. "He wants us creating problems for the other teams and that suits us very well," said Ander Herrera. "It is just a different style of playing," added Paul Pogba.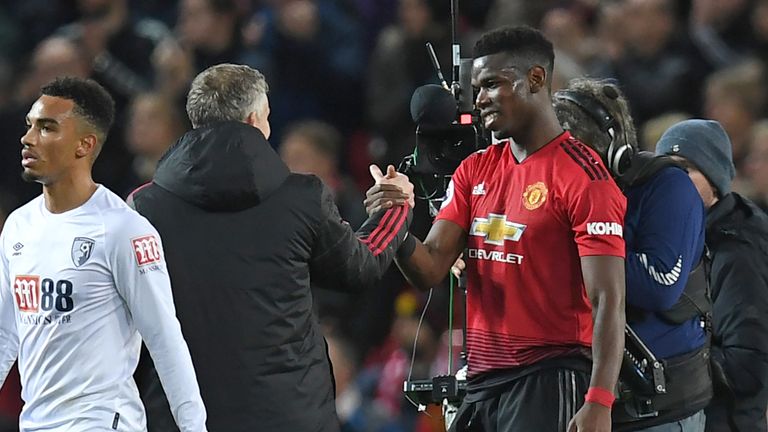 All change then. And while Solskjaer has benefited from a generous run of fixtures, it is worth noting that these are precisely the sort of games that United were contriving to lose. Last season, there were defeats to all three newly-promoted teams. There is little reason to believe this turnaround was likely under Jose Mourinho. The mood has altered.
Moods, however, are transient. Could Solskjaer's revival make way for something more permanent? If he can overcome the next test that awaits him in this interim role then do not rule it out. But United's trip to Wembley on Sunday sees Solskjaer face Tottenham, ostensibly superior opponents coached by the bookmakers' favourite for his current job.
For the first time in the Norwegian's brief reign, United go in as underdogs. That suggests it is a game with different demands as his team will be far less likely to be able to blow away this Spurs side. It will not just be about empowerment but instilling greater discipline too, particularly given that the defence has looked shaky even amid the recent upturn in form.
It will be fascinating to find out how Solskjaer will tackle that challenge. If he chooses to emphasise the problems that Harry Kane and the rest could cause, he will risk burdening his players with too many instructions and be accused of having the same stifling influence of his predecessor. If he goes too gung-ho in his approach, naivety will be the charge instead.
Common sense states that United's flaws have not gone away. The partnership of Victor Lindelof and Phil Jones can still be exposed. Nobody could be too surprised if Pochettino's effervescent Spurs side make an emphatic statement of their own in exploiting those long-standing weaknesses, just as they did when winning 3-0 at Old Trafford in August.
But what if they don't? That is the really intriguing possibility here. What might these 90 minutes change? Solskjaer has more than a puncher's chance, after all. He has the in-form Rashford and the rejuvenated Anthony Martial. He has Pogba, for whom the switch has been flicked, Lukaku scoring again, and Alexis Sanchez reengaged. He has a chance.
And if that happens where would that leave Solskjaer's United? Back in the race for a top-four finish, that's for sure. Optimism about their progress in this season's Champions League will be kept in check by the identity of their round-of-16 opponents, Paris Saint-Germain, but the chances of securing qualification for next year's competition would be rising fast.
It would mean expectations being exceeded and there will be other chances for the man in possession. An FA Cup win away to Arsenal would stir emotions. How about a victory over Liverpool next month, damaging their title hopes in the process? Old Trafford would relish that. Beat Manchester City in the derby in March and fans could be feeling giddy.
Enough to get the job? United would be well advised to think that one through. The specific circumstances of this season are very different to the job that will need to be done to carry this club forwards. A grander vision will be required. The sort of philosophies and ideas that succeed in the long term, and that other coaches can more easily point to on their CVs.
If Solskjaer succeeds he will have done United's chief executive Ed Woodward a huge favour in some respect, not least financially if he can conjure Champions League qualification. But it would also present a problem too. How could Woodward overlook him then? And if he did choose someone else, what would that mean for the man who replaces him?
A slow start for Solskjaer's successor would risk the chants of his name being interpreted as much more than the Stretford End celebrating the achievements of an old hero. And do not expect Solskjaer to simply return to Molde if he really gets a taste for the Premier League. Another club could end up giving him an opportunity here instead.
All of which is a long way off just five games into his interim stint, but they are the sort of scenarios that could arise and that United's hierarchy will need to consider. It is a reminder that for Solskjaer, a 45-year-old coach with ambitions of his own, this represents the mother of all opportunities. Starting in earnest with his showdown at Wembley this Sunday.