Manchester United vs Liverpool: The tactics analysed by Danny Higginbotham
Manchester United vs Liverpool, 2.05pm, Sunday, Sky Sports Premier League
Last Updated: 21/02/19 12:45pm
Manchester United's tactical tweak under Ole Gunnar Solskjaer has allowed them to support their strikers better - but they must watch out for Liverpool's Sadio Mane, warns Danny Higginbotham.
The two sides meet at Old Trafford, live on Sky Sports on Sunday, in a hotly-anticipated clash.
United go into the fixture with their tails up, following a revival under caretaker boss Solskjaer. He took charge after United's defeat at Anfield in December led to Jose Mourinho's sacking and Higginbotham says the interim boss has boosted United's attacking play.
"When you go back to the game at Anfield, when Liverpool quite rightly won 3-1 and it could have been more than that, it was obviously the last straw from Mourinho's perspective and they moved on to Solskjaer," Higginbotham told Sky Sports News.
"The problem at the time was at centre forward - and I felt really sorry for Romelu Lukaku or Marcus Rashford, whoever was playing up front at that time. They ended up really isolated.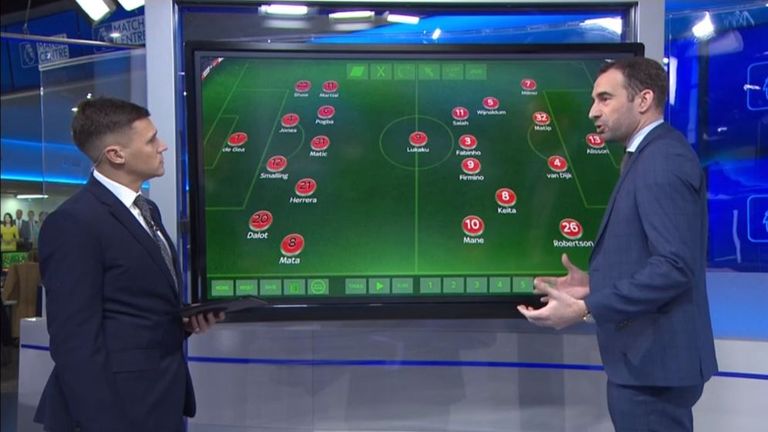 "Because they were defending in numbers - and Mourinho's perspective was 'we need to be stronger defensively' - so therefore the attack-minded [midfielders] will have to do more defensive work. But then they suffered going forward and they still weren't keeping clean sheets.
"It ended up as a 4-5-1. It was so difficult then because if they won the ball back, Lukaku or Rashford were miles away from the defensive side of the team. The ball going up to Lukaku would have to be absolutely perfect and he'd have to fend off two or three players.
"Now, if they are having to drop deep in a 4-5-1 at times, they're dropping together so Rashford - who is playing at the moment - is closer to the midfield and the units are moving up and down the pitch together.
"Then when they go forward, everyone moves forward together, where the front three are working really well together. You get the width from your full-backs, the front four can play narrowly together and Ander Herrera and Nemanja Matic, if it does break down, can break into the full-back positions.
"All of a sudden, you're finding yourself with three or four players who can interchange nicely, as they have done recently."
However, Higginbotham expects Liverpool to enjoy the majority of possession at Old Trafford and says Liverpool's inter-changing in attack could be a real threat.
Mane is a good example of Liverpool's attacking freedom. He was involved in all three goals in their last Premier League outing against Bournemouth but his impact came from different areas of the pitch on each occasion.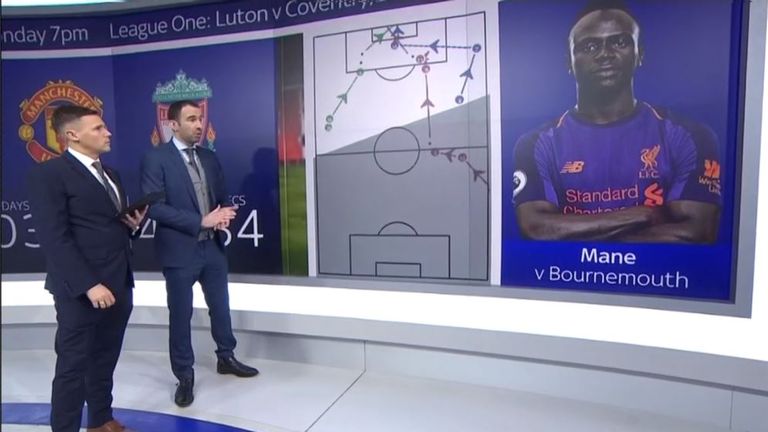 "When you look at the way the front three play, it's very fluid," said Higginbotham. "Personally, I think we'll see more of a 4-2-3-1 from Liverpool at Old Trafford. That won't necessarily change Mane's position and how he goes about it, though.
"He's got a great understanding with [left-back] Andrew Robertson and we know he loves to drive inside which creates space for the full backs.
"But I think because the attention at times Mohamed Salah gets, because of what he did last season, that actually frees Mane up a bit. Teams eventually are going to have to say we need to treat him the same way because he's an incredible player.
"Against Bournemouth, that's the fluidity you talk about with Liverpool. They can shift, change position and change their system in a game."