Manchester United could be facing one of their biggest summers in recent memory.
After a sixth-placed finish in the Premier League, it is expected that they will try to overhaul their squad and make changes that will enable them to challenge higher up the table next season.
However, how much can they do in one summer? Which players could go and who should stay? What will happen with Paul Pogba? And will they recruit a director of football?
Andy Mitten, editor of United fanzine United We Stand, spoke to the Transfer Talk podcast to discuss the in-depth plans for the summer ahead.
'Solskjaer will be bold, but...'
Firstly, Mitten said he expects manager Ole Gunnar Solskjaer to be "bold" in the transfer window, but explained why he might face some difficulties.
"They have the second highest wage bill in world football and yet they finished 32 points behind Manchester City. There are clear problems. You have got very talented players earning far too much and not justifying those huge wages.
"Ole wants to make changes and he has a very clear idea of who he wants to stay and who he doesn't want to stay. He will be bold. He told the players exactly what he thought of them after the woeful defeat against Cardiff.
"But it's not just down to Ole, a lot of the players are on massive contracts and it's hard to get them off those contracts. Alexis Sanchez has not worked out and doesn't have a future at Manchester United but getting him out of his contract would cost a fortune. The teams with the money to sign him are not interested. I would still expect him to leave and there are several others too."
Groundhog day?
Manchester United executive vice-chairman Ed Woodward said this week that he will use the club's financial muscle to help Solskjaer rebuild following a "turbulent" season.
But Mitten thinks some of the same challenges remain from when David Moyes was appointed to replace Sir Alex Ferguson in 2013.
"There's a feeling of groundhog day.
"When David Moyes came in I can remember speaking to him privately three months in and he said 'I have a massive job to do here, there are major changes needed'. I was surprised as they had just won the league, but then Louis van Gaal came in and said the same thing. Then Jose Mourinho came in and said exactly the same thing. Managers say that because it buys them a bit more credit as it looks like they have a bigger job to do, but Ole is saying the same thing and you can't just get rid of 12 players because they are on massive contracts.
"United can't be desperate. Van Gaal purged players and tried to get rid of some "dead wood" but it didn't work. It's alright for fans to say we have to shift everybody, but they aren't on the training ground every day.
"Ole Gunnar has a tough job to do and he will have to bite the bullet on a couple of them and say to a few of the others that it's their last chance. He has been very strong with them, especially after that defeat to Cardiff."
Who will be the director of football?
Sky Sports News understands former United midfielder Darren Fletcher is a leading candidate to become the new technical director at the club. United have also been interested in RB Leipzig's head of recruitment Paul Mitchell while ex-defender Rio Ferdinand has been mentioned among the potential candidates.
Mitten thinks United might go with someone who knows the club well.
"I know of a couple of sporting directors, among the best in the world, who have unveiled themselves to Manchester United in the last couple of months, only to be politely told 'thanks but no thanks'. That's because the club are looking for someone who knows the club.
"This person is going to work alongside Ole Gunnar and Ed Woodward and will have input into transfers but it won't be someone with the power of Txiki Begiristain at Manchester City who is working with Pep and they are planning for years ahead to say 'we need this right-back and we need to watch this player at Palermo or Bari'. The person at United won't have that much power.
"I like Darren Fletcher, he is a bright person, a football addict, an anorak. But he is not a sporting director and hasn't been one. Does he grow into it? Maybe, but it's also a risk giving someone the job who has no experience of it.
"Fans desire change and they want to know why the team is failing because they have gone down the route of getting one of the best managers in the world in Jose Mourinho and it hasn't worked. Fans are desperate and clinging onto hope with a new sporting director. The club is not in a great place at the moment."
What will happen with De Gea?
One of the more surprising elements of United's poor finish to the season was David de Gea's form.
The goalkeeper is entering the final year of his contract and has made several uncharacteristic errors this season.
Mitten says: "The situation with David de Gea is that United have offered him a contract which would make him the best paid goalkeeper in the world and that is not enough. The agents' fees are alarming.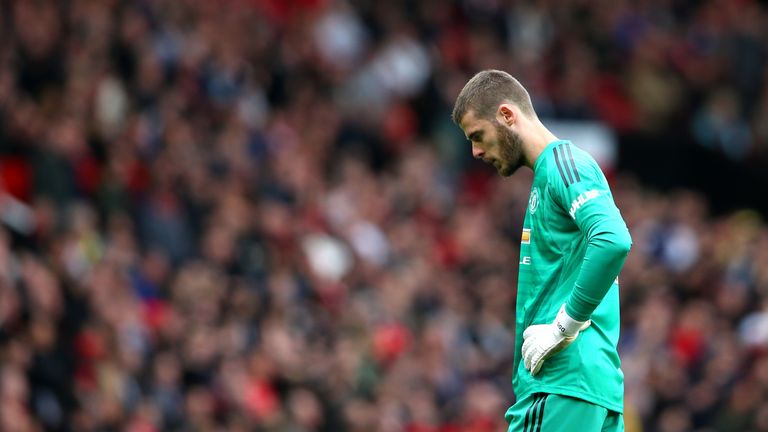 "I don't think United should be held to ransom just because they have this wealth. They are already overpaying for under-performing players. De Gea is not an under-performing player, he has been the player of the year for four of the last six years, but there are levels and he has been offered a deal to become the best paid goalkeeper in the world and it's not enough.
"I don't think United should just succumb to every agent's demands just because the fans are saying 'pay him whatever'. You can't just do that.
I don't think United should be held to ransom just because they have this wealth. They are already overpaying for under-performing players.
"There's also Anthony Martial, who is clearly a talented player but he's been massively disappointing and hugely inconsistent. It's not good enough. He has to raise his game. He is clearly not motivated and his performances have dipped massively since he signed his last contract. It's a cycle of players getting rewarded for little spurts of form and then going flat."
The Paul Pogba problem
Paul Pogba became the most expensive player in the world when he returned to United in 2016, but so far he has failed to live up to his price tag.
His performances have been inconsistent and after the 2-0 defeat to Cardiff on the final day of the season he was abused by some supporters.
Mitten says Pogba continues to divide opinion and frustrate fans.
"There is no player who divides opinion more than Paul Pogba at Manchester United. He's a polite, professional, multi-lingual, hugely talented young man, who shows no evidence that he is a Manchester United player on his Twitter, who is massively inconsistent, who scores lots of goals and makes assists, can turn a game, can be absolutely dreadful for three games on the trot, didn't really show up for Manchester United's biggest games of the season, is the bestseller for the shirt at the club and very popular with younger fans and fans online.
"There's a real divide among fans at matches.
"Fans are comparing him to past central midfielders like Roy Keane and Bryan Robson. Expectations, not unreasonably, were very high with Pogba and has he been an overwhelming success since he came three years ago? No. I would love him to be a success at Manchester United but when he constantly has his agent doing what he does and you have Paul flirting or being perceived to flirt with other clubs, it doesn't go down well.
"Does he want to stay? Not really. He would love to play for Real Madrid. He wanted to go to Barcelona and then Real Madrid in 2016. Barca couldn't afford him and United nipped in and sold him this dream of being the main man and building a team around him, whereas if he went to Madrid he would be among a group of top players.
"Paul should be the main man, the captain, rallying that team to destroy Cardiff, and look what happened. That performance against Everton last month was one of the worst I have ever seen and I'm 45 and have been watching United since I have been a kid. You have to have expectations and United are failing right now."
There is no player who divides opinion as much as Paul Pogba at Manchester United. Does he want to stay? Not really. He would love to play for Real Madrid.
What do United need?
Solskjaer has said that any signings Manchester United make this summer must fit the culture and history of the club.
Mitten questions whether United will change their approach to transfers, having seen several big-money additions in recent years fail to shine.
"The recruitment since Sir Alex left has been poor, too many players have been paid too much and bought on reputation and prestige.
"However, the players that have joined have been joining a club that is changing managers and undergoing a massive overhaul, so it can't be easy for them. There is an issue with recruitment because United have the second highest wage bill in football and have an under-achieving squad.
"As a minimum United need a right-back. The centre of defence is an interesting one because two months ago Ole Gunnar was quite happy with how it was developing and they have Axel Tuanzebe who has done well at Aston Villa, but now they can't keep a clean sheet.
"Up front and in the middle, you have lost Ander Herrera, Marouane Fellaini, Alexis Sanchez potentially. You need attacking players and these will be signed, but what type of players? Will they continue this failing policy of getting huge names which generate interest on social media but don't cut it on the pitch? Or go down a different route of developing, emerging talent? That's a policy that has served Ajax very well, although that is a different scenario.
"The fans need something to excite them. They don't expect a title challenge next season but another sixth place would not be good enough.