Tributes: World football hails Manchester United's Ryan Giggs
The footballing world have paid tribute to Ryan Giggs, who is set make his 1,000th appearance.
Last Updated: 02/03/13 2:38pm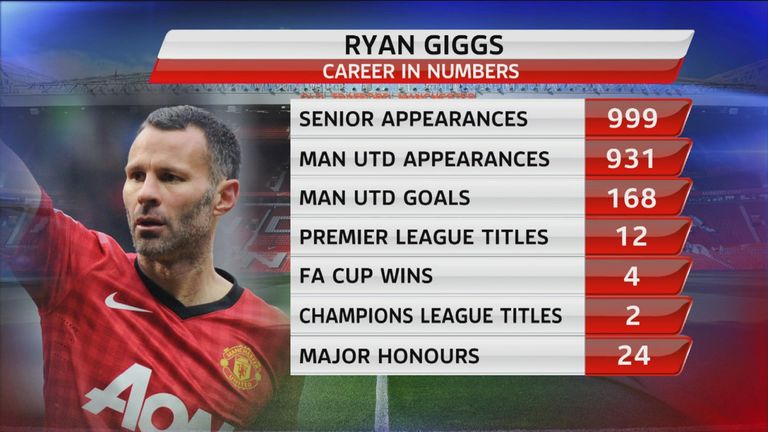 We look at the tributes past and present paid to Giggs, who has just agreed a new contract at Old Trafford which will take him beyond his 40th birthday.
Fifa president Sepp Blatter told Sky Sports: "It is amazing, exceptional, something I as a footballer have difficulty in believing not that somebody can play 1000 [games], but over 600 are with the same team - this is great, this is the club and you play for the club with your heart, you belong to this club."
His manager Sir Alex Ferguson: "What can I say about Ryan that hasn't already been said? He is a marvellous player and an exceptional human being. He has fantastic energy for the game and it is wonderful to see.
"To think that he now has 23 unbroken years of league goals behind him is truly amazing in the modern-day game. His form this year shows his ability and his enjoyment of the game are as strong as ever and I am absolutely delighted that he has signed a new contract."
Former Chelsea star and now Watford boss Gianfranco Zola: "He has been an unbelievable player. The only problem I saw in him is that he played for the wrong team, from my point of view. He should have played for us (Chelsea)."
Manchester City boss Roberto Mancini: "Ryan Giggs for me is one of the best players in the world, and now he is old but he continues to play well and he was a fantastic player."
Juventus and Italian legend Alessandro Del Piero: "Only two players made me cry when watching football, one was Diego Maradona and the other Ryan Giggs."
Dutch maestro Johan Cruyff: "Eric Cantona is a great player, but he's not as good as Ryan Giggs."
United team-mate Paul Scholes: "There have been so many outstanding players I've had as team-mates, but if I had to choose I'd choose Giggsy, he can do anything."
Former England striker Gary Lineker: "His record is absolutely unbelievable. Not only longevity-wise, but the amount of things he's won, the amount of brilliant games, the amount of goals he's scored and created. He's just a brilliant professional and he's defying Father Time to play how he does at the very top level in club football."
And the man who many people rank alongside Giggs as United's greatest, George Best, once said: "Maybe one day people will say I was another Ryan Giggs."