Jose Mourinho admits he will miss retiring Manchester United boss Sir Alex Ferguson
Jose Mourinho says it will not be the same visiting Manchester United without Sir Alex Ferguson there.
Last Updated: 16/05/13 2:34pm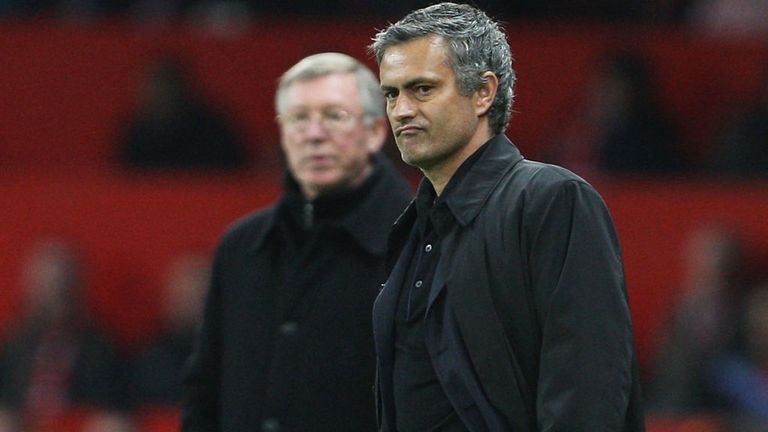 The self-titled 'Special One' is widely expected to leave Real Madrid this summer to return to Premier League football with Chelsea.
And with Ferguson taking charge of Manchester United for the final time this weekend before retiring, Mourinho admits he will miss seeing the United boss in the opposite dugout.
"We will all miss him and for me it will be difficult to go to Old Trafford, especially for the first time, to play against Manchester United without such a figure in the opposite dugout," Mourinho told The Offside Rule podcast.
Asked why Ferguson will be missed so much, Mourinho said: "He is unique and probably Manchester United are a unique club because they gave the manager the conditions to do the job he did.
"Everybody knows that the beginning was not easy for him. Everybody knows that it took him three or four years to win the first piece of silverware and Man United gave him the conditions to do an incredible job. After that he was unique, absolutely unique.
"The number of trophies he won for Manchester United in English football is absolutely amazing and to manage for more than 20 years is incredible."
Mourinho built a strong friendship with Ferguson from the time the two managers met in a Champions League last-16 match in 2004 when Porto knocked United out of the competition.
The mutual respect grew as they went head-to-head in the Premier League following Mourinho's first appointment as Chelsea manager.
Despite Mourinho winning the league ahead of Ferguson twice in his four years at Stamford Bridge, the Real Madrid boss remains in awe of his friend's success at Old Trafford, which has included 13 Premier League titles, two European Cups and five FA Cups in 26 years.
Asked what his favourite meeting with Ferguson was, Mourinho said: "If I had to choose, I would choose the first one. It was 2004. It was in fact my first match as a manager on English soil. It was Manchester United against Porto in the Champions League.
"We scored in the last minute and we went through and it was not normal for me, not normal in the culture that I knew, that the opposition manager knocked on our dressing room door after the match - which was a moment when he would be very, very disappointed - and came in to congratulate me and invite me to go to his room for a glass of wine.
"That marked our relationship. After that we played so many times with each other and the next year I moved to England with Chelsea. After that the relationship went in that direction - it didn't matter who won and who lost. The respect was always there."
The Offside Rule podcast is available on iTunes and Soundcloud
For the latest head to @OffsideRulePod