Messi and Ronaldo joined by Ribery in top three of new list of Europe's top 50 stars
Lionel Messi and Cristiano Ronaldo were joined by Franck Ribery in the top three of a list of Europe's top 50 players.
Last Updated: 12/06/13 5:20pm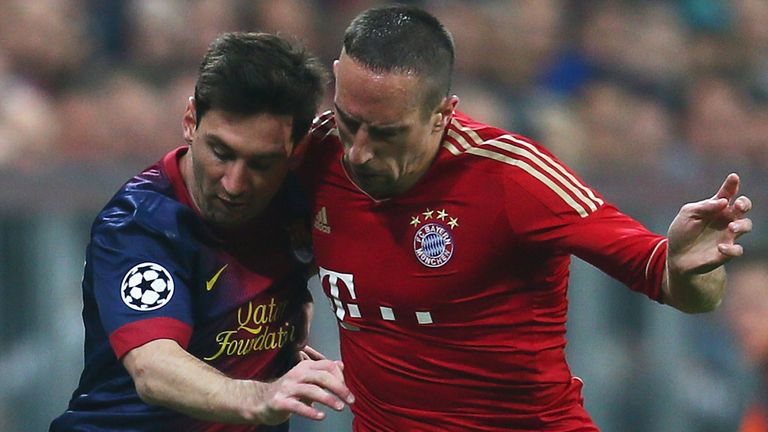 The Bloomberg Sports list says it uses scientifically based analysis to evaluate players on skills relevant to their position.
Barcelona's Messi is ranked top ahead of Real Madrid's Ronaldo, echoing the top two in the FIFA Ballon d'Or award for the last two years.
But, while Barca midfielders Andres Iniesta and Xavi are the only players to have joined the pair on that podium in the last three years, Bayern Munich's France winger Ribery took third place in the new list.
Bill Squadron, president of Bloomberg Sports, said: "We continue to look at new ways to use analytics that will be interesting to fans, and are pleased today to unveil what we believe will be a game-changer in the way professional football is looked at in the future.
"Analytics is becoming more and more prevalent in both the minds of the fans and in the decision making power of the clubs, and we are confident this index will help both stir healthy debate and be a great measuring stick for player evaluation going forward."
Only two English players featured in the top 50 - Everton left-back Leighton Baines at 16 and Manchester United's Wayne Rooney in 26th position.
Tottenham's Gareth Bale was the only other British player - the Welshman in ninth spot - while United's Holland striker Robin van Persie was ranked sixth and was the leading Premier League player.
Aston Villa's Belgium striker Christian Benteke was ranked 29th - a place ahead of Radamel Falcao, the Colombia striker who has just joined Monaco in a £50million deal.
1 Lionel Messi Barcelona 91.25, 2 Cristiano Ronaldo Real Madrid 91.16, 3 Franck Ribery Bayern Munich 89.27, 4 Marco Reus Borussia Dortmund 89.10, 5 Andrea Pirlo Juventus 88.62, 6 Robin van Persie Manchester United 88.14, 7 Giorgio Chiellini Juventus 87.46, 8 Marek Hamsik Napoli 87.01, 9 Gareth Bale Tottenham 87.01, 10 Santiago Cazorla Arsenal 86.37, 11 Arturo Vidal Juventus 86.19, 12 Marouane Fellaini Everton 85.92, 13 Maxime Gonalons Lyon 85.89, 14 Bastian Schweinsteiger Bayern Munich 85.88, 15 Luis Suarez Liverpool 85.49, 16 Leighton Baines Everton 85.11, 17 Mesut Ozil Real Madrid 84.75, 18 Jan Vertonghen Tottenham 84.25, 19 Thomas Muller Bayern Munich 83.96, 20 Edinson Cavani Napoli 83.78, 21 Rafael Manchester United 83.33, 22 Toni Kroos Bayern Munich 83.19, 23 Zlatan Ibrahimovic Paris Saint-Germain 82.91, 24 Juan Mata Chelsea 82.26, 25 Xavi Barcelona 81.97, 26 Wayne Rooney Manchester United 81.95, 27 Kwadwo Asamoah Juventus 81.51, 28 Christian Abbiati AC Milan 81.27, 29 Christian Benteke Aston Villa 81.03, 30 Falcao Atletico Madrid 80.78, 31 Dante Bayern Munich 80.52, 32 Mario Gotze Borussia Dortmund 80.39, 33 Hugo Campagnaro Napoli 80.10, 34 Jefferson Farfan Schalke 79.89, 35 Oliver Sorg Freiburg 79.72, 36 Erik Lamela Roma 79.56, 37 Robert Lewandowski Borussia Dortmund 79.11, 38 Phillipp Lahm Bayern Munich 78.54, 39 Gonzalo Higuain Real Madrid 78.52, 40 Dani Alves Barcelona 78.15, 41 Pierre-Emerick Aubameyang Saint Etienne 77.98, 42 Yaya Toure Manchester City 77.86, 43 Kevin Constant AC Milan 77.81, 44 Stefan Kiessling Bayer Leverkusen 77.42, 45 Mikel Arteta Arsenal 77.26, 46 Simon Mignolet Sunderland 76.87, 47 Antonio Di Natale Udinese 76.55, 48 Alexander Meier Eintracht Frankfurt, 76.21, 49 Mathieu Valbuena Marseille 76.06, 50 Ron-Robert Zieler Hannover 75.88.