David Moyes confirms second Manchester United bid for Cesc Fabregas
Manchester United manager David Moyes confirms the club have made a second bid for Barcelona midfielder Cesc Fabregas.
Last Updated: 23/07/13 7:54am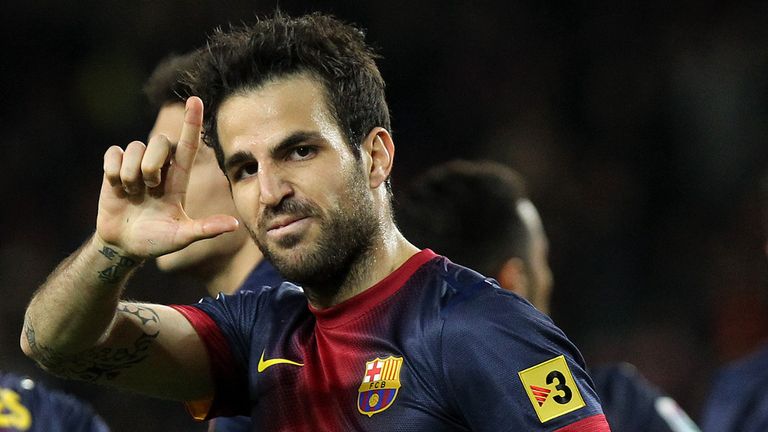 It is understood United have improved their bid to £30m, plus add-ons for the 26-year-old.
However, Sky sources understand that Barca will not make a decision on Fabregas' future until they appoint a successor to coach Tito Vilanova, who stepped down last week to continue his battle against cancer.
United's first offer for Fabregas was rejected by the Spanish club, prompting executive vice-chairman Ed Woodward to return to the UK from the club's global pre-season tour ahead of schedule last Wednesday.
Speaking at a press conference in Yokohama, Japan, Moyes revealed: "As I understand it, Ed had a response (to the first offer). We have made a second offer but Ed is dealing with it rather than me."
So far, United have not made any new signings this summer, other than Uruguay Under-20 star Guillermo Varela and, whilst Moyes accepts there may come a time when he has to walk away from the deal, that position has not been reached yet.
"I think a point does come," said Moyes. "But when you are interested in good players you want to give it every opportunity to materialise.
"I will hope things will continue to move forward. At this moment in time I can only tell you Ed Woodward is working hard to try and make the deals happen. We hope some of them will fall into place shortly."
In addition to Fabregas, Moyes has also been linked with marquee signings Cristiano Ronaldo and Gareth Bale, plus Everton duo Leighton Baines and Marouane Fellaini, so far though, there have been no reinforcements and Moyes admitted he can understand why some fans are nervous.
"I can understand that feeling," he said. "But there have been quite a few changes. Other managers have changed their clubs too and everybody thought this might be the summer when transfers are done later in the month.
"That was always the thought I had when I came into the club. You have to remember I only started on July 1, so in truth I have only been in the job three weeks at this present time."
Moyes has admitted signing a new midfielder is his priority ahead of the new season, although Barcelona have warned the Premier League champions off Fabregas, who rejoined Barca in 2011 following eight years at Arsenal.
Speaking prior to Saturday's friendly win over the A League All Stars in Sydney, Moyes said: "When I got the job, I was made aware of what could possibly be done to improve things.
"Signing a midfield player was one area where we thought we could possibly add to the squad.
"It's hard to get top quality players who can come in and affect your team. That's why we're trying to go for what we see as the right players and the best players.
"If you're a player and you're brought up to play football, and you look out of the window and see Old Trafford, if you've got any ambitions about being a footballer, and you're a top-end one, then I think you'll want to play for Manchester United."
After that 5-1 victory, Robin van Persie expressed his desire to be reunited with Fabregas, having played alongside the midfielder for Arsenal.
Van Persie said: "Of course, he's a great player."
United goalkeeper David de Gea has also recently confirmed he would relish the chance to play with his fellow Spaniard at Old Trafford.
De Gea told the Daily Mail: "He is a great player, very skilful, knows how to win things and you always want those type of players in your team."
However, Barcelona vice-president Josep Maria Bartomeu confirmed last week, prior to Vilanova's resignation, that Fabregas is not for sale.
Bartomeu was quoted by Spanish daily Sport on Friday: "Barcelona can assure you we will not entertain any offers for Cesc. It is totally ruled out, he's not for sale."