David Moyes hails form of Manchester United goalkeeper David De Gea
Manchester United boss David Moyes has been delighted with how David De Gea has performed since he took charge.
By Graeme Bailey - Tweet me: @graemebailey
Last Updated: 07/10/13 4:18pm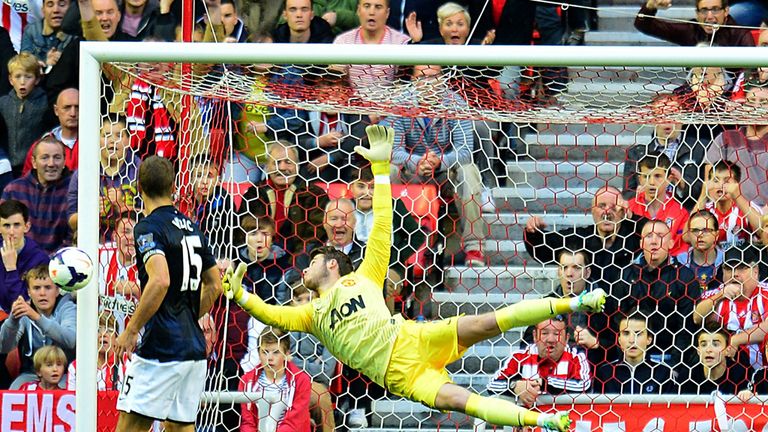 United have been less than convincing so far this season but De Gea has been one of their most consistent performers.
They came from behind to beat Sunderland 2-1 at the weekend and starlet Adnan Januzaj took the plaudits for his brace - but one outstanding save from De Gea to keep out Emanuele Giaccherini was crucial.
"He is improving all the time. You can see he has great agility and he needed it to make that save," said Moyes.
"It is one of the best I have ever seen as well," said Moyes. "It was incredible. I said it on the bench right away, what a save it was. It's an amazing save, it really is.
"And that was a turning point. I didn't think we deserved to be losing but had we gone 2-0 down, then it would have been a mountain to climb.
"Obviously it would have given Sunderland a great boost. When Sir Alex Ferguson brought David in, there probably were a few seasons when it might have been a bit rocky but I think he has definitely established himself now.
"I have been really impressed by his athleticism and he is still a young goalkeeper.
"I thought the old manager was brave to bring a young goalkeeper in; it is actually hard to bring in young goalkeepers and young centre-halves. Hopefully David will feel the benefit of that in the years to come."
Schmeichel praise
Peter Schmeichel, speaking on Saturday Night Football, also paid tribute to De Gea for a stunning save just before half-time when his side were trailing 1-0.
He added: "Thank God For David De Gea.
"I think what he pulled out today was one of the best saves I've ever seen in the Premier League. It gave Manchester United a chance. If that goes in, then it's 2-0 and then it's really uphill.
"You have to watch the ball before it stops and comes your way. He had to adjust his feet and it was a really difficult height because he had to dive upwards, not downwards.
"It's just an unbelievable save and I think this is a save we'll see time and time again. I say this was significant because it left them with a chance.
"They were 1-0 down and if they lost this game it could have had repercussions for the rest of the season. He kept the team in this game."
Was De Gea's save against Sunderland the best ever seen in the Premier League? Let us know your thoughts by leaving a comment below.