My Career: Pallister & May
From facing Romario to playing with Eric Cantona, former Manchester United stars Gary Pallister and David May talk Sky Sports through their most difficult opponents and favourite team-mates
By Peter Fraser - Follow me on Twitter @SkySportsPeteF
Last Updated: 18/11/13 6:16pm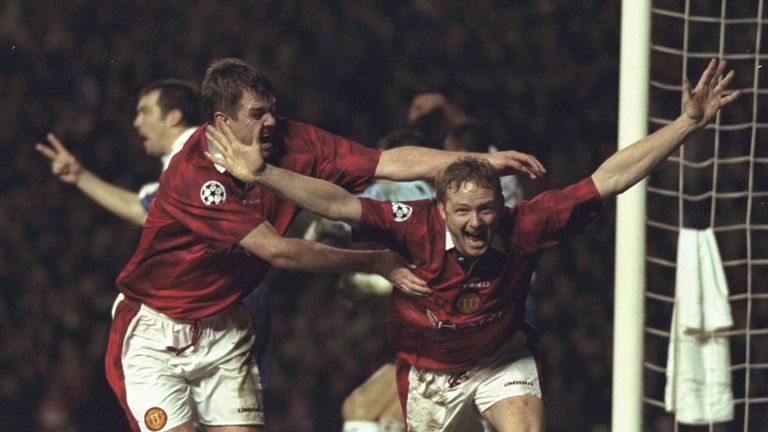 Gary Pallister and David May can boast six Premier League titles and five FA Cups between them. It is safe to say the former Manchester United pair did not have disappointing careers.
During their playing days, they also came up against opponents with the guile of former Barcelona and Brazil superstar Romario along with the power of Everton legend Duncan Ferguson.
Not only that but centre-backs Pallister and May can also count superstars such as Eric Cantona and Bryan Robson among their team-mates.
Here, supporting the Manchester United Foundation Chevrolet Trax eBay auction, the duo talk Sky Sports through the best moments of their career, their most skilled opponents and football heroes.
Finest Hour
Gary Pallister: "When United won the league title in 1993 for the first time in 26 years and we got the trophy after a match against Blackburn. We beat Blackburn 3-1 and I got the last goal. It was my only goal of the season. That atmosphere at Old Trafford that night was one of the most special."
David May: "Winning the Premier League and FA Cup Double in 1995/96 in my second season with United was great. I was close to winning the league with Blackburn. But at United we won the league on the last day of the season at Middlesbrough and it was a 3-0 victory when I scored. Then we beat Liverpool in the FA Cup. The day of winning the cup final flew past."
Toughest Opponent
GP: "Romario when we played against him with Barcelona. He was the only player I ever faced who I walked off the pitch afterwards and thought, 'I could not lay a glove on him'. He was like that week in, week out but that night he was untouchable."
DM: "Big Duncan Ferguson was always a handful. Not just in terms of his physical presence but he could play, as well. To deal with playing against him, at times, you had to let him have it. You had to win everything. He was an awkward player to play against. Alan Shearer was up there, too. If you gave him a chance, he took the goal."
Most Talented Team-mate
GP: "The best player who I ever played with was Bryan Robson. He was box-to-box, great energy, a superb leader, scorer of goals, a lionheart and Captain Fantastic. He made the game look easy. That was why he was the captain of United and England. He was a born leader and an unbelievable player."
DM: "Eric Cantona was the catalyst for United, the final piece of the jigsaw. He could be quiet for a lot of the game and then come up with a pass or score a goal out of nothing. His awareness of all the players around him was incredible. He was a good lad, too. He would go out and enjoy a few drinks with the lads. He was not one of those people who kept himself to himself."
Football Hero
GP: "Peter Lorimer was my hero when I was growing up, because he had the hardest shot in football. Everybody wanted to be Peter Lorimer on the playground. That was probably my earliest memory of football."
DM: "I did not really have any heroes. I just used to love watching football. I would go to Manchester City and Oldham when I was a kid."
Enter The Manchester United Themed Chevrolet Trax Auction, to win a Chevrolet Trax signed by the Premier League winning Manchester United team go to www.ebay.co.uk/trax-man-utd