'Our best player'
As a new documentary on Manchester United's class of '92 prepares to hit the big screen, Adam Bate talks to Ben Thornley, the star pupil from that famous youth team. In conversation with Gary Neville and the man himself, we find out more about a great lost talent of English football...
By Adam Bate - Follow @GhostGoal
Last Updated: 28/11/13 11:51am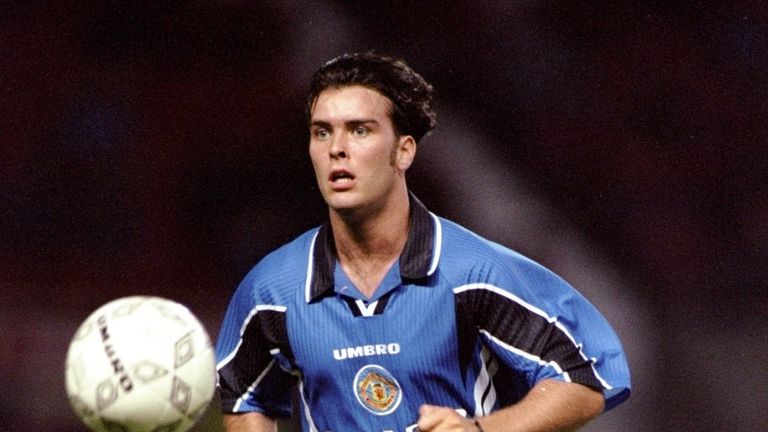 "For anyone who has got to the end of their career, there will always be a player that you've played with and you'll think if that boy hadn't have got injured or if something different had happened then he would have been a top player. For me, that was Ben Thornley."
The former Huddersfield Town and Aberdeen winger won't be at the forefront of everyone's mind in the week that the Class of '92 - a new film in honour of that famous Manchester United youth team - is released in selected cinemas. The man himself hasn't even seen it yet. But mention Thornley to his former team-mate Gary Neville and the United legend's voice becomes as animated as anything you'll hear on Monday Night Football.
"He was a very quick winger, two-footed, scored goals and was an intelligent player. In fact, he was probably our best player. If you think about David Beckham at that age, Paul Scholes at that age, Ben Thornley was above them in terms of the level he was playing at between the ages of 16 and 18. He was prominent in the FA Youth Cup final victory in 1992, played in every single round and was brilliant in every single round. But then he got that terrible injury. It was a real shame. It's something I think about even when I see him now."
Thornley still works at Old Trafford, doing hospitality work and providing co-commentary for MUTV radio. But he could be forgiven for becoming an embittered soul given the fame and fortune he was cruelly denied. Instead, there is nothing but pride when discussing the so-called Class of '92. "Considering I went through my career and didn't achieve the things the six lads in the film did, it's one of the highlights of my career," Thornley tells Sky Sports. "Even Gary Neville says that it's one of his special moments and he's won the Champions League and that historic treble, so you can imagine what that FA Youth Cup in 1992 means to all of us.
"You just never think do you? When you arrive for your first day of pre-season training as a 16-year-old, I don't think any of us could have imagined the heights that some of those lads would reach in their careers. You're setting out on a long and arduous road to try and prove you're good enough to play professionally let alone be some of the best players that the Premier League - and the world - has ever seen.
"It slowly started to dawn on us how good we were. From when we first started playing together, we pretty much went unbeaten through those two seasons. Nobody could live with us when we played to our best. Obviously we did lose the odd game, but we knew it took something special to beat us. When we got to the quarter-final stage we fancied we could win it. Spurs were the firm favourites as they'd chucked a lot of money at the lads they'd signed as 16-year-olds but we comfortably brushed them aside in the semi-final and Crystal Palace didn't prove as tough in the final."
Ryan Giggs, Paul Scholes, David Beckham, Nicky Butt, Gary Neville and Phil Neville. Between them, they have played well over 3,000 games for Manchester United... and counting. And yet, there were others. Northern Ireland's Keith Gillespie went on to enjoy a lengthy top-flight career, while Simon Davies and Robbie Savage became full internationals with Wales. History will remember six legends but that wasn't apparent at the time. Tellingly, while Beckham, Scholes and the brothers Neville were still waiting for their first chance, it was Thornley given his Premier League debut against West Ham in February 1994.
"It was tremendous," he recalls. "Brian Kidd came to me on the Thursday and told me I'd be travelling down with the squad on the Friday down to London. I was named among the substitutes. I'd no idea I'd play, especially with the game so evenly poised. When I came on for Denis Irwin we were losing. Not that I had anything to do with the equaliser but it was fantastic. Upton Park was a hostile ground when Manchester United came to town and to be involved in a game that was so nip and tuck was great.
"We got a point when Paul Ince equalised in the last minute. I'd made my debut and gave a decent account of myself. As far as I was concerned, it was the start of a long and successful career. I began to feel that with more experience I'd be able to do a very good job whenever the manager called on me. Unfortunately, six weeks after my debut I suffered a serious cruciate knee ligament injury."
The timing was particularly harsh. Thornley was in line to play in the FA Cup semi-final against Oldham that very week. "There was a definite chance I'd have played," he says. "It was the one Mark Hughes took to a replay with that amazing volley over his shoulder. The manager came to me and said that I hadn't played for 10 days and there'd be a good chance I'd be needed for the semi-final. He wanted me to go and have a run out for the reserves at Gigg Lane against Blackburn Rovers. The rest is history."
After turning in yet another impressive performance in front of the watching Sir Alex Ferguson, a challenge by veteran defender Nicky Marker late in the second half changed everything. Thornley had even had the opportunity to be substituted. While it might feel insensitive to ask him to relive the moment, the tale is etched in his mind and the words come tumbling out. "The manager was in the stands," he remembers. "He must have got a message to (reserve team manager) Jim Ryan somehow asking if I was OK and did I want to come off.
"We were comfortably in the lead and I'd scored. When you're an 18-year-old kid and things are going so well you are not even thinking about the next weekend, you're just living in the moment. It's one of the worst decisions I have ever made not to be substituted in that game but hindsight is a wonderful thing. If I could turn back the clock then, who knows, things could have been very different."
Even as cruciates go, the injury was a bad one, with medial ligaments and hamstring damage also a problem. Neville explains: "In those days, that was something you could recover from but nothing like the way you can today. It was a 12-month injury. There was a lot of muscle wastage and he was in plaster. We would never put a cruciate injury in plaster now. In fact, they'd be active within a month or so. Back then there was a lot of muscle wastage so he had to do a lot of strengthening of his muscles."
If Neville's words sound like a lament, it is important to note that Thornley has nothing but gratitude for the efforts of the medical department. "It was testament to the surgeon who repaired my knee that I had any kind of career in the game," he says. "I also have to be grateful to Manchester United, Sir Alex Ferguson and the physio David Fevre, who is now at Blackburn Rovers. He was appointed that summer from Wigan, the Rugby League team, and had vast knowledge of cruciate injuries. The rehabilitation programme they put me through was excellent and I can't thank them enough for the patience they showed."
However, the rehabilitation was tough and only made more bittersweet as his peers progressed in his absence. "He lost 12 to 18 months on people like myself, David, Nicky and Paul," says Neville. "At that age it really stunted his growth and development." Thornley concurs. "It was a long time to miss. It stretched to a year and in that time the other lads were training with the first team, playing more games. I found it very difficult. While the others were off in the summer, I spent it in a dark room downstairs in the gym at The Cliff. I worked as hard as I could to get me near to the levels of fitness I'd had before the injury but it was hard on my own and I got very down.
"These injuries never come at the right time, especially one as serious as that, but it really did come at the wrong time as the manager was starting to integrate us all into the first team. It would have been nice to know if I'd been able to hold my own in the Premier League on a more sustained basis but such is life."

Thornley fought back to play for the Manchester United first team and stayed at the club until the summer of 1998. But things were never the same. "His body type changed after the injury," notes Neville. That change of pace had gone. Thornley admits: "It soon became apparent to both me and Sir Alex Ferguson that if I wanted to have a decent career in the game then I'd have to move on." At least he can content himself with the praise that continues to come his way. And not just from his old pal. In his most recent autobiography, Ferguson writes: "Ben Thornley, would have earned a cap, but for major knee trouble."
Frustration would be understandable. But again, pride is the overriding emotion these days. "If Sir Alex Ferguson rubberstamps anything you'd be foolish not to take some sort of pride in it", he says. "Obviously, he was saying that in the context of knowing my ability and what a hard-working group of lads we were. I know the management rated all of us very highly and as long as we kept our feet on the ground I don't think there was anything to stop us making a wonderful career in the game, domestically and internationally.
"He certainly didn't have any reason to doubt that I'd got it in me to get that international recognition. I'd had it at Under-15s, I'd had it at Under-21s so if things had continued as they were I'd probably have had my chance in the England squad. I don't look back and think 'Why's he saying that now?' I just take it as a major compliment that someone so high up in the football world believed I was good enough to play for my country."
So will he be watching the forthcoming film? "I will definitely be watching it but I've had nothing to do with it, to be honest. Obviously, the film crew have decided to focus on the lads who went on to have a tremendous career in the game. And rightly so." Modest words. But as Neville, Ferguson and many others still remember: Ben Thornley has nothing to be modest about.
Click here to read our interview with Ben and Gabe Turner, the directors of The Class of '92
Thornley on Neville
"Gary does like to come out with that line that he didn't have the ability of some of us but he played in a different position for a start so what do we mean in terms of ability? Going on jinking runs down the wing and smashing the ball across goal into the corner might not have been something he was best at, but I rate ability as a full-back as being knowing how to defend, knowing what position to get into. He talks himself down but Gaz had tremendous ability in that regard. Of course, he also worked as hard as anybody to make up for what he thought he lacked in ability. In doing so, he turned him into a brilliant reader of the game, a superb leader and possibly the best right-back this country has had in the last 30 or 40 years."
Thornley on Scholes
"Paul was nowhere near the youth team during that cup run. He didn't make one appearance. But when we came back after the summer, Scholesy was like a different player. The transformation was absolutely incredible. He had that second season as an apprentice and scored a lot of goals. He just became an immense talent. Whether Sir Alex Ferguson played him in midfield or as a forward, he scored goals and he dominated games. He slowed games down and sped them up at will. People like Zinedine Zidane, Andres Iniesta and Xavi have spoken of how tough he was to play against and how they'd love to play with him. I don't think you can get a more glowing testimony than that and he thoroughly deserved it. Technically, he was the most gifted player I have ever come across."
Thornley on Beckham
"David is another one who thoroughly deserves all the success he has had. It's well-documented how he would stay after training, practising taking free-kicks. He'd be knocking balls against the wall at The Cliff. Whatever he could do to improve, he did it. He would be the first to admit that playing as a wide man he didn't have the pace of a Marc Overmars. He couldn't run with the ball and speed past people as if they weren't there. But he had a different element to his game. He could cross the ball with someone standing in front of him. He could put the ball on a sixpence. He could take a free-kick from anywhere and if not put it in the back of the net then certainly hit the target. That was what he practised. That's what he wanted to be the best at and - for a good 10 years - he was the best at it. There's been no finer crosser of the ball in this country for as long as I can remember. He battled back from a tough time in 1998 to be a nation's hero. He's a wonderful guy and deserves everything he gets."