Tom Cleverley: I'm scapegoat for Manchester United's struggles
Manchester United midfielder Tom Cleverley feels he has been made a scapegoat for the club's poor form.
Last Updated: 11/02/14 12:33pm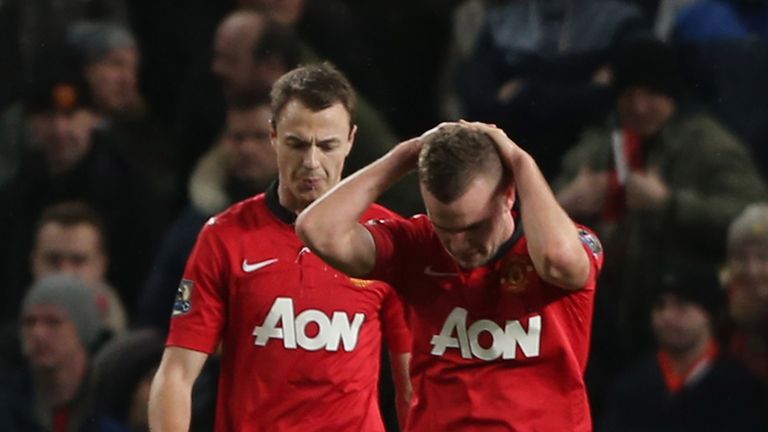 The champions have made hard work of their Premier League title defence and may even struggle to land a Champions League place next season as they currently sit nine points adrift of fourth-placed Liverpool.
Criticism of David Moyes and his side has been widespread, but fans have aimed much of their frustration at Cleverley.
"When I first started getting singled out, it stung," the midfielder told the Mirror. "But it's something you have got to learn to take when the team is not doing well.
"My job goes under the radar at times. I am not a player who's going to beat three or four people and stick it in the top corner or go round tackling people like Roy Keane.
"I would like the fans on my side and it hurts a little bit when you have grown up at the club and love the club every bit as much as the supporters.
"But there are other people in the current United squad who have been through this kind of thing and they have made sure their quality shone through.
"I have got to look at those people. I have learned to take it with a pinch of salt and I'm sure it will make me stronger for the rest of my career.
"I feel I've been made a scapegoat a little bit. A few people in the media certainly seem to have a perception of me not doing much in the team.
"Don't get me wrong, I know I can do better but people are making a big thing about how I don't score enough goals when that is not necessarily my first job in the team."
United fans might want to see Cleverley in a box-to-box role, but that is not the role Moyes has asked him to play with the United boss preferring him in a holding role.
"I watch Spanish football a lot," Cleverley says. "If they pass the ball sideways but keep possession, the fans clap them.
"Their attitude is that as long as you have got the ball, the other team can't hurt you.
"I know the mentality is different here and that is what makes our game the best in the world because it is so intense.
"But sometimes I have got to not listen and play my game because I feel I'm doing the best thing for the team."