Anders Lindegaard says Ryan Giggs could be the new Pep Guardiola
Anders Lindegaard has backed Ryan Giggs to become permanent Manchester United manager, likening him to Pep Guardiola.
Last Updated: 29/04/14 10:47am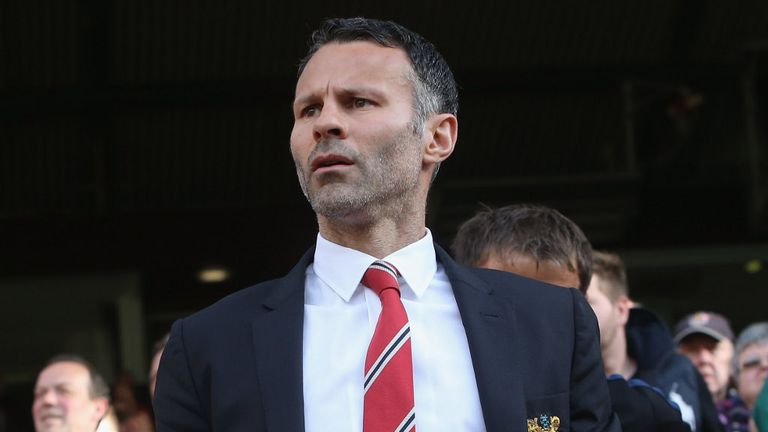 Netherlands boss Louis van Gaal is the front runner to succeed David Moyes as United manager but Lindegaard has compared Giggs not only to Bayern Munich boss Guardiola, the former Barcelona coach, but also to Sir Alex Ferguson.
Giggs has already won the backing of the likes of Wayne Rooney and Rio Ferdinand and now Danish goalkeeper Lindegaard feels the all-time United record appearance holder could step up to the manager role full-time.
Lindegaard, who was on the bench for Giggs' first game in charge in the 4-0 win over Norwich, was impressed by the Welshman and feels he has learnt things from former United boss Ferguson.
"It might sound pretty rash and naive, but, in my opinion, we are dealing with a new Guardiola," Lindegaard wrote in his column for Betfair.com.dk.
"What we have seen in the first week has been more than convincing.
"The similarities with Sir Alex Ferguson are striking and it is evident that Ryan Giggs has learned from one of history's most respected football managers.
"Some would question whether you can go from being a team-mate one day to a manager the next. Normally I would have reservations as well, but, in the case of Giggs, it is different.
"His latest speech, before the team went onto the pitch for the Norwich game, made my hairs stand on end in a way that I have only ever experienced from Sir Alex Ferguson: Do not disappoint the fans!"
Giggs' chances look remote even though sources close to the club insist Van Gaal is only one of several names on a shortlist.
Those names include Real Madrid coach Carlo Ancelotti, but it is understood United chiefs are determined to appoint a coach with a significant level of managerial experience at the very top of European football and that rules out Giggs.
Despite van Gaal being the overwhelming favourite to be named as United's new manager Sky Sports sources understands Manchester United are considering other candidates to be their new manager, despite positive talks with the Dutchman.
Van Gaal will be Netherlands boss at this summer's World Cup, but will then step down and he is thought to have held initial talks with United officials.
Other names in the frame include Real Madrid chief Carlo Ancelotti, Atletico Madrid coach Diego Simeone and Borussia Dortmund boss Jurgen Klopp.
Meanwhile, former United defender Gary Neville has revealed he would like United to appoint a British boss and hopes Giggs is given more of a chance to impress in the role.
"I would have liked to have seen Ryan have two or three games," Neville told Monday Night Football.
"He started well on Saturday, so let him have two or three more games to see whether he settles into the position and whether he can bed in and be given that role.
"At the end of the day the owners will do what they want to do. I suppose in some ways they want an experienced hand, but I personally would like to see a British manager be appointed because Manchester United have always appointed British managers."