New Manchester United boss Louis van Gaal has questioned the club's wisdom of planning a pre-season tour that will see his players travel huge distances across north America.
However, the Dutchman has been delighted by the application of his squad as they prepare for the new Premier League season.
The Reds open their tour in the early hours of Thursday morning when they face Los Angeles Galaxy at the Pasadena Rose Bowl in California.
And should they reach the final of the International Champions Cup, they will have journeyed around 13,500 miles during a two-and-a-half-week period.
After the game in LA, United travel to Denver, Washington DC and Detroit and should they top their group - which also contains Roma, Real Madrid and Inter Milan - they will then make a three-hour flight to Miami.
In between these matches, the players have to appear at sponsors' events while they are also duty-bound to conduct various press interviews.
Van Gaal admits: "We have to prepare for the season and when you have a lot of commercial activities also for the players, and you have to travel distances, you have to fly a lot, you have also jet lag, and that is not very positive for a good preparation.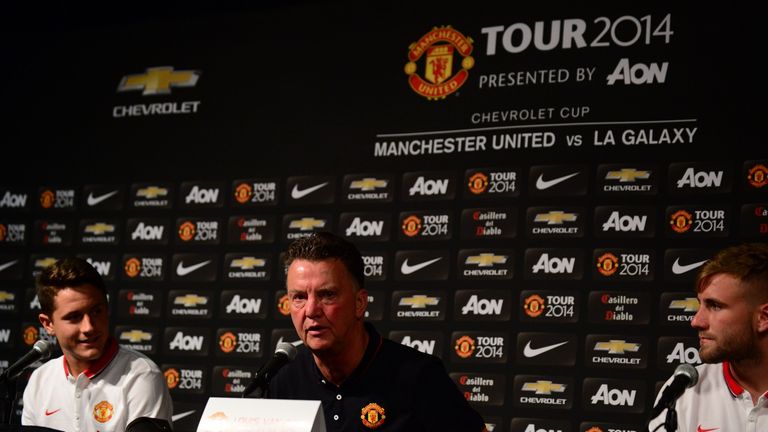 "But the tour was already arranged (before I became manager) so I have to adapt and I shall adapt."
Regarding the United players, van Gaal is happy with how they have responded since he joined up with the tour party: "I have to say that it has been fantastic.
"The players are anxious to follow the instructions of my assistants. The focus I have seen in the training sessions, it is top level but we have to see if the performance in games is top level.
"But I am very happy with the labour that my players do in the days I have been with them."
Good news for van Gaal is United's executive vice-chairman Ed Woodward insists the club are ready and willing to break the British transfer record if the new manager decides they need to do so.
Real Madrid signed James Rodriguez for £63million on Tuesday and Barcelona paid £75million for Luis Suarez earlier this month.
When asked whether United would be willing to pay a similar amount for a player, Woodward said: "It is in our capabilities. The club are not afraid of doing that - spending significant amounts of money in the transfer market."
Such a move would cause United to break the £50million record transfer fee paid by Chelsea for Fernando Torres in 2011.
Woodward insists neither he nor the club would be fazed about being responsible for such a big deal.
"Whether it's a record or not doesn't really resonate with us," Woodward said.
"What resonates is a top, top elite player that the manager wants that is going to be a star for Manchester United.
"We are in a very strong financial position. We can make big signings.
"I get pointed in the direction of a target that the manager wants and there is an assessment of what that might cost and I'll negotiate hard to do the best I can on the trade."