Manchester United manager Louis van Gaal praised his side's "unbelievable team spirit" in fighting back from a goal down to beat Preston North End.
Goals from Ander Herrera, Marouane Fellaini and Wayne Rooney sealed the 3-1 FA Cup fifth-round win, and despite another below-par showing Van Gaal was happy with the performance.
Scott Laird had given the League One team an early second-half lead but the Manchester United boss was quick to praise the resilience of his players as they set up a quarter-final with Arsenal.
"I was reasonably satisfied with the first half," said Van Gaal. "We didn't give anything away and it's always difficult in such games especially with the long balls and the fights between the central defenders and Kevin Davies.
"It's always difficult but we only gave away one chance, I believe, in the first half. 
"Then, in the second half, their goal was a little bit unlucky because it deflected but, after then, we showed an unbelievable team spirit again. We changed the shape and that was the solution."
Van Gaal substituted striker Radamel Falcao after an hour for Ashley Young with his side 1-0 down, and admits United were lucky at times in the second half despite seeing atraining ground move pull off.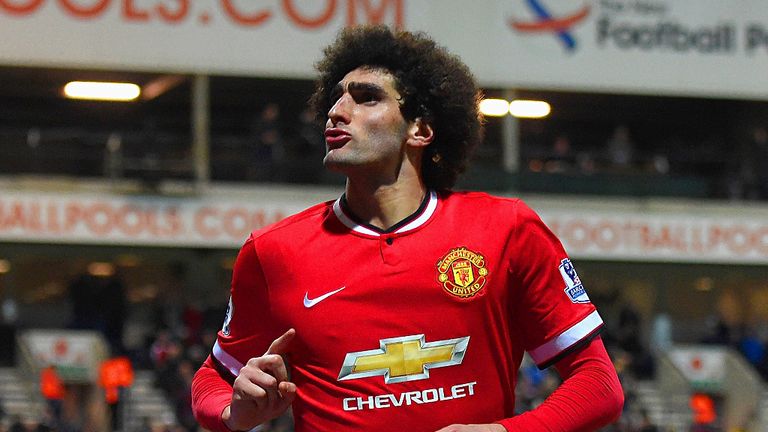 "I think we scored fantastic goals also but were a little bit lucky as well," he added.
"It was good, especially the second goal when [Antonio] Valencia crossed to the far post for Fellaini. I liked it very much because we trained on that a lot. I was very happy for Valencia."
Preston boss Simon Grayson took heart from his players' showing against the Red Devils, content they had acquitted themselves well on the big stage.
But moments after the final whistle his focus was already turning to the league campaign and the prospect of a return to the Championship.
"We did create some good chances at times and the players can wake up in the morning and be very proud of what they've done," he said.
"They didn't let the game pass them by. We said before the game we had to wake up in the morning with no regrets and they did that. Hopefully we can use this as motivation for the rest of the year."