Manchester United had another eventful summer in the transfer market with a number of high-profile additions and departures as Louis van Gaal continues to reshape his squad.
Sky Sports News HQ's James Cooper, who has been on top of all the club's dealings all summer, spent the day at the club's Aon training complex on Tuesday as Anthony Martial became the most expensive teenager in world football - and he has followed each move closely.
In
Anthony Martial - Monaco, £36m; Memphis Depay - PSV Eindhoven, £27.9m; Morgan Schneiderlin - Southampton, £25m; Matteo Darmian - Torino, £12.7m; Bastian Schweinsteiger - Bayern Munich, £6.5m; Regan Poole - Newport County, Undisclosed; Sergio Romero - Sampdoria, Free
Out
Angel Di Maria - PSG, £44.3m; Jonny Evans - West Brom, £8m; Javier Hernandez - Bayer Leverkusen, £7.3m; Nani - Fenerbahce, £4.5m; Robin van Persie - Fenerbahce, £3.84m; Rafael Da Silva - Lyon, £2.5m; Angelo Henriquez - Dinamo Zagreb, £1.15m; Reece James - Wigan, £1m; Saidy Janko - Celtic, £200,000; Anders Lindegaard - West Brom, Free; Tom Cleverley - Everton, Free; Ben Amos - Bolton, Free; Tom Thorpe - Rotherham, Free; Tyler Blackett - Celtic, Loan; Will Keane - Preston, Loan; Ben Pearson - Barnsley, Loan; Joe Rothwell - Barnsley, Loan; Adnan Januzaj - Borussia Dortmund, Loan
What now for David de Gea at Manchester United?
Manchester United are confident they can reintegrate him into the fold. He has been taken out of the line of fire in recent weeks by Louis van Gaal who has talked about his focus not being quite there. But that has not been a reflection on the player himself. I don't think Van Gaal wanted to sell De Gea bearing in mind last season he was his best player and he was the best player for Manchester United under David Moyes previously.
Cristiano Ronaldo ended up at Real Madrid all those years ago but Manchester United got one more season out of him in that famous No 7 shirt and the feeling at the Aon Training Complex is that they will get one more season out of De Gea before he perhaps goes over to Real Madrid this time next year.
There is an acceptance that it is coming to an end but Manchester United fans should savour seeing someone in goal who might be the world's best goalkeeper.
The big signing for Manchester United this summer was Anthony Martial - how did that signing come about?
It is funny - a lot of people will be pointing the finger at Manchester United and saying this is a panic signing. We know Van Gaal said there would not be any panic signings and there would be something special happening. It could be that it is something special.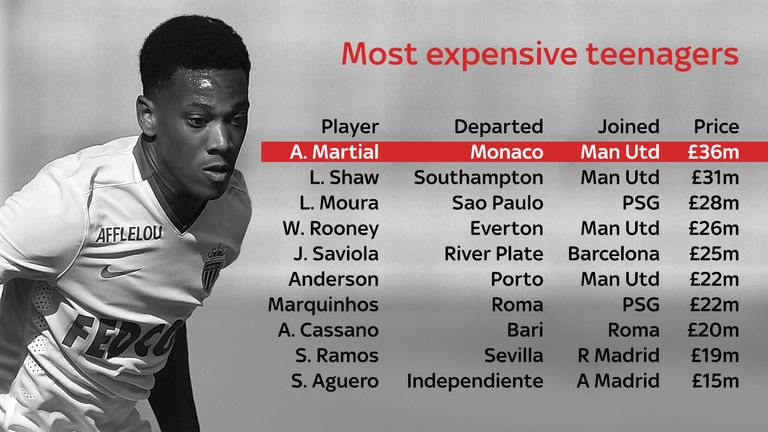 If it is a panic signing, it is a panic that has gone back weeks and months. They have been monitoring this young man very, very closely for a long time. A lot of big European clubs have been in for him. The feeling among those clubs is that Monaco would make it into the Champions League this season and therefore they would have to wait another year.
Manchester United realised as soon as Monaco tumbled out of the qualifying stages of the Champions League that was their opportunity. They have moved in very swiftly and paid big money - £36m, which is a record for a teenager in world football.
But there are two signs of both his belief and the club's belief. The first is that he chose the No 9 shirt himself. He was given a number of options. That No 9 was vacated by Radamel Falcao who left having arrived this time last year.
Also when you look at the add-ons, one of the add-ons involves him winning the Ballon d'Or. That might be several years down the line but Manchester United are showing their intent with a player they believe can really change things at the club.
Louis van Gaal missed out on several players. What happened with the likes of Pedro and Sergio Ramos?
Let's do Ramos first. That was a player Manchester United wanted. They identified him as the best centre-back in the world. They thought they could get him. They took a bit of a punt and tried to get him but it just didn't work.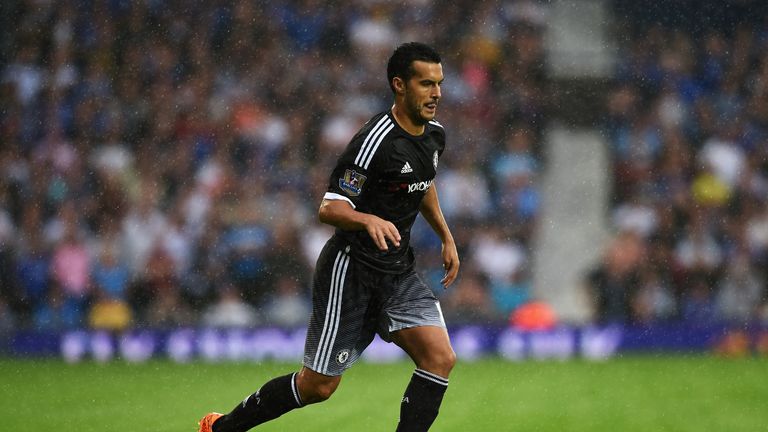 As soon as it didn't work, they decided if they couldn't get Ramos they would not get anyone else. That was the reality in this situation. Van Gaal is more than happy with the centre-backs he has got.
That is a very different situation to the Pedro situation. I think they were a bit uncertain in the end. We have heard an awful lot of rumour and speculation about why that deal did not happen.
I think he is very similar to some of the players they have got, both in stature and pace, and maybe didn't have that searing pace that they wanted.
In the end, they just simply did not pull the trigger on that deal. They could have done it very, very easily with that buy-out clause. There was a three-and-a-half week process where they could have said they wanted that player.
In the end they didn't want Pedro and they are hoping that decision does not come back to bite them.
There was plenty of chat about where United needed to strengthen. They didn't bring in an experienced striker or a centre-half. Are they happy with how this window went?
I think they are. There are relative disappointments for Manchester United in this transfer window. If you look at Angel Di Maria's departure - that was someone, when they brought him here last summer for almost £60m, smashing the British transfer record that was someone they thought could have a real impact not only on Manchester United but also on English football.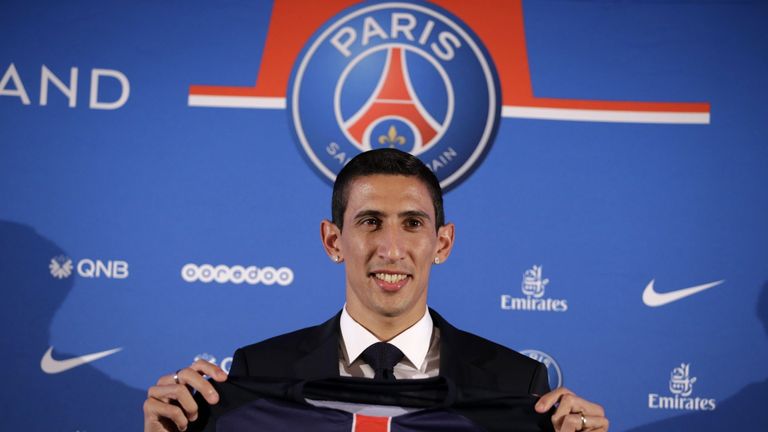 I don't think they really got the player they hoped they'd signed. Whether it was not tracking back or the pressure on the ball in Premier League football, they found that Di Maria was struggling. They were prepared to make that happen again for a second season unless they got a big, big-money offer. They got that big-money offer and of course he went to Paris Saint-Germain.
We have seen strikers leave in the shape of Robin van Persie and Javier Hernandez but I think they feel now they have got a mobile frontline. They have not got a hitman but they have got Wayne Rooney, someone they put an awful lot of store in. Alongside him, they have two youngsters in Depay and Martial who really give them some dynamism.
At the back we have seen Jonny Evans depart. We have seen other players go on loan like Tyler Blackett to Celtic. They are thinner in numbers but I think Manchester United are emerging from this transfer window thinking they are more streamlined.
All in all, it's understood that Manchester United are happy with this transfer window which has seen them smash the record for a teenager in world football with Martial, someone they have huge ambitions for. They have also retained the services of the world's best goalkeeper who they are confident they can reintegrate back into Manchester United and give him a season to remember as well as a season for the fans to say farewell.