Luke Shaw believes his struggles last season made him stronger mentally and strengthened his resolve to make an impact at Manchester United.
The 20-year-old full-back has enjoyed an impressive start to the season with both United and England after being dogged by injury and inconsistent form in his debut campaign at Old Trafford.
Shaw became the most expensive teenager in football when United signed him from Southampton for £30m - a record which has since been shattered by Anthony Martial.
The England international struggled early on as Louis Van Gaal deemed him not fit enough to start but he learned a lesson from that and brought a fitness coach on his summer holidays with him to ensure he stayed in peak physical condition.
Live Ford Saturday Night Football


"Obviously last season was very difficult for me," he said. "I just feel fresh and fit and hopefully I can get a run of games now and keep my performances up.
"I trained before I went back to pre-season. That was a massive help to me and now I just want to keep on playing well.
"It was made hard with the injuries that I picked up. I didn't expect that to happen as much as it did.
"I think that is what knocked my confidence down, I never got fully fit, so whenever I was playing, I wasn't at my best and I didn't feel at my best. Now I am playing and I feel great.
"To be honest I feel better than I did at Southampton. Game by game, I feel like I'm getting stronger, especially in training. I just want to keep it up now and pray there are no injuries."
Shaw keenly felt the weight of expectation when he made his move to United last summer and admitted he let negative press about his early performances get to him.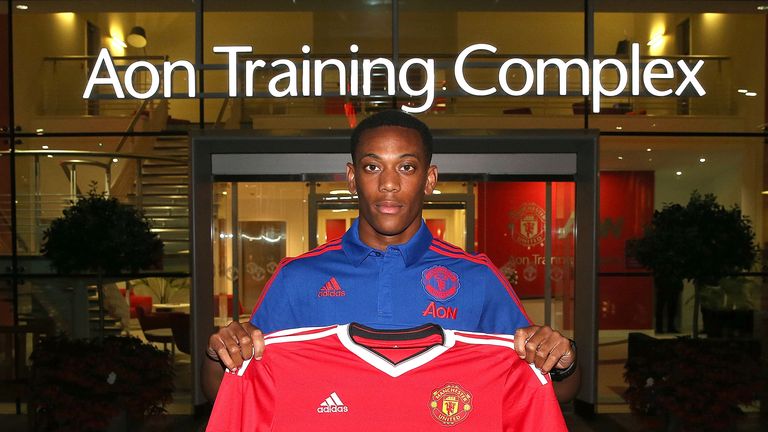 New team-mate Martial will face even more intense scrutiny given his hefty price tag and Shaw has warned him he must also learn to ignore what is said about him by those outside the club.
"Of course, you see it," he said of negative press. "I think I read too much of it last year. I tend to ignore it now.
"There are always going to be highlights especially for someone like me who went for so much money.
"There are always going to be people doubting me and wanting to write bad stuff about me but obviously just to ignore it and carry on playing the way I am.
"Of course I am always willing to help people, no matter how old they are. Obviously I know he might find it a bit tough with everything that's going on with social media. We have great people at the club. Staff and players. We will all welcome him very well.
"He is a young player with a lot of potential. Hopefully we can help him and he will learn a lot from players like Wayne Rooney. It's great for him to have someone like that.
"He looks like he has got that pace and ability that we might need. At United, I think we need a bit more pace and I think he is going to bring that."
Anthony Martial could make his Manchester United debut against Liverpool this weekend and you can watch it live on Sky Sports 1 HD from 5pm on Saturday.