Cesc Fabregas admits Arsene Wenger is "like a father" to him, as he prepares to face his old manager again for Chelsea on Super Sunday.
Fabregas was brought through the ranks at Arsenal by Wenger, before leaving the club in 2011 for Barcelona, and though Arsenal had first option on the Spaniard when he left the Nou Camp in 2014, the Gunners did not take up the offer.
Fabregas' Chelsea host Arsenal at Stamford Bridge on Super Sunday at 1.30pm, live on Sky Sports Premier League, and the 30-year-old said he still feels "very attached" to his old club.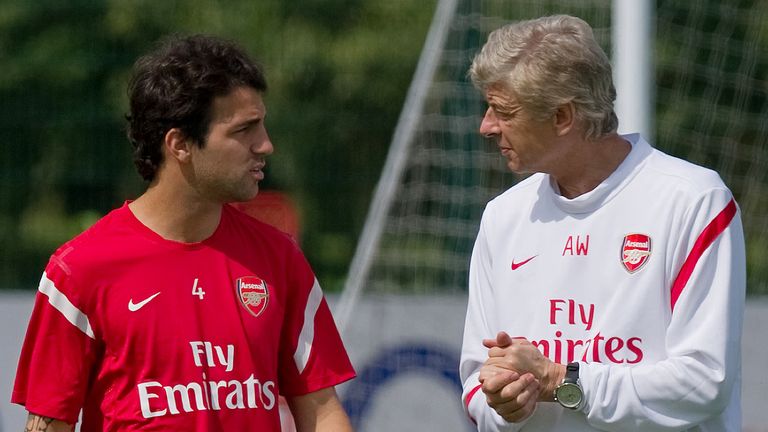 Asked if Arsenal were like an "old girlfriend" to Fabregas, he told Super Sunday: "I wouldn't call it that. It's much more than that, because sometimes an old girlfriend you lose connection with, you don't feel anything for after years.
"I feel very attached, even now, to Arsenal. My feelings for the club, well I don't have to repeat myself, every single time we play against them, because it's known. Whoever doesn't believe me, or doesn't feel it is this way, is not right. I know how I feel, my family does, and that's all that matters to me.


"Once I made the decision to leave Barcelona, Arsenal had the first option, and Barcelona had the obligation to contact Arsenal first. Then they had a week to basically respond yes or no to the buy-out clause.
"I knew Chelsea were on the side, among other clubs, but after I spoke to [Jose] Mourinho in the meantime he convinced me that it was a great place to come. The week passed, Arsenal never responded, never contacted me either, so I took it as them having enough players in their squad, so I made my move to Chelsea.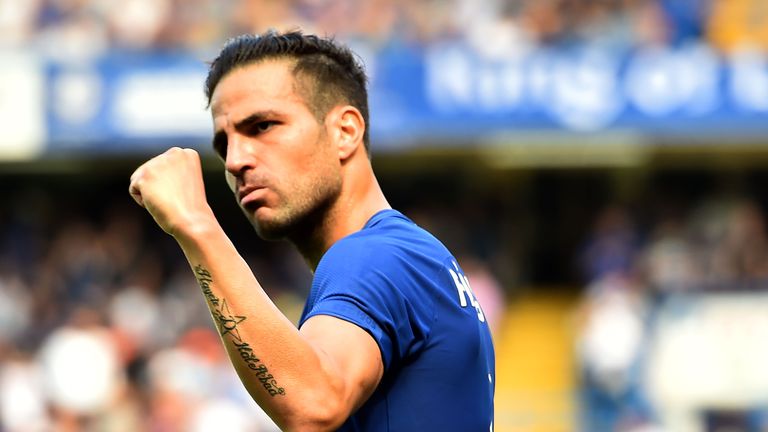 "Because I felt they wanted me the most, Jose spoke to me in a way that not many have spoken to me before, and I knew what he wanted from me. He motivated me so much in that meeting that my choice was very easy.
"I love Arsene, the man. I love him of course as a coach too. This is a decision he made. I always said that he's like a father to me, and he will always be."
Fabregas has enjoyed a huge resurgence in form since last summer, when his future at Stamford Bridge looked uncertain.
He helped Antonio Conte's side to the Premier League title last season following a disappointing 2015/16 campaign, and says he feels like a boy again, with hunger to improve and win more trophies.
Asked about his frame of mind now, Fabregas said: "Let's say it is better to this time last year. It was a difficult first half to the season for me last year, something I have never experienced before, but I feel I turned it around by working hard, getting my head down, being humble, training and training, playing well when they called me, and earning the manager's trust.
"I am very ambitious, hungry, and I feel very, very good. So all I can say is positive things. I feel young, I feel hungry for success to keep fighting for my place, to make things difficult for the manager and of course to win trophies, which is of course what it is about for a club like Chelsea."
Fabregas also says that he feels a fire in his belly when he is written off, after his critics insisted last season he could not fit in with Conte's style of play.
He said: "I'm the type of guy that when I'm told I can't play under this type of manager, not with his style, if you tell me this some fire comes inside me, and I want to prove everyone wrong. And that's what I did, and hopefully I can keep it up for as long as I can.
"Because mentally I feel like a boy that is only just starting, and physically I feel very, very well. It's all about the attitude and hunger to do well for the team and yourself."
See more from Sky Sports' interview with Cesc Fabregas on Super Sunday: Chelsea v Arsenal from 12.30pm on Sky Sports Premier League.