Chelsea 1-0 Manchester United: The stats on how they did it
By Adam Bate and Thomas Worville
Last Updated: 07/11/17 4:13pm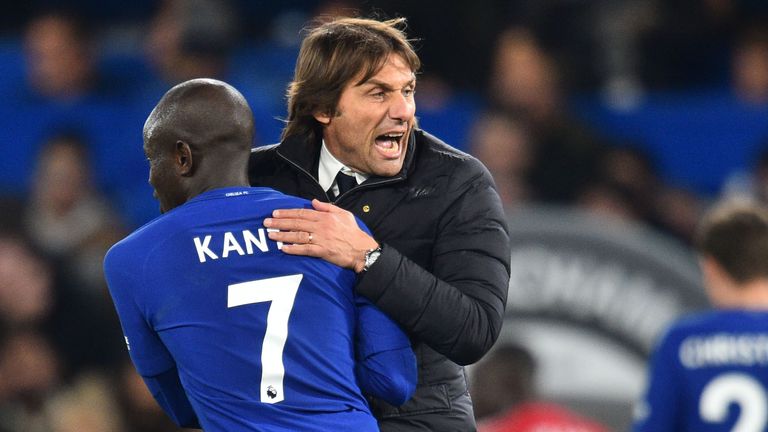 Chelsea's 1-0 win over Manchester United at Stamford Bridge on Sunday was a crucial one for manager Antonio Conte.
But how did the Premier League champions get the result?
With the help of Opta's in-depth data tools, we take a look at the key factors in their victory…
Kante's coverage
The return of N'Golo Kante was fundamental to Chelsea's success with the midfielder's now famed dominance of the centre of the pitch once again in evidence. The France international was badly missed in the defeat to Crystal Palace and both Champions League games against Roma but showed here why he is so important to his team.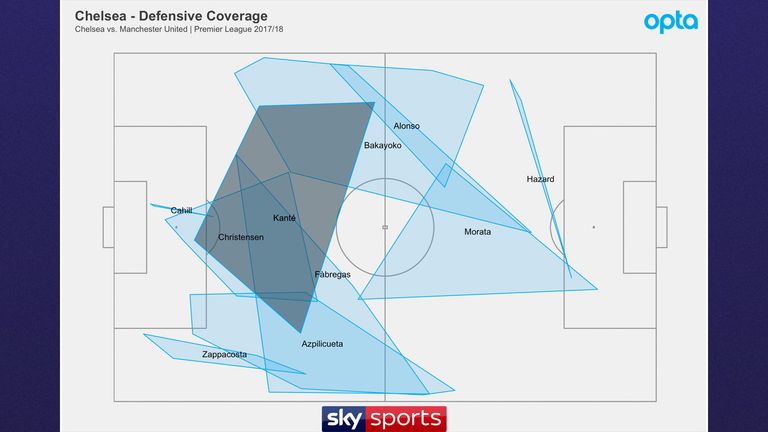 Kante won possession of the ball 11 times - more than anyone else on the pitch - and gave the Chelsea defence the protection they had been lacking of late. The graphic above highlights Kante's defensive coverage against Manchester United.
According to Opta, defensive coverage measures the area of defensive responsibility implied by a player's defensive actions during a match. Kante's presence helped to ensure that Manchester United struggled to find a path through to Romelu Lukaku.
Fabregas's threat
Cesc Fabregas has been used in a deeper role for much of this season due to the sale of Nemanja Matic to United and injuries to the Serbian's replacements. However, Conte deployed Fabregas in an advanced role on Sunday and the midfielder justified his manager's decision - he was the key creative figure in the game and central to Chelsea's success.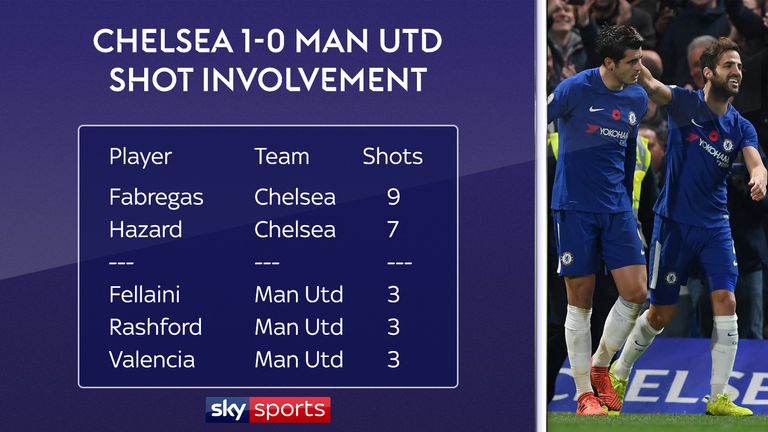 Opta's shot-sequencing tool delves into the data to identify those players who contribute to the moves that lead to their team's shots. Sequences are defined as passages of play which belong to one team and are ended by defensive actions, stoppages in play or a shot.
Fabregas was involved in nine sequences that resulted in a shot for Chelsea on Sunday, more than anyone else. Alvaro Morata scored the goal and Cesar Azpilicueta provided the assist but it was no surprise to see Fabregas involved in the build-up play.
United nullified
Indeed, Fabregas was involved in three times as many shots as any Manchester United player as the visitors' own chief creator, Henrikh Mkhitaryan, struggled to have any impact on the game. The sequencing data also shows that United's direct speed of attack was slower than Chelsea's.
The result of it all was that Chelsea deserved their win. According to Opta's expected goals model, the quality of Chelsea's chances could be expected to produce an average of 1.6 goals. In comparison, Manchester United's chances were worth only 0.7 goals on average. Chelsea's midfield structure - in defence and attack - made the difference.