Antonio Conte says Chelsea were unlucky not to beat Liverpool
By Peter Smith
Last Updated: 26/11/17 12:01am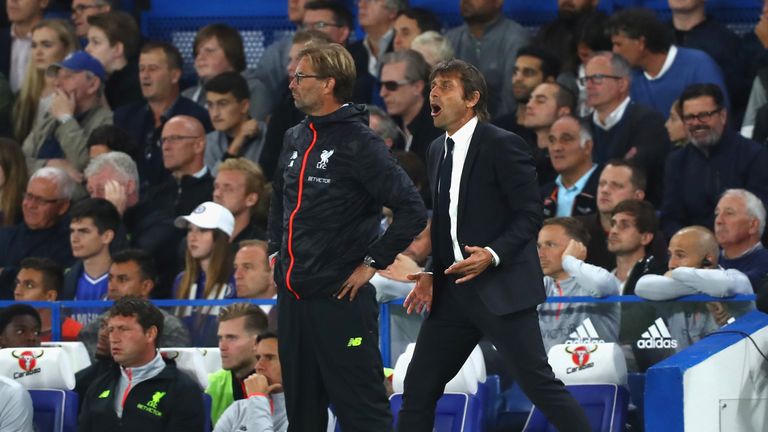 Antonio Conte praised his players' resolve after substitute Willian's late goal earned them a 1-1 draw at Liverpool - but believes Chelsea could easily have won the contest.
Former Chelsea attacker Mo Salah had put the hosts ahead on 65 minutes before Willian's cross-shot caught out Simon Mignolet with five minutes to play.
However, Conte - whose players had endured a long midweek Champions League trip to play Qarabag in Azerbaijan - believes the ricochets in the build-up to Liverpool's opener and Chelsea's all-round performance meant his side were unlucky not to take all three points.
"In the first half we were very solid and always dangerous in ball possession," he said. "In the second half we created many chances to score. Maybe in our best moment we conceded the goal.
"I think we were unlucky, if you see the dynamic of their goal. But at the same time I'm very happy to see a good reaction of my players. A great desire, a great will to fight, a great desire to not accept the result against Liverpool. We tried to win the game. We must be pleased despite the draw.
"Both teams played with a great intensity from the start until the end. For us, it was very difficult to play this game after our long travel and after no rest for my players. And also because when you play at Anfield it's not simple because you play against a very strong team, you play in a particular atmosphere.
"We had a tactical plan and for Liverpool it was very difficult to make chances to score. I think we prepared the game very well. It was a tactical decision, especially in the first half, to be very solid and then use the ball to be dangerous.
"But in the second half the game is changing, we dominated the game, we created many chances to score and Liverpool were lucky to score and then to draw."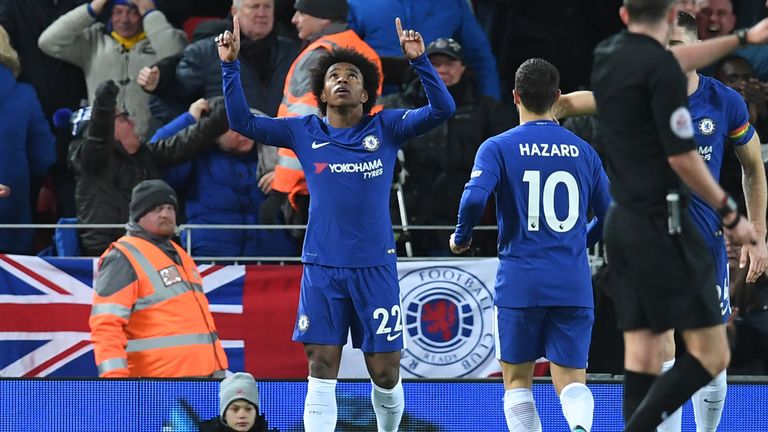 Conte laughed off suggestions Willian's goal was unintentional - "it's not important! It's important to score!" - but said the Brazilian is an example of the strong squad he is developing at Chelsea.
Conte applauded the performance of Danny Drinkwater in central midfield, who started ahead of Cesc Fabregas, and says he now has options to employ different tactical systems, especially with Eden Hazard hitting form up front.
"When you play every three days and you have to play a lot of games it is very difficult," he said, when asked about Jurgen Klopp leaving out star men Sadio Mane and Roberto Firmino.
"Every coach tries to make the best decision for his team but it's important for rotations in this situation, otherwise you risk having a player very tired.
"In this case there is Cesc. He played every game from the start of the season - and he played very well. For this reason I took this decision, it was an important decision. When you give a new player [Drinkwater] this type of chance in a big game against Liverpool the coach shows you trust in all of your players.
"I think now we have another player we can count on, in Drinkwater. It's very important for me to have the four midfielders and the best possibility to play with three midfielders or two midfielders.
"Now Hazard's in really good form, he likes to play as a striker and there's a good link with Alvaro Morata. For me it's a big opportunity to have the possibility to play with the two different systems. Against Qarabag with 3-4-2-1, today we started with 3-5-2."