Antonio Conte fears 'incredible' Manchester City may become uncatchable for Chelsea
Last Updated: 27/11/17 6:24am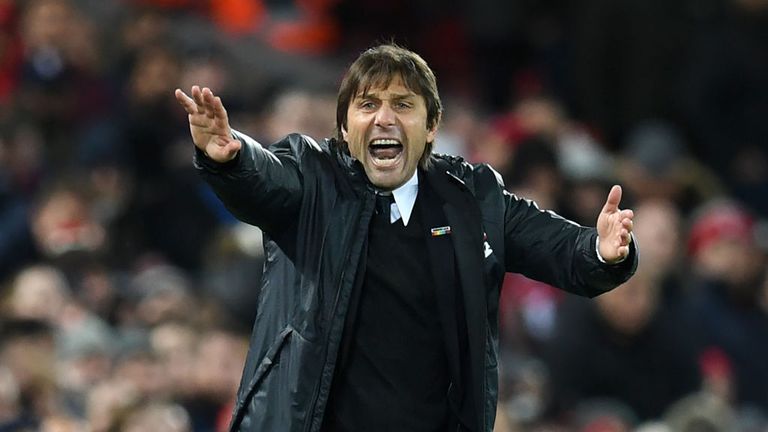 Manchester City's "incredible" improvement this season could leave the rest of the Premier League title hopefuls having to spend big in January just to catch up, says Chelsea boss Antonio Conte.
Conte's defending champions rescued a late point at Liverpool on Saturday, with Willian's unexpected cross-shot finding the top corner to cancel out Mohamed Salah's opener.
In terms of the title battle that still represented two points dropped for the Blues, who sit 11 points behind leaders City following their 2-1 win over Huddersfield.
"Manchester City's path is incredible, no?" said the Italian.
"I think Manchester City in this season is a strong team. Also last season, Manchester City was a fantastic team. Then, after the transfer market, they bought their first targets and then they have improved a lot.
"They can do this also in January maybe, in the future. For this reason we must be worried because if we want to compete with Manchester City we have to work and then make the best decisions in the transfer market."
Chelsea goalkeeper Thibaut Courtois was hoping a hectic winter fixture list could derail Guardiola's top-flight hopes.
"December is a very tough month. Maybe they drop some points," he said.
"We have to be there to keep on winning and hopefully close down on them, then towards the end of the season maybe overtake them. But at the moment they are the best team in the league and it's hard for them to drop points."
If Chelsea are to mount a credible defence of their trophy it seems increasingly likely to built on the shoulders of Eden Hazard.
The Belgian playmaker had a slow start to the season but is finally close to top form.
"I think he was brilliant, I think Eden is a wonderful player and maybe the best in the league," Courtois said on his Belgian compatriot's performance at Anfield.
"If you saw, in the first half especially, how easy he gets past three or four people like they are cones it is amazing.
"We are not speaking about players who play on a lower level, like if you play in the FA Cup or League Cup, we play against Liverpool with top players and he passed them like it was nothing."