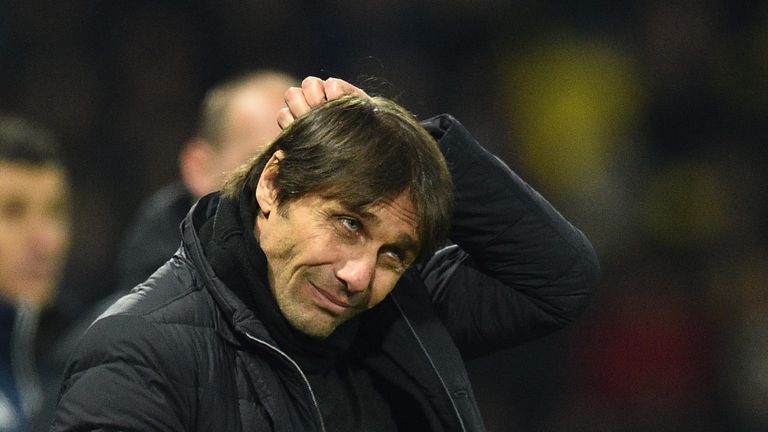 Chelsea boss Antonio Conte was in defiant mood after seeing the pressure mount on his position with a 4-1 defeat to Watford on Monday.
There have been reports Conte could be sacked if Chelsea's below-par start to the year continues.
More questions are likely to be asked after a slack display at Vicarage Road, with Tiemoue Bakayoko dismissed after 30 minutes and Watford scoring three late goals to secure a resounding win.
Asked by Sky Sports whether he has concerns about his future at the club, Conte said: "No. It is not my problem. I try to do my job. I try to put everything in my job. If this is enough, it's okay. Otherwise they can take their decision."
In his post-match press conference he added: "I'm not worried about my job. I work every day and I give 120 per cent, okay? If this is enough, it's okay. Otherwise, the club can take a different decision. But I'm not worried.
"It's very difficult because every press conference you ask me: are you worried about your job? No. I am not worried.
"Tomorrow is another day. I can be the Chelsea coach or not. Which is the problem? My soul is clear and, I repeat, I go to sleep without the problem that 'maybe I could do this'. No. I try to do everything. If this is enough, okay, otherwise the club can take another decision.
"But I think this is a problem for you, not for me or the club. If it becomes a problem of the club, okay. But life goes forward.
"I do my job.I do my work. If this is enough then okay. If not, I go at home. I have zero problem. I sleep well."
Conte acknowledged Chelsea are in a "difficult moment", but added: "I tried to warn everyone about the difficulty of our path and in the league of trying to find our place in the Champions League, but now we are facing a lot of difficulties and you can see we perform very bad.
"Maybe I made mistakes with the starting XI. The starting XI was wrong because our start was very poor and it was difficult to change something."
Reflecting on Chelsea's performance, he said: "Our performance was very bad from the start. We didn't start in the right way and we lose a lot of dangerous balls. Bad performance. When you start in this way anything can happen. A red card after two yellow cards in a few minutes. Our start was very poor."