Chelsea's Eden Hazard is genuine world-class player, says former captain Dennis Wise
Last Updated: 13/02/18 3:48pm
Eden Hazard's "frightening" ability makes him invaluable to Chelsea, according to former club captain Dennis Wise.
After missing the start of the season following a broken ankle, Hazard has again been a standout performer for Chelsea, directly contributing to 24 goals for the Blues this term.
Hazard took his tally for this season to 15 with two goals in Chelsea 3-0 win over West Brom on Monday night, and Wise says the Belgian has consistently proven he is a world-class player.
"His performances for Chelsea since he has come back from injury have been absolutely outstanding," Wise told Premier League Daily on Sky Sports News.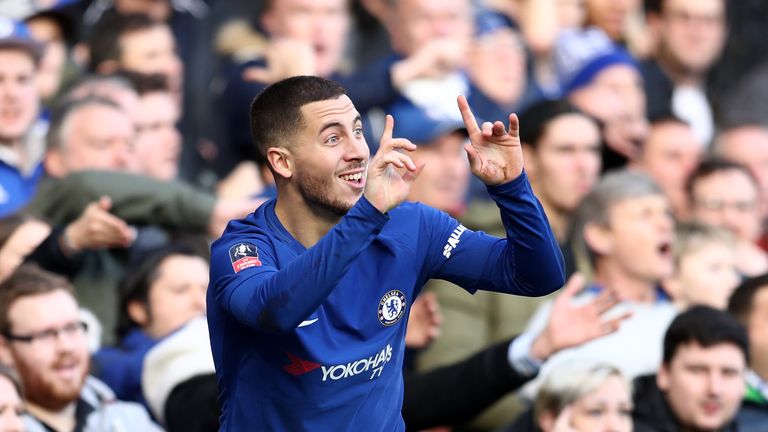 "He has been like a one-man band at stages. Especially, last night you see how fantastic he was with his two goals.
"He creates things that other players can't create. I think he is world class and it is up to him what he wants to do with himself, whether he wants to take himself to that next level.
"Only time will tell I think but some of the things he can do with a football are quite frightening,"
Chelsea's win over West Brom saw them return to the top four, easing the pressure on head coach Antonio Conte, who has cut an unhappy figure in recent weeks.
Wise believes Conte's future is indeed uncertain, adding results between now and the end of the season could determine whether the Italian is at Stamford Bridge next year.
"I see it [Conte's future] until the end of the season at the moment," Wise said.
"If they go and get in the Champions League and they win the FA Cup he has put himself in a good position and he's comfortable.
"But if they don't get in the Champions League and they don't win a trophy, obviously the point of view will be that it hasn't been that successful, it hasn't been great and he's spent an awful lot of money so therefore they would need to think about things."