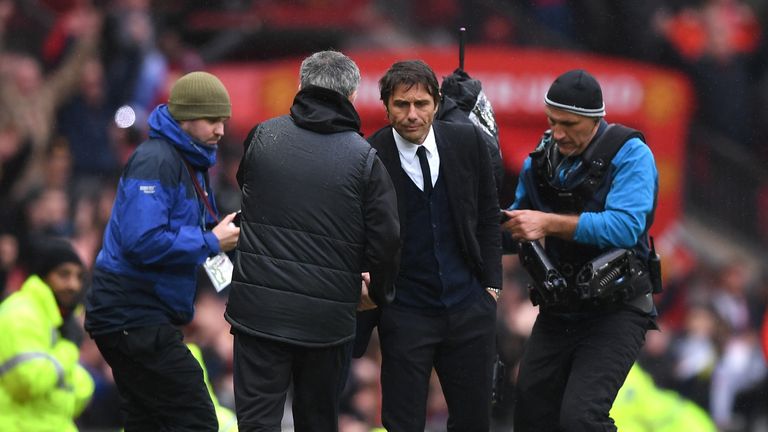 Antonio Conte is keen to put an end to his war of words with Jose Mourinho ahead of Chelsea taking on Manchester United.
The two managers will see their sides go head to head on Super Sunday, live on Sky Sports, and Conte is focused solely on the task ahead.
Conte and Mourinho have clashed several times over the course of the campaign, exchanging steadily more provocative words as part of an ongoing public feud.
Ahead of the showdown at Old Trafford, Conte believes it is time to draw a line under the episode and look only ahead.
"I'm not interested in this topic. Both said something in the past, but we stop," said Conte.
"For me, the situation has stopped."
Like Conte, Mourinho is also eager to concentrate on the football and put personal issues aside.
"I told you before I'm not going to speak about it. Not at all," Mourinho told the media on Friday.
"That's not the point. Very good manager, fantastic team and that's what is important for me. Just that."
With Chelsea three points behind United in fourth place, Conte has admitted the scale of significance the fixture could hold with regards Champions League qualification.
"This is a massive game. A game to try and find a place in the Champions League," Conte added.
"An important game for us, and an important game for them.
"We have to try and play and try and get three points. To try and finish the game with a good result."