How will Jose Mourinho be remembered at Chelsea?
Portuguese won three league titles as Blues boss
Last Updated: 21/10/18 6:21pm
After Jose Mourinho's touchline fracas at Stamford Bridge on Saturday, the Sunday Supplement panel discuss how the Portuguese will be remembered at Chelsea.
The Manchester United manager, on his return to his former club, was involved in an ugly spat with one of Chelsea's coaching team after the home side's late equaliser.
Sunday Supplement podcast - tap or click to listen back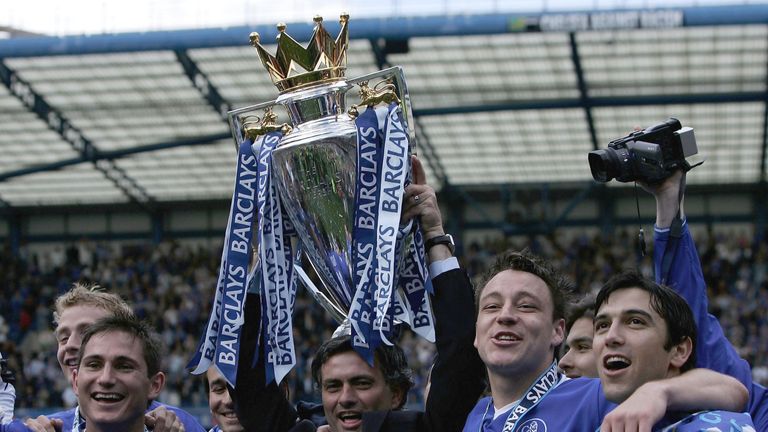 Part of the problem for Chelsea fans is he seems to have claimed those league titles as his own
Rory Smith, New York Times chief football correspondent
After the 2-2 draw, Mourinho was also seen gesturing with three fingers - referencing the trio of Premier League titles he won while in charge of the west London club - towards the Chelsea fans.
So how will the 'Special One', the most successful manager in Chelsea's history, be thought of at the Bridge in future years? The Daily Telegraph's chief football writer Sam Wallace and the New York Times' chief football correspondent Rory Smith discuss.
'Chelsea fans have an uneasy relationship with him'
"The interesting thing about it is Mourinho's relationship with Chelsea because he is there most successful manager ever," says Wallace. "And when the history of the club is written, he is a key part in it.
"But they have quite an uneasy relationship with him, although in 20 years' time they will wheel him out and he will wave to the crowd and everything will be forgotten and it will be fine and this is the guy who won the club their second-ever title on their 100th anniversary.
"But at the moment it is still very raw and what Chelsea hate is Mourinho being able to take the moral high ground and he absolutely did that (on Saturday) and justifiably so.
"And there was a lot of metaphorical finger wagging in that press conference and that really gets their goat because it was a very, very difficult end to his second tenure.
"And he has come back, but I am afraid they are in the wrong on this one. It is not a big deal, and that is a bit painful for them."
'Mourinho is not an easy figure to love'
"In 20 years' time, Mourinho will not be wheeled out at Chelsea," says Smith. "In a previous era, he would have been.
"But something has shifted in the nature of football fandom. One of those great romantic things you used to see all the time was the former player coming back with another team, still active, and he would always get a 15-20 minute grace period where he could do anything and the fans would be, 'It's nice to see you and this is lovely.'
"That does not happen anymore. As soon as players leave, they are cut out of history, the same with managers. So I do not think Mourinho will be invited back and that is a real shame with everything he has contributed to the club.
"And Mourinho is not an easy figure to love if you are not actively supporting his current team and I think part of the problem maybe for Chelsea fans is he seems to have claimed those league titles as his own.
"Not as things he won with Chelsea, but things he won and Chelsea were kind of around as well, the rest of the players sort of played a part, but really it was about Jose.
"That does not make it easy to be attached to those three league championships because he has claimed them as his own."