Sky sources: Chelsea move for Napoli striker Edinson Cavani
Chelsea have made an approach for Napoli striker Edinson Cavani, Sky sources understand.
Last Updated: 02/07/13 6:53pm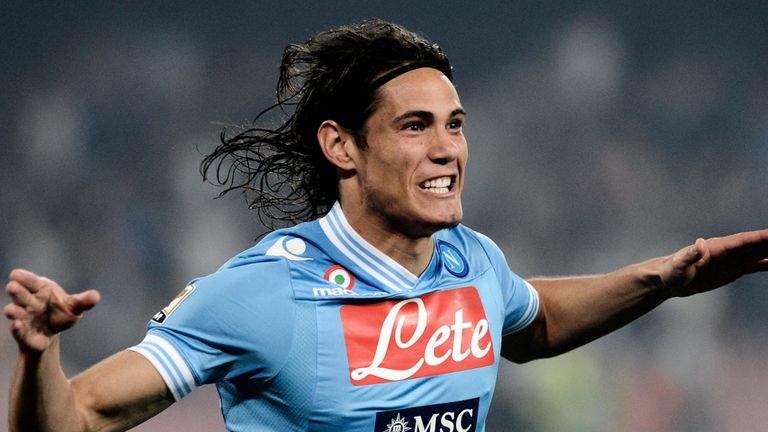 The in-demand Uruguay international, who was Serie A's top scorer last season with 29 goals, has been linked with moves to Manchester City, Real Madrid and Paris St Germain as well as Stamford Bridge.
City had appeared frontrunners for Cavani's services but Napoli president Aurelio De Laurentiis revealed last week they had baulked at his £54m price tag.
Chelsea are also loath to meet that buy-out clause and, with Cavani anxious for an end to the uncertainty, it is understood talks between his agent and Napoli officials over his asking price will take place this week.
Speaking after Uruguay's Confederations Cup defeat to Italy, Cavani said: "I want to talk as soon as possible with president De Laurentiis.
"We must clear this (situation up) ourselves. I'll talk with him, as it's done between men, really soon.
"Right now, I'm at Napoli and I'm very proud to be there. If I leave one day, I'll be ready to move to a bigger club. We'll see."
However, speaking last week, De Laurentiis outlined his view that there is no need to hold talks with Cavani about the player's future.
Speaking to the press before an Italian league meeting, De Laurentiis said: "There is no need to have a face to face with Cavani.
"If a club offers €63million, then we would allow him to leave. The release clause will have been activated.
"Should we receive an offer, then fine. If this offer doesn't arrive, then Cavani will stay in Italy with us."
Napoli coach, and former interim Chelsea manager, Rafa Benitez reiterated his stance last week that he wants Cavani to stay.
Benitez told the Corriere dello Sport: "We want Cavani to stay at Napoli.
"We would be really happy if that's how it works out. If he leaves, then it would only be because someone has matched the release clause or comes up with an irresistible offer.
"Cavani knows how much he is loved and how valuable he is to the city and to the team."