Premier League: Chelsea boss Jose Mourinho wants Juan Mata to show more consistency
Chelsea boss Jose Mourinho has reiterated that Juan Mata needs to work harder and find more consistency.
By Tim Oscroft
Last Updated: 22/09/13 10:41am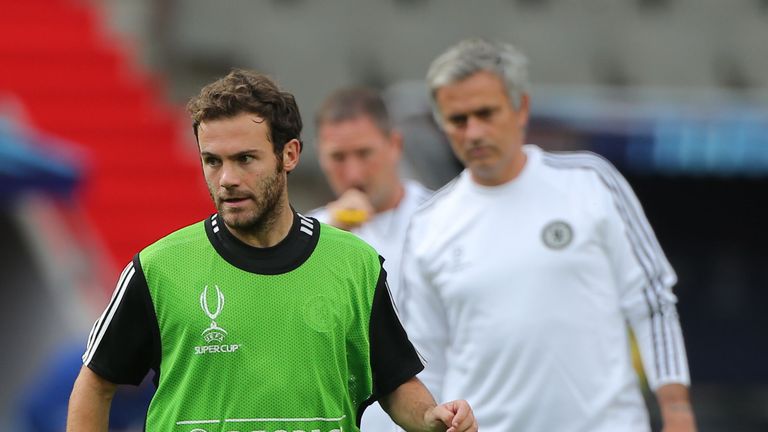 The midfielder was omitted from the Chelsea squad for Saturday's 2-0 win over Fulham, which followed the defeat by Basel on Wednesday when some Blues fans expressed their unhappiness that Mata did not feature until the 67th minute.
However, Mourinho is adamant that the Spain international, who has started two games this season, can play in the same side as Oscar, whose goal spurred Chelsea on to the victory over the Cottagers.
"The evolution of the team is that I want Oscar and Mata to play together," Mourinho told Sky Sports. "I want that but for that (to happen) one has to adapt and to work to a certain way of play because I am not ready to change Oscar's position.
"Oscar as a number 10 is a player that gives us creativity, but at the same time when we press up, Oscar is a runner, a player capable of pressing. We have our ideas and we stick with our ideas.
"Juan has to learn to play the way I want to play. He has to be more consistent, has to participate more when the team loses the ball. It's not his fault, it's just the consequence of the way he has played in the last years."
The result puts Chelsea at the top of the Premier League, and Mourinho is baffled by talk of problems at the club despite the two defeats, to Everton as well as Basel, earlier in the week.
He added: "I still think that they played much better against Everton than they did today but points are also important after a bad start - a start that everybody keeps telling me is the worst start in about a decade.
"But today I could go to bed and I look at the table and nobody is in front of us."
Mourinho has not been too dispirited by Chelsea's struggles at the beginning of his second spell at Stamford Bridge although he added he needs time in order to make his mark.
"I'm in football for a long time and I'm not expecting when the results are not good, people to speak well about our work and about our team," he added.
"I also think my career is made of this, other people have and deserve time, other people can not win one, two, three, four, five years and they keep having a peaceful life and won't get in any kind of pressure.
"With me, maybe because normally I win in the first season, people demand a lot and don't understand I'm building a different team.
"The most difficult thing is first of all to change the philosophy and that takes a little time.
"I understand at this moment we are not playing very, very well, the results are not especially good.
"But the beauty of the Premier League is that in other championships, and I've played some of them, when one of the big teams lose a match, it is catastrophic because nobody loses points and they win, win, win.
"The difference of the Premier League is that everybody loses matches, everybody loses points, the six top teams have already had a defeat so no dramas."