Chelsea boss Jose Mourinho hits out at Tottenham manager Andre Villas-Boas
Chelsea boss Jose Mourinho has hit back at former colleague Andre Villas-Boas for revealing that they have fallen out.
Last Updated: 28/09/13 12:34pm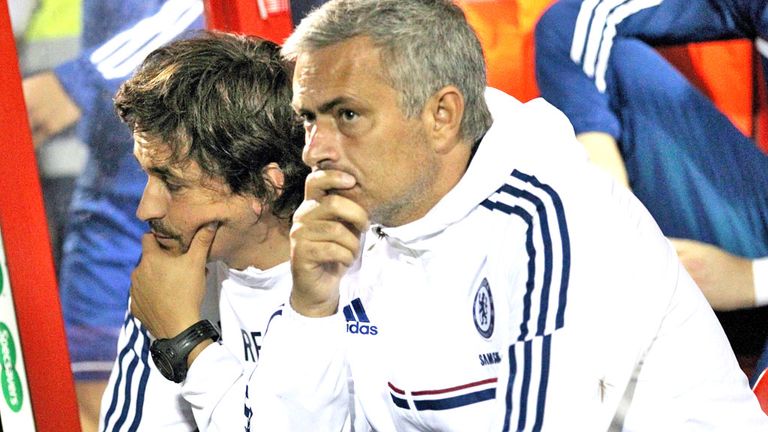 Tottenham manager Villas-Boas - who learnt his trade under the Chelsea manager during his time at Porto, Internazionale and Stamford Bridge - has revealed he no longer considers Mourinho a friend.
Mourinho said: "I don't discuss this with the media, it's a personal thing. I don't care what he says. I'm not here to do that. I'm not interested."
Mourinho contrasted his relationship with his Portuguese compatriot to that with Louis van Gaal, whom he worked under at Barcelona before steering his Inter side to beat a Bayern Munich team managed by the Dutchman in the 2010 Champions League final.
"I managed in a Champions League final against a manager who was important in my career and taught me to grow up and I did it in a professional way. And that is a way you have to do it," he said.
"I have had so many assistants in my career. I was always an open book to them and with the coaches in the academy. Will I go for a glass of wine with him? When people invite me I always go. I never refuse.
"But I have nothing more to say on this."
While Mourinho refused to be drawn on his frosty relationship with Villas-Boas, there would appear to have been a rapprochement in his dealings with Juan Mata.
The Spaniard has had limited opportunities this season but was handed a rare start in the Capital One Cup win at Swindon this week.
"I liked the way Juan Mata played against Swindon," said Mourinho. "His attitude is very good and his effort was good.
"When a player makes an effort to come in my direction then I go to him as well. I can imagine from now him working into my way of thinking and I think the natural tendency will for him to be in the team."
Villas-Boas also spoke about Mata and believes that Chelsea consider Spurs a dangerous threat to their title ambitions after Mourinho rejected Tottenham's approach for the Spaniard.
"I suppose that is a sign of evolution from Tottenham and our ambitions. It is normal. Last year we were fighting for the same objectives in the end so I suppose they wouldn't like to strengthen a rival.
The pair will be in opposing dugouts and Villas-Boas is adamant he made the right choice to part company with his mentor.
"I don't lose any sleep," said the Spurs boss. "Our break-up point was because I was full of ambition to give him something extra and I wanted further involvement from the job I was doing at that time.
"I felt I could give him much more. But he didn't feel the need for somebody near to him or in another position as an assistant, and because of that it was decided that it was time, after Inter Milan, to continue our careers (apart)."