Premier League: Jose Mourinho again plays down title chances as Chelsea go top
Jose Mourinho again insisted Chelsea are not realistic title contenders, despite victory over Newcastle taking them top.
Last Updated: 10/02/14 9:08pm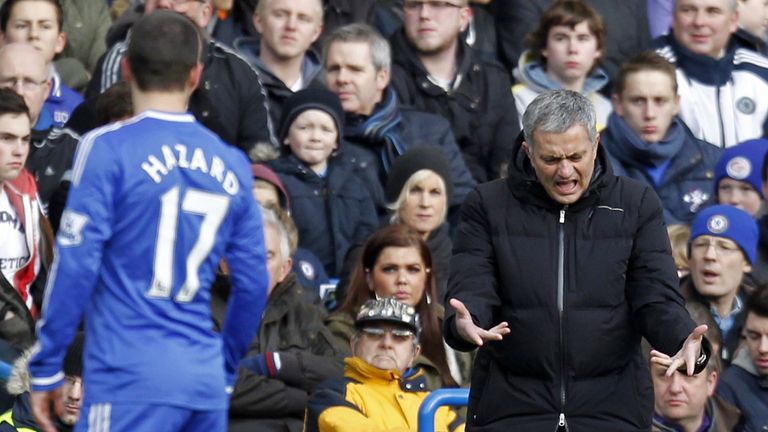 Eden Hazard's hat-trick in a 3-0 Premier League home win on Saturday earned Chelsea a one-point lead on Saturday following Arsenal's hammering at Liverpool and Manchester City's failure to beat Norwich.
But Mourinho, who in midweek called his side "a little horse" trying to keep pace with its rivals, would not alter his public stance that City are favourites.
"I want to stop with that story of the horses, but I don't change my idea," he said.
"Manchester City is a Jaguar. You cannot put an L-plate behind a Jaguar. We are what we are and we know where we want to go and this season, we have only one objective, which is to finish top four.
"I say as I feel it. I don't feel the change. We are playing well and have been for a long time. People individually are in a good moment and we are getting results. We are top of the league and that's something we can't hide."
Mourinho was effusive in his praise for Hazard and baffled the Belgium international's form has not received greater recognition.
He said: "Eden Hazard is this player, a player for some reason he didn't get one single player of the month in this Premier League.
"And this performance today was just different than other performances because today he scored three goals. But he had other performances exactly the same as he did today, so it is quite surprising for me that such a young player with what he is showing this season is never player of the month.
"So I don't know if it is something with him, or with us or this country is full of tremendous players."