Transfer news: Atletico Madrid boss Diego Simeone admits he could lose Diego Costa
Atletico Madrid boss Diego Simeone says he will not stand in Diego Costa's way if he has a chance to join Chelsea.
Last Updated: 15/04/14 4:46pm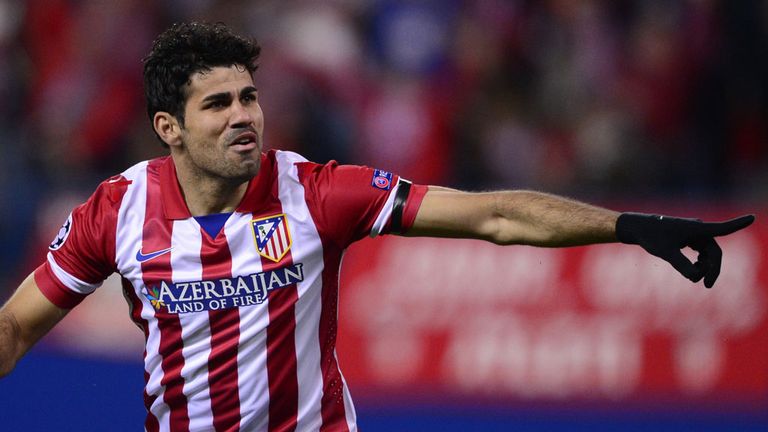 Costa has been the standout player in Atletico's exceptional season to date, with his 26 goals in 31 Primera Division matches giving his side an excellent chance of winning their first league title since the 1995-96 campaign.
It is therefore unsurprising that the Brazil-born Spain international has attracted the attention of several leading European clubs, and Jose Mourinho's Blues are reportedly at the front of the queue.
It would take a substantial offer for Atletico to contemplate selling their prize asset, although Simeone believes Costa will ultimately decide his own future.
"It will depend on him and what he thinks is best for his future," Simeone told radio station Onda Cero.
"I will support any decision he makes. It's natural that Chelsea are interested in him and that makes me happy, because my aim and that of my coaching staff is to see our players improve.
"We understand that Chelsea have huge financial power and if he wants to live off football for the rest of his life, I will have no problem in him going.
"It was like Radamel Falcao - how could I tell him not to go to Monaco? He gave life to this club."
Simeone believes that Costa would improve Chelsea's side, despite Samuel Eto'o's presence at Stamford Bridge
"Samuel Eto'o has made them better and Diego Costa could do his thing there, but for now he is ours."
Chelsea's Fernando Torres has been linked with a move in the opposite direction and Simeone admits he is a fan of the 30-year-old, who is still an Atletico legend despite leaving back in 2007.
"Fernando is always with us, obviously I have sent messages to him," Simeone said.
"He is very happy with everything that is happening to this team and he is always present, wishing us luck.
"Of course he would love to come back to the club he grew up in and where he was happy."
Costa will be hoping to showcase his talents against Chelsea in the Champions League semi-finals, a clash that has been made more intriguing by the prospect of the Blues' own goalkeeper turning out for Atletico.
Courtois
Thibaut Courtois is on loan at Atletico for a third successive season and Chelsea insist he will be free to play against them, in line with UEFA rules, as the clubs compete for a place in the May 24 final in Lisbon against Real Madrid or defending champions Bayern Munich.
It was reported that Chelsea would allow the Spanish side to play the Belgian in both legs of the semi, provided they paid a fee of around 3million euros for each game.
However, UEFA moved to clarify that it expects Courtois to be free to face the Blues in both legs and Simeone has no doubt that the 21-year-old will be available for selection.
"I have no doubt that he will play against Chelsea. He also has no doubts. Not a concern," Simeone said.
There has been some suggestion Courtois could be used as a makeweight if Chelsea do pursue their interest in Costa, but Simeone does not know whether the Belgian's future lies at the Vicente Calderon.
"It is not yet known where he will play next year," he added.