Chelsea's 1-0 win over Crystal Palace secured their 15th trophy since Roman Abramovich's takeover in 2003. Here, we examine how the big-spending Russian has transformed the club and changed the landscape of English football.
The Blues's latest title triumph was their fourth since 2003, three of which have come under Jose Mourinho, who ended their 50-year wait in his first season at the club in 2004/05. Their previous success in 1954/55 was their only First Division title win prior to 2003.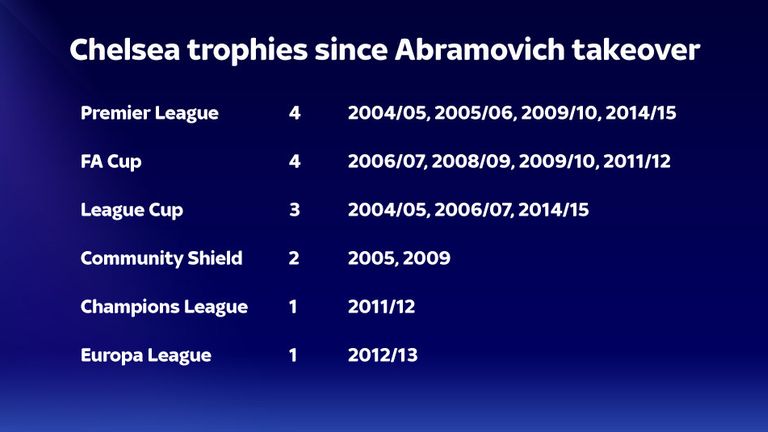 Chelsea have also taken their tally of FA Cups and League Cups from three to seven and two to five respectively since Abramovich's takeover, while they have added Champions League and Europa League successes to their three previous European titles.
The most telling statistic, however, is that the 15 trophies under Abramovich exceeds the total of 11 they won between their formation in 1905 and the Russian's arrival in 2003 – which highlights the club's transformation in recent seasons.
Comparisons
Chelsea's success under the ownership of Abramovich has, of course, had significant consequences for their rivals.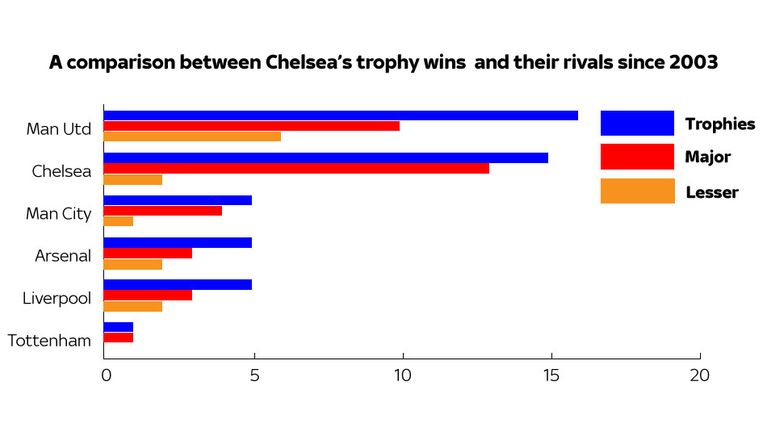 Only Manchester United's total of 16 trophies exceeds Chelsea's haul since 2003, but that number is inflated by five Community Shield wins to Chelsea's two as well as the FIFA Club World Cup title they won in 2008.
The Red Devils have won five Premier League titles to Chelsea's four in that time, but the Blues boast four FA Cups to United's one. In terms of the major trophies since the takeover, Chelsea lead United by 13 to 10.
Arsenal, Liverpool and Manchester City meanwhile, have won five trophies apiece in that time. The Gunners famously clinched the 2003/04 Premier League title without losing a game, but since then they have only won two FA Cups and two Community Shields.
Liverpool's historic Champions League triumph has been their undoubted highlight of the last 12 years, but otherwise they have only managed an FA Cup win in 2005/06, a League Cup in 2011/12 as well as two 'lesser' trophies – the 2006 Community Shield and the 2005 UEFA Super Cup.
Manchester City's successes, meanwhile, have all followed Sheikh Mansour's takeover in 2008. Since winning the FA Cup in 2010/11, the Sky Blues have won two Premier League titles, another FA Cup and one Community Shield.
As for Tottenham, their 2007/08 League Cup win remains their only piece of silverware for the last 12 years.
Pre-Abramovich
A look back at the 12 years prior to Abramovich's takeover paints an even clearer picture of the Russian's impact. The Blues won just five trophies in that time compared to the 15 that have followed.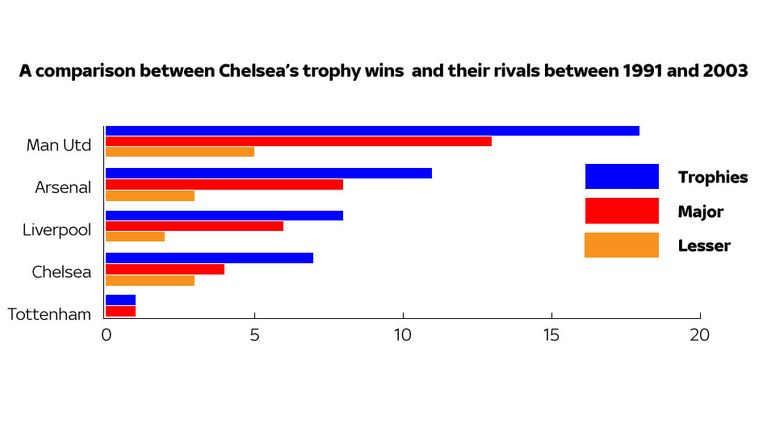 Manchester United's dominance is shown by their eight title wins in that time, while their total of 18 trophies overall also includes three FA Cup wins and their 1998/99 Champions League triumph.
Of Chelsea's rivals, Arsenal have suffered the most in terms of trophies since Abramovich's takeover. The Gunners won 11 pieces of silverware between 1991 and 2003 – including two Premier League titles, four FA Cups and a European Cup Winners' Cup – more than double their total of five in the last 12 years.
Liverpool also enjoyed more success prior to Abramovich's arrival, winning eight trophies in the previous 12 years. Manchester City were trophyless in that time, however, while the 1998/99 League Cup win was Spurs's only piece of silverware.
Most Premier League appearances of Abramovich era
376 John Terry
354 Frank Lampard
331 Petr Cech
253 Didier Drogba
229 Ashley Cole
Most Premier League goals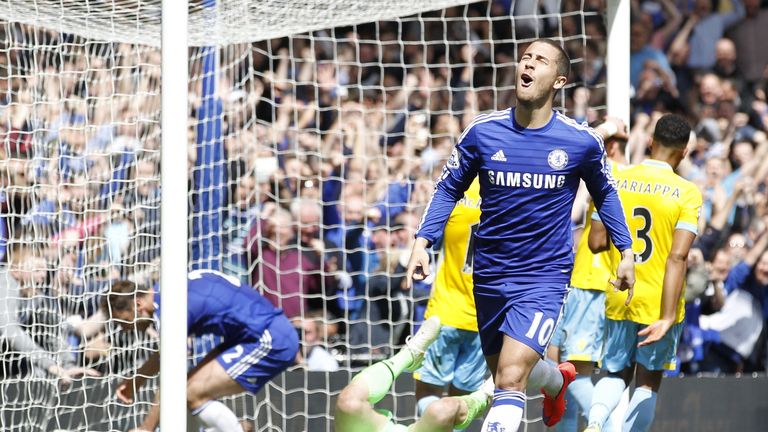 136 Frank Lampard
104 Didier Drogba
38 Nicolas Anelka
37 Eden Hazard
36 Salomon Kalou
Biggest transfer fees
£50m Fernando Torres
£32m Diego Costa
£32m Eden Hazard
£30m Andriy Shevchenko
£30m Cesc Fabregas