Jose Mourinho proud of how Chelsea have adapted to Financial Fair Play
Last Updated: 03/05/15 2:52pm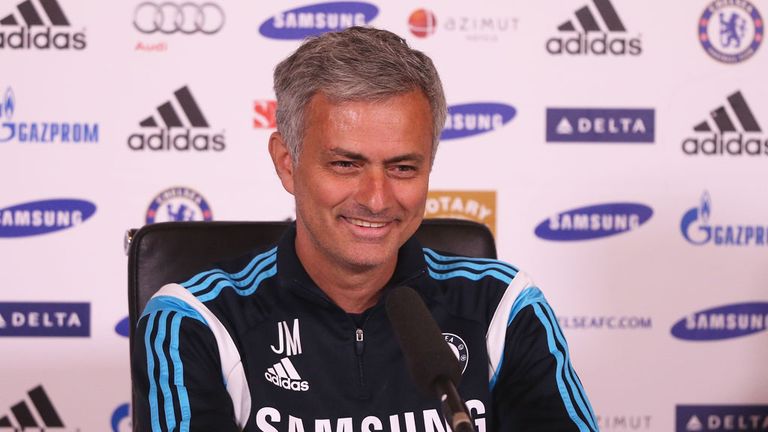 Jose Mourinho has revealed winning the Premier League this season will be extra special for him because of the financial constraints Chelsea have operated under.
The Blues can become the first team in eight years to win the title while turning over a profit in the transfer market if they beat Crystal Palace at Stamford Bridge tomorrow.
Mourinho admits Financial Fair Play has posed a challenge for Chelsea but is proud of the way the club have adapted and he paid tribute to his players' focus.
"I want this one a lot and I think in the moment we clinch the title I will be much more happy for them (the players) than for myself," Mourinho said.
"I see the players with hunger and responsibility to go to every game, every one. Stoke City at home, QPR, Man United and Arsenal.
"Now it's a great feeling because it's my club, because of the league, because of the difference in the league.
"We are not any more the rich club. We are a top club, a club that lives with the work that everyone does."
Mourinho believes his players' appetite was whetted by the Capital One Cup final defeat of Tottenham two months ago.
"When they have the taste of success, the big players want more," Mourinho said.
"There are people happy with just one victory, but the big ones when they feel that taste, they want more.
"The big ones are not tired of winning. Sir Alex Ferguson, Paolo Maldini, all these big people, as players, as managers.
"It's from day one until their last day in the game. They want to win. I hope really these people get a good taste. That's maybe why also the Capital One Cup was important for the group.
"Win a title, enjoy Wembley, enjoy the happiness of the supporters and the group. Winning brings more."
Watch Chelsea try to win the Premier League title live on Sky Sports 1 from 1.30pm on Sunday.