Jose Mourinho has used Chelsea's end of season awards dinner to deliver a tongue-in-cheek speech mocking the critics of his side's style of play and to poke fun at his Premier League rivals.
The Blues won the Premier League title with three matches to spare and the Portuguese has previously admitted he opted for more of a substance over style approach as his side homed in on the trophy.
On Tuesday night he told a story about three other teams whose kits bore something of a resemblance to that of Manchester United's, Manchester City's and Arsenal's.
Before that, however, he fired a shot at those who criticised his side, before addressing his players.
Mourinho said: "I don't think my players got the respect that they deserve after what they did from day one till the last day.
"And these are words that I really feel, serious words."
Following the speech, Mourinho added: "The end of the story is just simple. We have to start believing that they learned the lesson and next season will be much, much more difficult for us. We have to be ready for that."
Mourinho's story was accompanied by graphics at the end of season dinner, where players celebrated a season in which they won the Premier League title and Capital One Cup.
"This is a football pitch with two goals, one ball, but there is one team that would like to play without goals," he said, of the plain red-shirted team, or Manchester United.
"That team plays really well and the ball goes and goes and goes and the quality of the ball possession is really beautiful, but no goals.
"And they ask the international board of FIFA to play like this, but they were told that it was not possible, that the bigger percentage of ball possession doesn't win matches and they were not champions."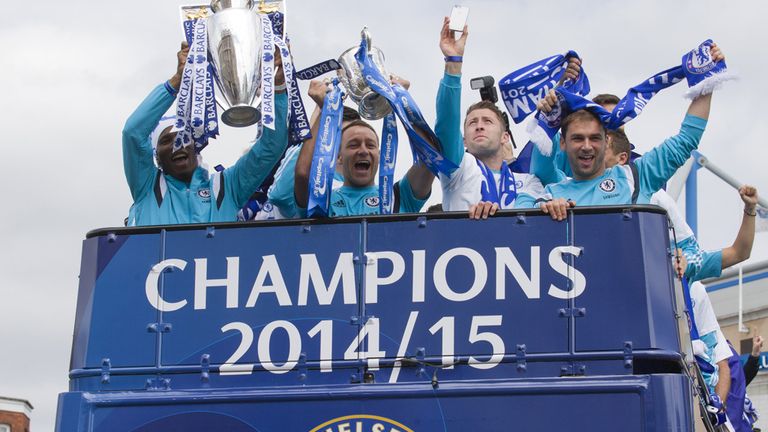 Mourinho then moved on to Manchester City, who finished eight points behind Chelsea in second.
He said: "After that there was another team (wearing sky blue shirts) that were less radical and they asked to play only with one goal.
"They were fantastic and they scored a lot of goals and the goals were coming from every position and they score and they score and they score, but they never conceded goals, because no goal.
"Again, the international board told them 'I'm sorry, you can't be champions because football is with two goals'."
Speaking of Arsenal, Mourinho said: "The third team (red shirts, white sleeves) was almost there, because they wanted to play with two goals.
"They were scoring some, they were also conceding some. They were fantastic. They scored really beautiful goals, they concede some goals too and they were almost there.
"But they asked the international board to play only between January and April. And they told 'no chance, no chance'.
"You have to play between August and May, so they couldn't be champions."
Lastly, of his own Chelsea side, Mourinho said: "Finally come another team (blue shirts). They wanted to play with the normal rules and they know that to win matches they had to score one more goal than the opponent.
"How can you do this? By scoring a lot of goals or not conceding and scoring one.
"And they did it both ways. Scoring a lot, conceding some. Scoring one goal and conceding no goals.
"That was the option and lots of goals were conceding, they played from August till May and sometimes they brought the bus."