How does Pedro compare to Chelsea's other wingers?
Last Updated: 21/08/15 8:48am
As Chelsea confirm the signing of Pedro from Barcelona, we check the stats to see how he compares to Jose Mourinho's other wide players.
The Spanish winger, who had also attracted interest from Manchester United and Manchester City, has become Chelsea's fourth major signing of the summer after they triggered his £21.4m buy-out clause.
Pedro will compete with Eden Hazard, Willian, Oscar, Juan Cuadrado and Ramires for a starting spot on the flanks at Chelsea, but what do the stats tell us about what he has to offer?
The arrival of Luis Suarez from Liverpool last season ultimately paved the way for Pedro's departure from Barcelona. The Uruguayan formed a 'holy trinity' with Neymar and Lionel Messi at the Camp Nou, forcing Pedro to settle for a supporting role in their treble-winning campaign.
It was tough to take for the 28-year-old, who had been a key player for Barcelona ever since establishing himself during the 2009/10 season under Pep Guardiola. He admitted it was a "difficult time" in an interview in March, and it soon became clear that his future lay away from Catalonia.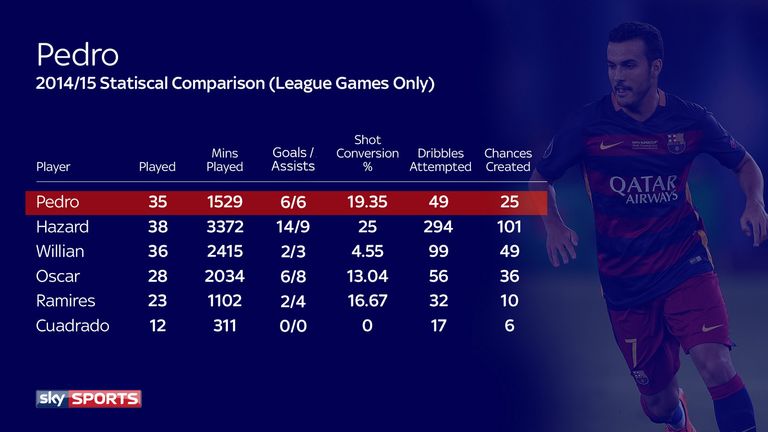 Despite his reduced role at Barcelona, however, the stats point to an important contribution last season. In 15 starts and 20 substitute appearances in La Liga, Pedro registered six goals and six assists. Hazard (14 goals, nine assists) and Oscar (six goals, eight assists) posted higher numbers, but the stats show Pedro was actually more productive during his time on the pitch.
Pedro only played 1529 minutes in total, meaning he averaged a goal or assist every 127.4 minutes – a superior rate to Oscar (145.3 minutes), Player of the Year Hazard (146.6 minutes), occasional winger Ramires (183.7 minutes) and Willian (483 minutes). 
Hazard's brilliance on the left flank last season suggests he won't to be moved to accommodate Pedro, so the Spaniard is likely to compete more closely with Willian and Oscar on the right-hand side. The Brazilian duo have had had little trouble holding off competition from the misfiring Juan Cuadrado since his arrival in January, but Pedro poses a greater threat.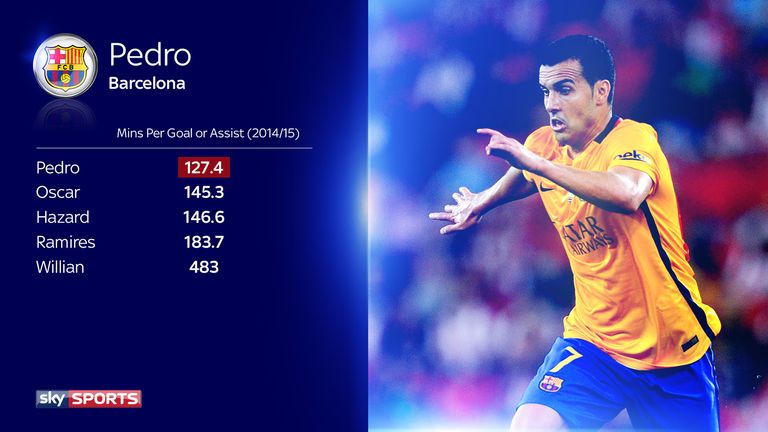 Playing alongside the likes of Messi, Suarez and Neymar allowed Pedro to maximise his productivity at Barcelona, but it would be unfair to put his success down to his team-mates. In fact, Pedro is a player who gets the best out of those around him. "He has a great work ethic," said his Spain team-mate Fernando Torres recently. "He works hard, he will help defend, he won't be bullied." 
Pedro's shot conversion rate also shows that he is a lethal finisher in his own right. He scored 58 goals in 204 La Liga games and converted 24.1 per cent of his shots on goal for Barcelona. To put that in context, the average for a striker is 16 per cent, according to Opta, and even Hazard (23.9 per cent) falls short of Pedro's average.
He is not known for his dribbling skills (he averaged fewer per game than Hazard, Oscar and Willian last season) but his pace and movement are valuable attributes with which he stretches defences and creates spaces for team-mates to attack. His Barcelona schooling comes across in his accurate, intelligent distribution – he posted an 86.9 per cent pass completion rate last season – and he also has a useful habit of scoring in big games.
"If Pedro was Brazilian, he'd be called Pedrinho and we wouldn't have enough money to afford him," Guardiola once said. Indeed, while more celebrated players tend to hog the limelight at Barcelona, it is a measure of his enduring importance to the side that no player was more involved in more goals with Messi over the last five years. Pedro also boasts a remarkable record of having scored in and won six different competitions in a calendar year in 2009.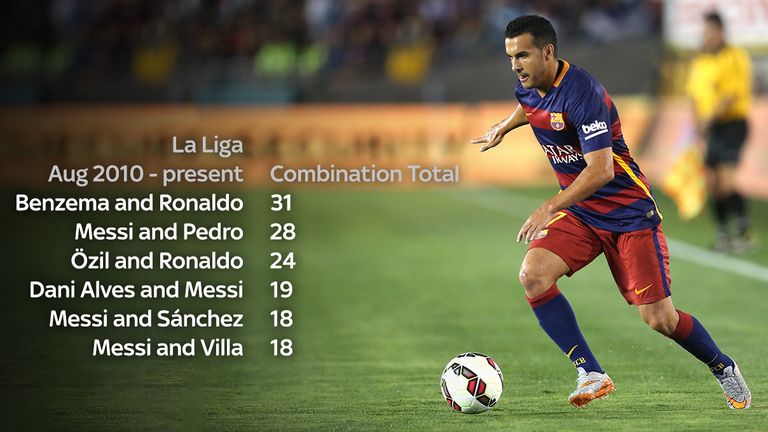 What's more, there is a toughness and intensity to his game which suggests he would be well-suited to the Premier League and the industry Mourinho demands from his wide players. Torres agrees. "He has everything to succeed in the Premier League," he said.
Pedro has won just about every major trophy going. He has scored goals in cup finals and Clasicos, and it is only the presence of three of the best four players in the world that has brought an end to his time at Barcelona. Indeed, as recently as last week club president Josep Maria Bartomeu described him as "fundamental", and it is with a heavy heart that they watch him depart.
It's easy to understand why Mourinho wanted him, and the stats make encouraging reading for Chelsea supporters. It remains to be seen how the Blues will line up with Pedro in the team, but the numbers suggests he has more to offer than the current options at Stamford Bridge.